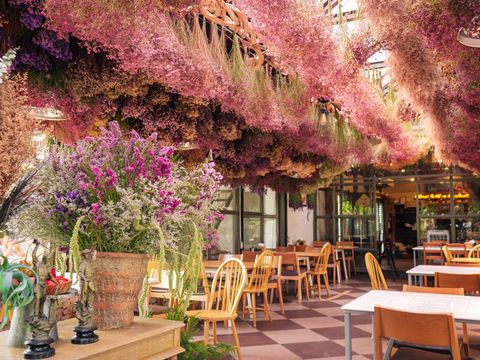 Bang Saen offers more than white sandy beaches and seafood restaurants, it's also bustling with cafes worth checking out. We have you covered on that.
Located in Muang Chonburi, eastward of Bangkok, Bang Saen has been a popular tourist destination with locals for decades. It's the closest beach you can get to from Bangkok. It's not too far from Pattaya, and coupled with the number of good dining spots and boutique hotels, it's no wonder it's visited by both locals and a growing number of international visitors on the regular.
Beyond the beach, one thing people may not know is that Bang Saen has a very vibrant cafe culture, and we're here to show you the most Instagrammable coffeeshops in Bang Saen you should put on that bucket list.
Instagrammable cafes in Bang Saen perfect for a weekend trip
Red Temp Cafe Enjoy a morning coffee as the sea breeze wafts through your hair—there's no better way to start the day. With an unobstructed 180-degree view and a miniature lighthouse, Red Temp Cafe also offers great photo opps that are surely worth going on your socials. If you arrive on an empty stomach, try their signature Sriracha bacon croissant, which goes great with their Italian soda menu.
You can find more information at Red Temp Cafe.
We Cottage As you stumble upon We Cottage, you'll see a wee English cottage that you know will have good cocoa. As you enter the premises, you'll be greeted by colourful plants adorning the place, with the majority on the ceiling. Because of the beautiful interior, many have selected this cottage to be a wedding venue. The good food and drinks are already set, after all. Coffee, tea, Western cuisine—you name it, they have it. Be sure to order the squid ink spaghetti.
You can find more information at We Cottage.
Discover More Dining Experiences In Bangkok Here
Hideout Beach Cafe & Bistro Oh, you wanted a seaside view? Hideout offers a cafe experience literally two steps away from the water. Expect fresh seafood dishes, a wide variety of Thai food, as well as vibes so good you'll forget how long you had to drive. If you're thirsty, they have a great selection of mocktails, cocktails, and wine list that pairs well with seafood, too. Our advice: order the fish—you'll taste the freshness.
You can find more information at Hideout Beach Cafe & Bistro.
Artory.cafe.crafts Artory combines the world of coffee artistry and architecture in the best way possible. The interior is made of interesting shapes, but with colours straight out of a Nordic home. Sit on the second floor and take in the view of the seaside as you're enjoying your cup of coffee, or take the al fresco route and relax in their garden area downstairs. Plus, they're completely pet-friendly, so bring your furry friends along, too.
You can find more information at Artory.cafe.crafts.
So Sea Cafe & Resort The gorgeous view, the lovely interior, the good food—there's no better place to get brunch in Bang Saen than here. Visitors can expect fresh seafood cooked to perfection, and they surely don't skimp out on quantity. Treat yourself to a steamed sea crab and see where it takes you next. If you feel like it, you can even stay at their resort. No need to wake up extra early when your room is a three-minute walk away.
You can find more information at So Sea Cafe & Resort.
Highway Cafe Not in the mood for a cup of joe? A milkshake might just be the right thing for you. Highway Cafe is a great American diner and cafe with a very mouthwatering menu filled with burgers, fries, milkshakes, floats, and sodas. Our advice: the double beef burger combo'd with an Oreo milkshake is a guilty pleasure worth the cardio.
You can find more information at Highway Cafe.
Nijihouse It's like they got Muji to design their interior in the best sense possible. Nijihouse offers a minimalist, pastel-filled venue as quite a stark contrast to all the loaded, maximalist cafes around Bang Saen. The menu has an array of coffees, teas, and sodas that taste good and really pop on camera. Don't know what to order? The butterfly pea and honey drink can wave any problem of the day away.
You can find more information at Nijihouse.
Nomisuke Matcha Cafewxow Nomisuke had made headlines in local publications for bringing the spirit of Japan into one Bang Saen cafe. Come in the afternoon for some good matcha drinks, gyoza, and taiyaki. Stay until dinner time as they turn into a ramen restaurant with the vibes of an Osaka dining spot. The absolute highlight is the matcha yuzu soda perfect for a hot day, and a chocolate taiyaki to pair.
You can find more information at Nomisuke Ramen.
[Hero and featured image credit: We Cottage/Facebook]
This story first appeared here
Related: Where To Find The Best Vegan Hotpot In Bangkok
Written By