The festive season has officially begun and Mumbai is now gearing up to welcome Lord Ganesha 'bappa' to the town. Huge statues of Lord Ganesh are taking over the roads, alleys are being illuminated with festive lights, and houses are being decorated to welcome the god. Another key preparation for the celebration entails offering modaks (a type of Indian sweet) to offer to Lord Ganesh. If you do a quick Google search about modak shops near me in Mumbai, you will find an overwhelming list of options to choose from. But worry not, we have curated you a list of the most iconic and unique modak shops in Mumbai that you can explore this festive season.
Some of these modak shops that you will find near your vicinity offer special sweets for the occasion. Some of these sweet shops are so iconic that you will get modaks that are authentic in making and taste. Check out some of the best modak shops near you in Mumbai to try this Ganesh Chaturthi festival.
Best options to choose from your exhaustive list of modak shop near me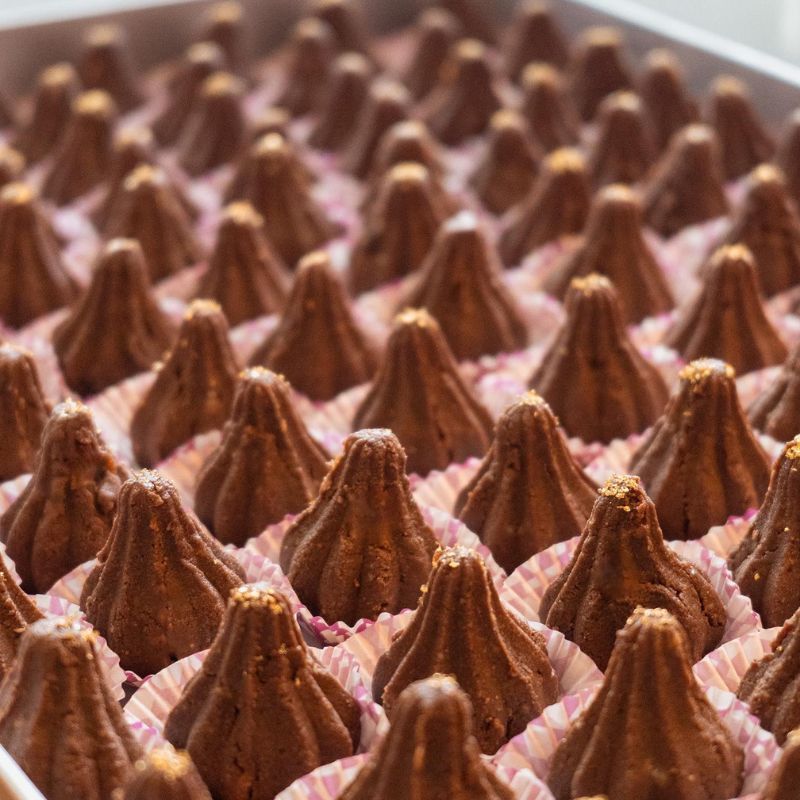 Modak is considered to be one of the favourite sweets of Lord Ganesha. The sweet dumpling dish is made from rice flour or wheat flour mixed with khava or maida flour. The sweet filling inside is made from freshly grated coconut and jaggery. Here are the best sweet shops in Mumbai to buy modaks.
Aaswad Uphar and Mithai Gruh
This 35-year-old sweet shop is a go-to place for all kinds of sweet shopping. Aaswad Uphar and Mithai Gruh offer different traditional and modern style festive sweets, and they never compromise on taste. Visit this modak shop near you for perfectly sweetened modaks for the Ganpati celebrations.
Address: 4, Sanskruti Building, Gadkari Chauk, Lady Jamshedji Road, opposite Shiv Sena Bhavan, Dadar West, Dadar Shivaji Park
Check them out here.
Jhama Sweets
Another option that you may be suggested on the 'modak shop near me' list is Jhama Sweets. This confectionery store was established in 1950 and is quite famous for its exhaustive variety of authentic and fresh sweets. They also offer a great range of modaks including variants like kesar, chocolate, strawberry, and kaju at very affordable prices. You can also shop for festive sweets online here.
Address: 2, Atur Park, Sion Trombay Road, Chembur
Check them out here.
D Damodar Mithiwala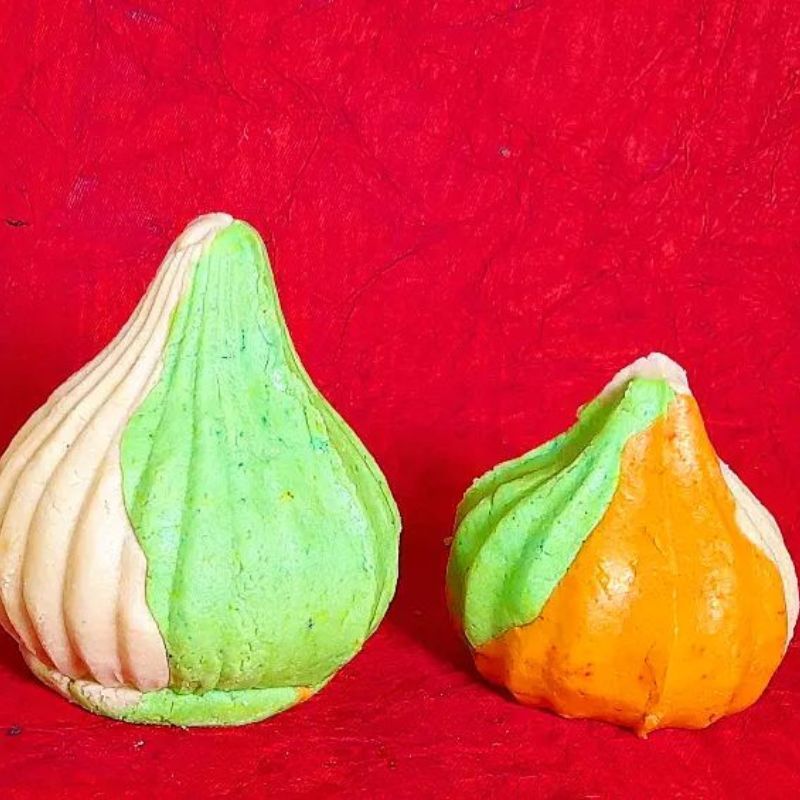 Another iconic store to visit for sweets is D Damodar Mithaiwala. The store was established in the pre-independence era in the year 1937. They started as a milk-delivering business and eventually got into producing milk-based sweets. Today, thousands of people from across the city come to D Damodar Mithaiwala to buy sweets, especially their delicious modaks.
Address: Harganga Mahal, Khodadad Circle, Dadar East
Check them out here.
MM Mithaiwala
It is impossible to cross Malad station and not eat something at the iconic MM Mithaiwala sweet shop. The swarming shop is known to sell some unique sweets during the Ganpati festival. Their kesar peda malai modak is the most-ordered sweet along with other options like colourful rangoli modak, kaju and shahi barfi variants.
Address: Kasturba Rd, opposite Railway Station, Malad, Vijaykar Wadi Industrial, Vijaykar Wadi, Malad West
Check them out here.
Adarsh Mithai Mandir
Adarsh Mithai Mandir in Borivali West will be the top option when you search for 'modak shop near me' on Google for this area. The sweet shop has always been very experimental with its festive sweet fillings. Most of the customers who visit this 70-year-old establishment love the mawa, cashew, fig and mango variants of the special confectionary item.
Address: 34, Lokmanya Tilak Rd, Gyan Nagar, Mhatre Wadi, Borivali West
Check them out here.
Modakam
Modakam in Dadar is considered to be a voyage for modak-lovers. The shop which is located near Siddhivinayak temple sells one of the best festive sweets in town. Modakam is pretty famous for its ukadiche modak which is a steamed version of the sweet, filled with jaggery, coconut and cardamom.
Address: 8/1, Kamana CHS, SK Bole Marg, Near Sidhivinayak Temple, Prabhadevi
Check them out here.
Bombay Sweet Shop
If you are looking to buy festive sweets online, then you can opt for Bombay Sweet Shop. They have unique mawa modak, special Bappa's laddus and curated mithai hamper that you can easily order. Try their Chocolate Fudge modak, Puran Poli modak, and Coconutty Khubani, which offer distinctive flavours when at their store.
Address: Darvesh Royale, Perry Cross Rd, Bandra West
Check them out here.
New Karachi Sweets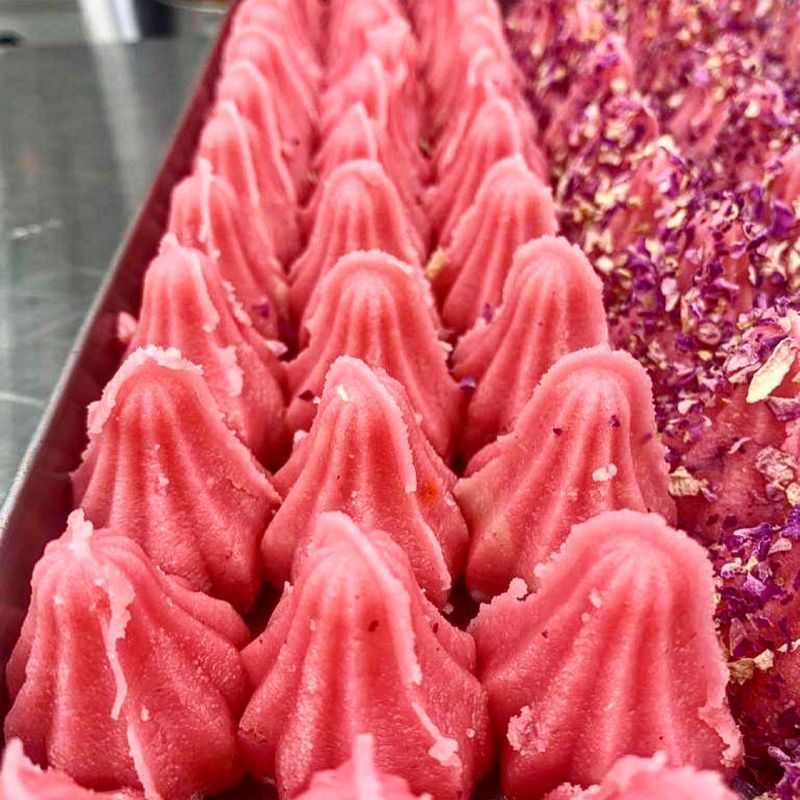 New Karachi Sweets is almost a six-decade-old shop that offers some of the best sweets during the Ganpati season. The most popular order is mawa modaks, followed by their dry fruit and fruit-flavoured modaks. Some customers also buy the chocolate ones, so you can give it a try too.
Address: Shop NO 6, Ajanta Building, 3rs ROAD, Khar, Ram Krishna Nagar, Khar West
Check them out here.
Panshikar
Established in 1921, Jitendra Panishikar's shop holds a legendary status for its sweets, especially the ukadiche modaks. They make the sweet in the same old traditional way which makes it absolutely authentic. Other variants offered at this shop include the festive sweet filled with dry fruits and nuts. If you are looking for saffron milk modak near you at an affordable price, then you can head to this shop for the best-tasting sweets.
Address: Gananath CHS, SB Road, Opposite Dadar Station, Dadar West
Check them out here.
This story first appeared here.
Hero & Feature Image: Courtesy Prchi Palwe/Unsplash
Related: Savour Fluffy Parathas And Makkhan At The 67-Year-Old Amrik Sukhdev Dhaba Murthal
Frequently Asked Questions (FAQs)
– How many modaks will you get in 1 kg?
You will get around 108 pieces of this sweet in 1 kg.
– Which modak is best?
The ukadiche variant is the quintessential choice when it comes to Ganpati celebrations.
– Which modaks are best in Dadar?
Aaswad in Dadar is one of the most popular sweet shops in Dadar.
– What is modak famous for?
It is considered to be the favourite sweet of Lord Ganesha.
– Which state is famous for modak?
The state of Maharashtra is famous for this festive sweet.