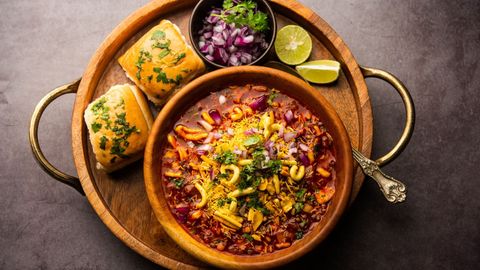 The flavourful marriage of pillowy bread rolls (pav) with onions, moth beans, coriander, chillies, and salty snacks (farsan) – Misal Pav – is at number 11 in the highest-rated vegan dishes in the world list curated by food guide platform Taste Atlas. Seven other Indian delicacies – rajma chawal, aloo gobi, and gobi manchurian – feature in the rankings as well. Here's all about it.
From the streets of Maharashtra to world domination, the humble Misal Pav has come a long way. The crunchy-fiery comfort snack was first created to nourish workers, making its way into the dietary habits of Mumbai, Pune, and Kolhapur over the years. Served with a pungent, thin curry, it can go from mild to lip-numbing spicy depending on which hole-in-the-wall establishment you walk into. Or what combinations of spices you choose to add to your at-home rendition. Most recently, it made its way to the headlines for bagging the 11th spot in the list of the world's highest-rated vegan dishes, released by Taste Atlas. The top 10 included the likes of Lebanese Baba Ganoush, Italian Tagliatelle Ai Funghi, Indonesian Tempe Goreng, Syrian Muhammara, and Mexican Guacamole.
Dadar's Aaswad named the best spot for flavourful Misal Pav As per a report by Economic Times, the snack was named the world's tastiest vegetarian dish at the Foodie Hub Awards in London (2015) – with Dadar's Aaswad restaurant being in the spotlight. Taste Atlas backs this, recommending the spot for the best bite. The wildly popular spot was established in 1986.
In an interview with Bangalore Mirror, owner Suryakant S Sarjoshi shared his secret, "The rassa is what sets one restaurant's missal apart from the other. Ours has a mix of traditional spices and also the quality of the moth beans and farsan has to be factored." He added that the recipe hasn't changed in decades. "In the last 29 years, we've also stuck to the same farsan vendor as consistency in quality is important to us," he added.
Others on this list include Shree Datta Snacks (Mumbai), Sadhana Restaurant (Nashik), and Mamledar Misal (Thane). It further adds, "Misal pav can be served for breakfast, as a snack or a main dish. It is commonly found in roadside stalls, breakfast joints, and office canteens."
Meanwhile, Aloo Gobi came in at number 20, Rajma at 22, Gobi Manchurian at 24, Masala Vada at 27, and Bhel Puri at number 37 – making up seven Indian comfort favourites in the top 50.
All images: Courtesy Shutterstock
This story first appeared here
Related: Visiting Mumbai? Savour Delectable Vada Pav At These 8 Joints In The City
Written By