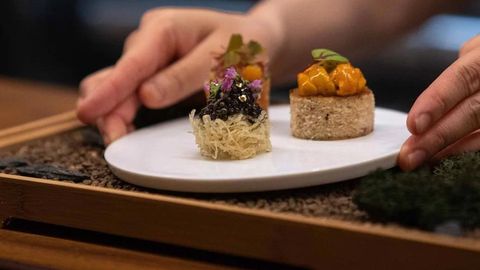 Five new restaurants were inducted into the Michelin Guide Singapore 2023, bringing this year's total to 55.
The latest restaurants all received one star, which was given out at a live ceremony in Parkroyal Collection Marina Bay Hotel.
Among the new entrants were Sushi Sakuta, contemporary restaurant Born, and modern European eatery Poise. Seroja pays tribute to flavours from the Malay Archipelago, and Willow combines Japanese cooking with regional influences.
There was no change among the nine three- and two-starred restaurants, which ranged from the French institution Les Amis to Thevar, which blends Indian cuisine with European cooking.
The 46 restaurants that retained their one-star included Burnt Ends, Candlenut, Summer Palace, Marguerite, and Hill Street Tai Hwa Pork Noodle, the only hawker stall on the list.
"On behalf of my incredible team at Marguerite, we're immensely honoured for the recognition we've received in this room tonight amongst Michelin's finest," said Marguerite chef/patron, Michael Wilson. "I can't put into words how proud I am of my team's hard work and dedication to their craft. They are the future stars of the hospitality world, and I feel privileged to mentor, guide, and empower them as we move forward together." Four special awards were also given out during the event. Kevin Wong of Seroja was presented with the Young Chef Award and Green Star sustainability recognition. Shoukouwa's Desmond Wong was named as the winner of the Service Award, and Makoto Iwabuchi picked up the Sommelier Award.
The evening was not good news for all. Shisen Hanten dropped from two stars to one, while Shang Palace lose its one star.
Besides the 2023 Michelin stars, the Bib Gourmand winners were released last week, with 79 restaurants and eateries making it to the list. Among them were 17 new hawker stalls, including Hui Wei Chilli Ban Mian at Geylang Bahru Food Centre and Old Airport Road Food Centre's Nam Sing Hokkien Fried Mee.
Read on for the full list of The Michelin Guide Singapore 2023 (new entries are marked with a *).
The Michelin Guide Singapore 2023 restaurants
Three Michelin Stars
Exceptional cuisine that is worth a special journey
Les Amis
Odette
Restaurant Zén
Two Michelin Stars
Excellent cooking that is worth a detour
Cloudstreet
JAAN by Kirk Westaway
Saint Pierre
Shoukouwa
Thevar
Waku Ghin
One Michelin Star
A very good restaurant
28 Wilkie Restaurant
Alma
Art di Daniele Sperindio
Béni
Born*
Braci
Buona Terra
Burnt Ends
Candlenut
Chef Kang's
Cure
Cut by Wolfgang Puck
Esora
Euphoria
Hamamoto
Hill Street Tai Hwa Pork Noodle
Iggy's
Imperial Treasure Fine Teochew Cuisine (Orchard)
Jag
La Dame de Pic
Labyrinth
Lei Garden
Lerouy
Ma Cuisine
Marguerite
Meta
Nae:um
Nouri
Oshino
Poise*
Putien (Kitchener Road)
Rêve
Rhubarb
Seroja*
Shinji (Bras Basah Road)
Shisen Hanten
Sommer
Summer Palace
Summer Pavilion
Sushi Ichi
Sushi Kimura
Sushi Sakuta*
Table65
Terra
Whitegrass
Willow*
(Hero and featured images credit: Seroja; Willow)
This story first appeared here
Related: 2023 Michelin Bib Gourmand Singapore: The 79 Awarded Restaurants And Eateries List
Written By