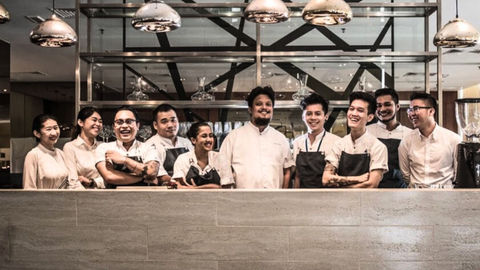 Suppose there has ever been any doubt that Malaysia is well and truly one of the world's most covetable culinary gems. In that case, Dewakan's recent MICHELIN two-star status will easily dispel them.
Announced earlier today during the second iteration of the MICHELIN Guide Ceremony, the brainchild of head chef and founder Darren Teoh was once again tapped as part of a concise and carefully selected number of local eateries to receive one of the hospitality industry's most recognisable accolades.
Dewakan becomes the highest-awarded Malaysian MICHELIN restaurant
As it now stands, Dewakan is the country's highest-awarded restaurant by the French organisation. Previously, they received a single star from last year's inaugural MICHELIN Guide for Kuala Lumpur and Penang. As explained by the restaurant's entry on the official MICHELIN Guide website, Dewakan is anchored by profound respect and reverence for local bounties, expressed through an elevation of indigenous ingredients with contemporary techniques.
Given its name, created through a portmanteau of the Malay words 'Dewa' and 'Makanan', which translates into English as 'Food of the Gods', it leaves little to surprise that Dewakan's menus have inspired nothing short of high praise from industry arbiters of good taste and fine living across Malaysia and the surrounding region.
Dewakan aside, Chef Raymond Tham's Beta was also awarded its very first MICHELIN 1-star. This is on top of Kuala Lumpur's DC by Darren Chin, as well as Penang's Restaurant Au Jardin and Auntie Gaek Lean's, which have all managed to retain their 1-star MICHELIN ratings from the year before.
As for other MICHELIN categories this year, 25 new names have been added to the MICHELIN Selected listing; 16 from the nation's metropolitan capital, and nine from the Pearl of the Orient. This brings the total number of Select eateries to 77. In its entirety, this year's MICHELIN Guide has seen the inclusion of 127 restaurants and eateries, featuring up to 30 different cuisines.
Book your stay at Mandarin Oriental Kuala Lumpur via Agoda.com
Book your stay at Mandarin Oriental Kuala Lumpur via Booking.com
Shop the best travel experiences here
This story first appeared here.
(Feature and hero image credits: Dewakan/Instagram)
Related: 8 Best New Michelin Restaurants In Malaysia's KL And Penang Today
Written By