Looking for something different to try and tell all your friends you did? New restaurants are a dime a dozen in the city of gastronomes, Hong Kong. The relentless wave of restaurants making their grand debuts in Hong Kong every month can leave one breathless. So, we've gathered the best of them in this checklist of the "where?" and "why?" of Hong Kong's hot-ticket tables.
From an Omakase restaurant with high polish and good vibration to a ramen bar, we've picked out the best of the new bunch of restaurants in Hong Kong. The only question is: where should you book first?
Make sure you pin the tab as we refresh the page every month with what's new and noteworthy in Hong Kong's dining scene.
Best new restaurants to try in Hong Kong – April
The Merchants The Merchants is among the first restaurants to open at the new food and hospitality destination in Hong Kong, Forty-Five. It serves classic dishes from Shanghai and the surrounding provinces of Jiangsu and Zhejiang. Diners can expect traditional flavours with a contemporary touch. Besides the gastronomic delights, the restaurant also offers sweeping views of Victoria Harbour.
Head chef Chen Tian Long of Jade de Jardin spearheads the Merchants. He brings classic recipes from Shanghai, reinterpreted with a modern flair. The design is a collaborative effort between Sean Dix and Victoria Tang-Own. It pays homage to belle époque Shanghai, highlighting elegant features with custom cherrywood banquettes and vibrant jade onyx detailing.
Address: 45/F, Gloucester Tower, Landmark Atrium, 15 Queen's Road Central, Central, Hong Kong
Phone: +852 2155 4141
Cafe Bau Cafe Bau is a brand-new farm-to-table concept from renowned chef Alvin Leung. Its name, Bau, pays homage to the Bauhinia flower, a rare hybrid plant that is native to Hong Kong. It's also the iconic symbol of the city. The new restaurant opens in the former location of Leung's two-Michelin-starred restaurant, Bo Innovation. As a farm-to-table dining concept, the restaurant uses local ingredients and serves a smorgasbord of bold, creative dishes with a local spin.
During the initial phase, Cafe Bau will be open for dinner, offering three-course and seven-course tasting menus. Kicking off the appetisers is the refreshing Salt Roasted Beetroot with Pat Chun Vinaigrette, Candied Walnuts and Charred Corn. The Grilled Squid with Spicy Shatin Pomelo Jam. Also, indulge in the Slow-cooked Oxen Brisket before digging into the desserts. The palate-cleansing Sugarcane Juice Jelly with Seasonal Fruit is exclusive to the tasting menu.
Address: Shop 8, Podium 1/F, J Residence, 60 Johnston Road, Wan Chai, Hong Kong
Phone: +852 2126 7212
FRANCIS west The team behind FRANCIS—restaurateur James Ward, chef Asher Goldstein, and sommelier Simone Sammuri—is opening another outlet in Soho. The new restaurant is bringing fragrant species and smoky flavours of the Maghreb to Central. They offer cuisines from North African countries including Algeria, Tunisia, Libya, and Morocco, Maghreb. Here the chef marries the culinary heritage with Mediterranean and African flavours.
Goldstein, who hails from Tel Aviv, draws whips up contemporary Middle Eastern cuisine. The menu highlights include Mashwiya (Tunisian grilled salad), Stoned Baked Frena (Moroccan flatbread), and Lamb Merguez. You can also expect a quality selection of wines, exclusively sourced from coastal regions of the Mediterranean.
Address: Felicity Building, 42 & 44 Peel Street, Central
Email: info@francis.com.hk
PLEKA Chef Ken Lau, who is behind Pano in West Kowloon and Palco in Ocean Terminal, is at the helm of PLEKA. The new Italian restaurant is designed to extend Pano and Palco's concept of a 'chef's table' by showcasing the cooking process right in front of guests. The floor-to-ceiling windows accentuate the overall dining experience, complete with a panoramic sea view and an outdoor alfresco area.
The eight-course tasting menu is the highlight here, as it's inspired by chef Ken's travels around the world. Embark on a gastronomic adventure starting with the amuse-bouche, then handmade pasta, juicy meat, and lip-smacking desserts. The dishes use fine ingredients from Japan and Europe, filled with rich and decadent flavours.
Address: Shop 4010, 4/F, IFC Mall, 8 Finance Street, Central, Hong Kong
Phone: +852 2889 3839
Bino N' Booze For a change of scenery in Hong Kong Island's bustling new restaurants, head over to Bino N' Booze. This hotpot eatery in Sham Shui Po pays homage to traditional Hong Kong flavours with a creative touch (think alcohol-infused soup bases). The boozy dining experience is rooted in flavour, friendship, and fun and offers exclusive items like hand-wrapped dumplings and fresh hand-cut steer meats.
The four signature soup bases highlight quintessential local flavours. While the Signature Red Wine Oxtail and Tomato Soup is a blend between beef broth soup and classic borscht, the BnB Seafood Soup is infused with Japanese Nanshan Sake, bringing out an umami flavour. Other soup bases are the Hua Diao Chinese Herbal Soup and Pig Tripe and Chicken in Beer Soup. Finally, those not keen on the alcohol-infused soup can still opt for the Vegetarian Mushroom Soup.
Address: Shop A, G/F and 1/F, 205 Hai Tan Street, Sham Shui Po, Hong Kong
Phone: +852 6353 5519
Bistro Hoi An Bistro Hoi An opens its doors in Tuen Mun, bringing fresh flavours of Vietnam to the seaside neighbourhood. The new restaurant at Gold Coast Piazza is adorned with vibrant ceiling lanterns and photos reminiscent of old Vietnam. Fish sauce or nuoc cham takes centre stage at Bistro Hoi An. It's often described as the national essence of Vietnamese food. Guests can try three types of sauces; all made in-house to bring unique flavours to the dishes they're paired with.
Highly recommended on the menu is Sauteed Frog Leg, a rarity at many Vietnamese restaurants in Hong Kong. Also, don't miss the Chargrilled Pork Belly, Vietnamese-style Sauteed King Prawns, and Hoi An Suckling Pig. They also offer some classic cocktails like gin-based Blossom, vodka-based Amy's Martini, and Negroni.
Address: Shop 1A, Gold Coast Piazza, 1 Castle Peak Road, Tuen Mun, Hong Kong
Phone: +852 3421 0060
Best new restaurants to try in Hong Kong – March
Enishi Enishi is the newest teppanyaki restaurant in town and is helmed by three Japanese chefs: Shun Sato, Toru Takano, and Ami Hamasaki. The restaurant's name means "fate" in Japanese, which reflects the bond between people who are destined to meet, much like the three chefs who met while working in Australia. Their dream of bringing Japanese cuisine to the world culminates in Enishi's 23-seating with two distinct dining experiences: teppanyaki (11 seats) or à la carte (12 seats).
Diners can enjoy a "home away from home" teppanyaki experience. Treat yourself to dishes like Oyster Sanbaizu, a nod to chef Shun's hometown, with fresh oysters from Miyagi Prefecture. For the Market Sashimi course, you'll be reminded of a Tsukiji-like dining experience. Other highlights include Ezo Awabi and Wagyu Tenderloin.
Address: G/F, 49 Bonham Strand, Sheung Wan, Hong Kong
Phone: +852 2997 7009
Lucale Italian restaurant Lucale is reopening under the ownership of chef duo Alessandro Angelini and Luca De Berardinis. The re-launch sees the beloved Sai Ying Pun ristorante with a revitalised menu of new dishes. The chefs are focusing on exquisite seafood dishes that celebrate the best of the Italian coast. Expect creative plates like thinly-sliced Warm Baby Cuttlefish or Green Cappelletti filled with Sea Bass for the starters. Over at the mains, the pan-fried Seabass Fillet or hand-cut Tagliolini Pasta with Lobster, Prawn, and Scallop Ragout will fill you up. In addition to the menu, the interiors also get a fresh look with soft blue and grey tones punctuated with warm hues. It creates an environment where diners can sit back and relax, just like a little Italian holiday.
Address: Shop A, 100 Third Street, Sai Ying Pun, Hong Kong
Phone: +852 3611 1842
Snow Garden Founded by prominent Huaiyang (Shanghainese) cuisine figure Chiang Biu, Snow Garden is the latest addition to Hung Hom's culinary scene. It's the newest outpost of Snow Garden, which follows the footsteps of the original North Point branch, which closed its doors in 2009. Chiang is working together with his disciple of many years, chef Long Chi Fai, to bring back the brand's nostalgic flavours to a new generation of foodies.
Some of the signature dishes include the pan-fried Pork Buns and the double-boiled Jinhua Ham Soup with Chicken and Tientsin Cabbage, which may take some diners on a trip down memory lane. Must-try dishes at the Hung Hom branch are the Yangzhou Crispy Bean Curd Skin Rolls, Shangsong Style Spring Chicken, and Ox Tongue Marinated with Rice Wine Sauce.
Address: Shop 101, 1/F, Y83, 83 Wuhu Street, Hung Hom, Hong Kong
Phone: +852 3897 9686
Vivere This restaurant's name means "to be alive" in Italian, and that's exactly what it sets out to be. Vivere opens its doors in the bustling Causeway Bay with elevated Italian food and mesmerising views. Indulge in a ravishing menu filled with Italian specialities. The flavourful seafood dishes and the succulent meat-based plates will transport you to the coasts of Italy. Take advantage of the monthly promotions here, including the 2-for-1 cocktails on Tuesdays, 2-for-1 main courses on Wednesdays, or the HKD 200 (INR 2096) free-flow for two hours on Thursdays.
What's more, the DJ plays hit tracks every Friday and Saturday. Also, do not miss the exclusive Sunday brunch with a drag show where the drag queens of Hong Kong take over the stage.
Address: 11/F, Sugar+, 25-31 Sugar Street, Causeway Bay, Hong Kong
Phone: +852 2186 6404
Man Mano The slew of new Italian restaurant openings continues with Man Mono by Wolly Pig Hong Kong. With an outlet in Tung Chung, the restaurant takes inspiration from a traditional Italian family kitchen where everything is made from scratch. As a result, diners can expect a menu filled with house-made artisan pasta. The 4,000 square-foot space is dressed in pastel and soft earthy tones, complete with Italian countryside courtyard-inspired decor in rustic stone and brick. However, the showstopper is the pasta-making counter, where the culinary team puts on a theatrical touch on hand-rolled pasta. So, keep your eyes peeled and your stomachs ready for the Pappardelle, Maccheroni, and Risotto.
Address: Unit 418, Citygate Outlets, 18-20 Tat Tung Road, Tung Chung
Phone: +852 3500 5885
Best new restaurants to try in Hong Kong – February
Macelle From the minds behind meat and seafood purveyors Steak King, comes this new Italian steak restaurant. Macelle, inspired by the Italian word for 'macelleria', which means butcher, entices diners with its counter-to-plate steak offering. The 50-seat trattoria-style dining has both indoor and alfresco options. Sink your teeth into their signature items like the Angus Fiorentina Steak or Iberico Pork Chops. Also on the menu are seasonal meat and fish items cooked in Macelle's wood-fired grill for extra flavour with every bite.
Address: LG, Sharma Soho, 9–11 Staunton Street, Central, Hong Kong
Phone: 5607 4860
Barkada This is the newest addition to Hong Kong's growing number of Filipino restaurants. Barkada, which means a group of close friends in Tagalog, is helmed by food influencer and cookbook author Jen Balisi of Indulgent Eats. Championing bold flavours through contemporary Filipino cuisine, the menu celebrates the savoury, sour, sweet, and spicy palette that characterises the Philippines. Diners can expect modern takes on the classics such as the Adobo Popcorn Chicken and Brown Butter Pancit Canton. A vegetarian version of the Sizzling Sisig is available with other plant-based options. Be sure to pair the food with cocktails created by the award-winning bartender, Gagan Gurung. His creations fuse Filipino and Southeast Asian flavours.
Address: UG, FOCO, 46–48 Cochrane Street, Central, Hong Kong
Phone: 2663 0238
Yurakucho Yurakucho is bringing the timeless energy of Japan's izakaya water-hole culture to Hong Kong. Expect sake, a live robatayaki open-kitchen grill, Japanese highballs, Japanese-style bites, and DJ-spinning soundtracks. Head chef Vicky Mau and chef Matthew Chan are bringing to life dishes that represent the hidden streets of Yurakucho. Indulge in small plate offerings such as the Katsu Sandos, Garlic Butter Edamame, and Chicken Kaarage, all created fresh from the open kitchen.
Address: G/F, Yu Yuet Lai Building, 43–55 Wyndham Street, Central, Hong Kong
Phone: 2663 0068
Kushitei With roots in Tokyo, Kushitei marks the kushiage eatery's first outpost in Hong Kong. The omakase-style restaurant offers the well-loved exponents of deep-fried, skewered-led cuisine. The wood-clad interior has a nine-counter seating with surrounding tables accommodating another 12 for an intimate dining experience. The farm-to-table skewers are freshly cooked, made with free-range Kurosatsuma chicken from Kagoshima, purse sunflower oil, and a special kneading powder. To complement crispy specialities, make room for the tempting selection of Japanese sake and fruit wines.
Address: Shop G04–05, G/F, Grand Centre, 8 Humphreys Avenue, Tsim Sha Tsui, Hong Kong
Phone: 2688 6150
Harbourside Harbourside is one of the four new restaurants at Regent Hong Kong. Perfect for picky eaters and those with a big appetite, Harbourside offers a vibrant dining experience complete with stunning views of Victoria Harbour. With a focus on Asian and Western cuisine, let yourself be transported to various food destinations across the globe. The menu changes every week to provide new experiences each time. Be sure to catch different exclusive items which are available at different time slots. Some of the must-haves include different varieties of pizzas, bread, pastries, and sushi.
Address: G/F, Regent Hong Kong, 18 Salisbury Road, Tsim Sha Tsui, Hong Kong
Phone: 2313 2313
Best new restaurants to try in Hong Kong – January
Calle Ocho This new space is inspired by Spain's historic Madrid de Los Austrias neighbourhood, Calle Ocho. Encompassing over 2,500 square feet, the tapas bar and restaurant overlooks Victoria Park and Fashion Walk. The menu travels the length and breadth of Spain, from the humble Pan con Tomate to the playful Uni-Cone featuring tuna tartar. Their selection of indulgent Charcuterie with traditional cold cuts and cheeses is particularly enticing. Also, try the slightly salty Candela Manchego Cheesecake before calling for the cheque.
Address: Fashion Walk, 8 Cleveland Street, Causeway Bay, Hong Kong
Phone: 2638 8895
Gogyo Returns Love ramen? Gogyo, the Japanese ramen gastropub, is back in town after it shut its doors in 2019. With a traditional Japanese izakaya and a bar, Gogyo offers the best of both worlds. Everyone's favourite Kogashi Miso Ramen and yakitori dishes are making a comeback. Additionally, the selection of craft beer and drinks will spoil you for choice.
Address: B1/F, Alexandra House, 16-20 Chater Road, Central
Phone: 3568 5833
69 on Jervois Bar and Grill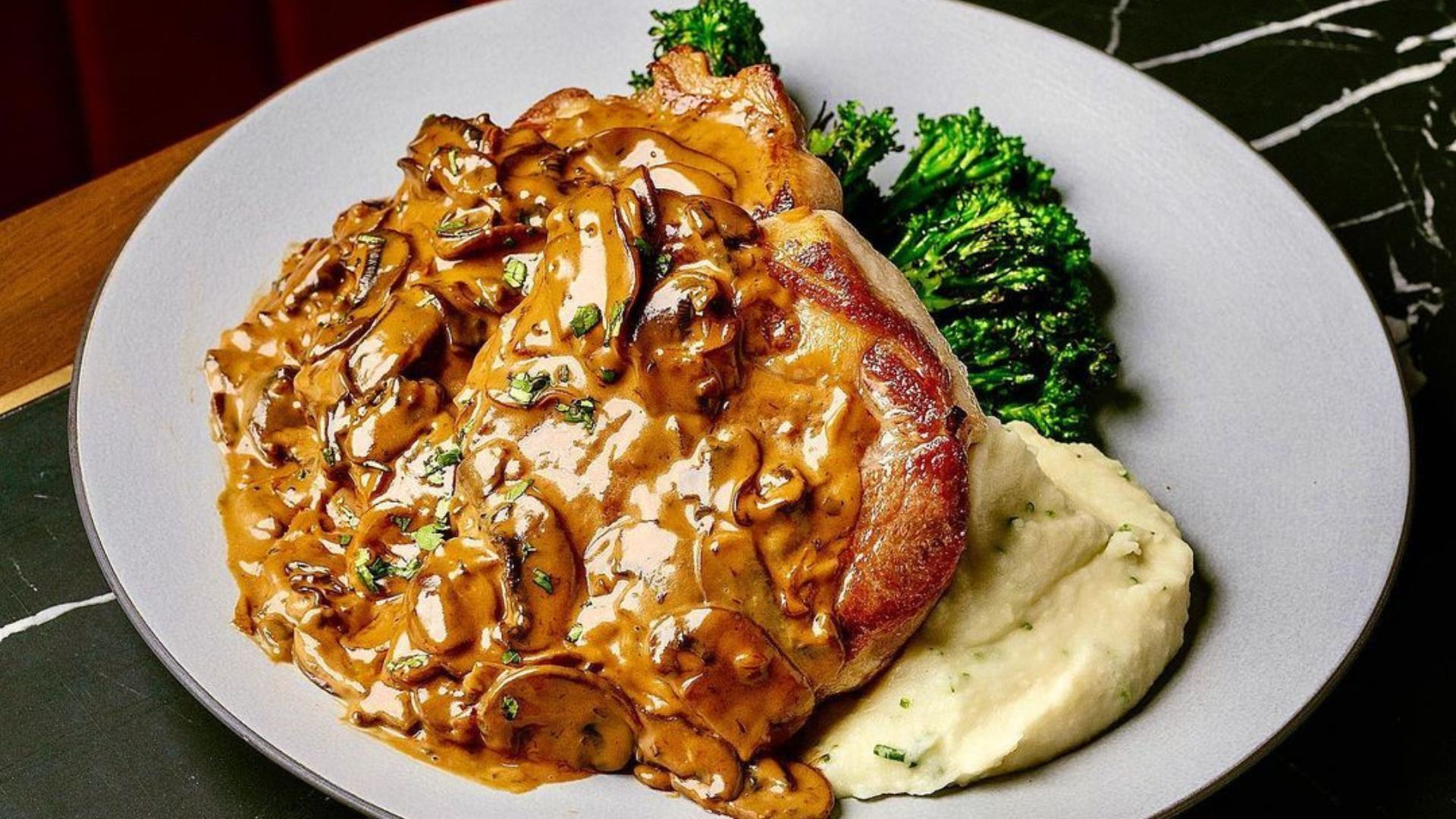 Overseen by Culinary Director Danielle Giambattista, the diverse menu promises a taste of British homestay classics, comfort foods, and an occasional local twist. Signature dishes include Crispy Haggis Balls, the sinfully juicy Jervois Burger, Charred Broccoli Rabe, crispy Chicken Schnitzel, oozy 69 Macaroni and Cheese, and a nostalgic Baked Apple Crumble. This brand-new venue also comes with a speakeasy bar curated for intimate get-togethers. The So Hong Sinner, The GoDown and Fragrant Nullah are just a few tipples you must try here.
Address: 69 Jervois Street, Sheung Wan, Hong Kong
Phone: 9752 6715
Hiru Omakase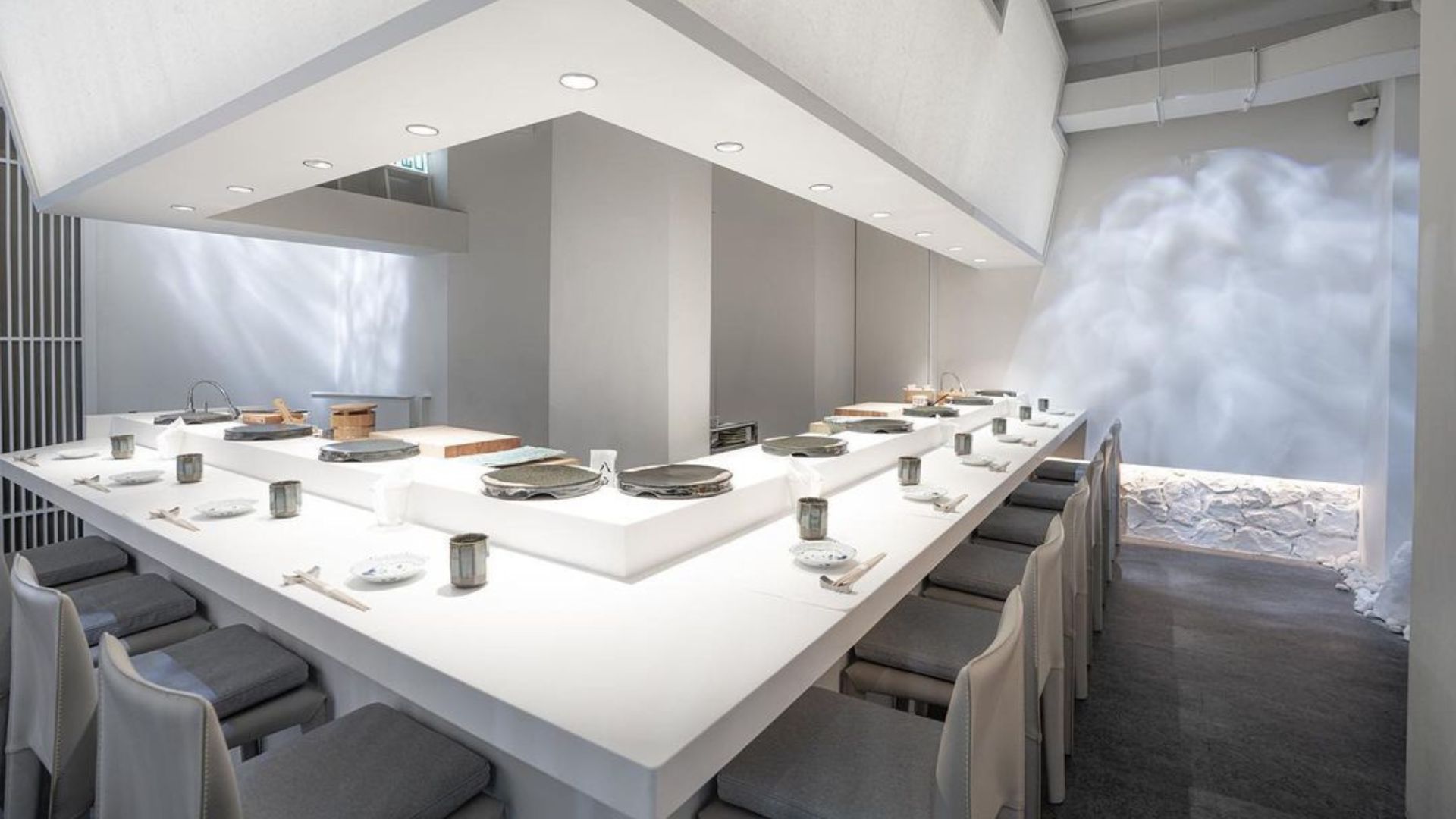 Hiru Omakase is a Japanese concept inspired by the tranquillity of the day. The zen space features bright, all-white walls with muted tones. Executive Chef Ronald Liang, who is at the restaurant's helm, promises an exclusive gastronomic expedition with Omakase courses featuring excellent seafood and fine ingredients. Omakase lovers have great things to say about their Monkfish Liver from Hokkaido and Wild Tuna from Hachinohe-shi. For a premium dining experience, take advantage of the Hiru Omakase premium tailor-made experience.
Address: G/F, No. 21 Lan Fang Road, Causeway Bay, Hong Kong,
Phone: 9017 9352
Yoru Teppanyaki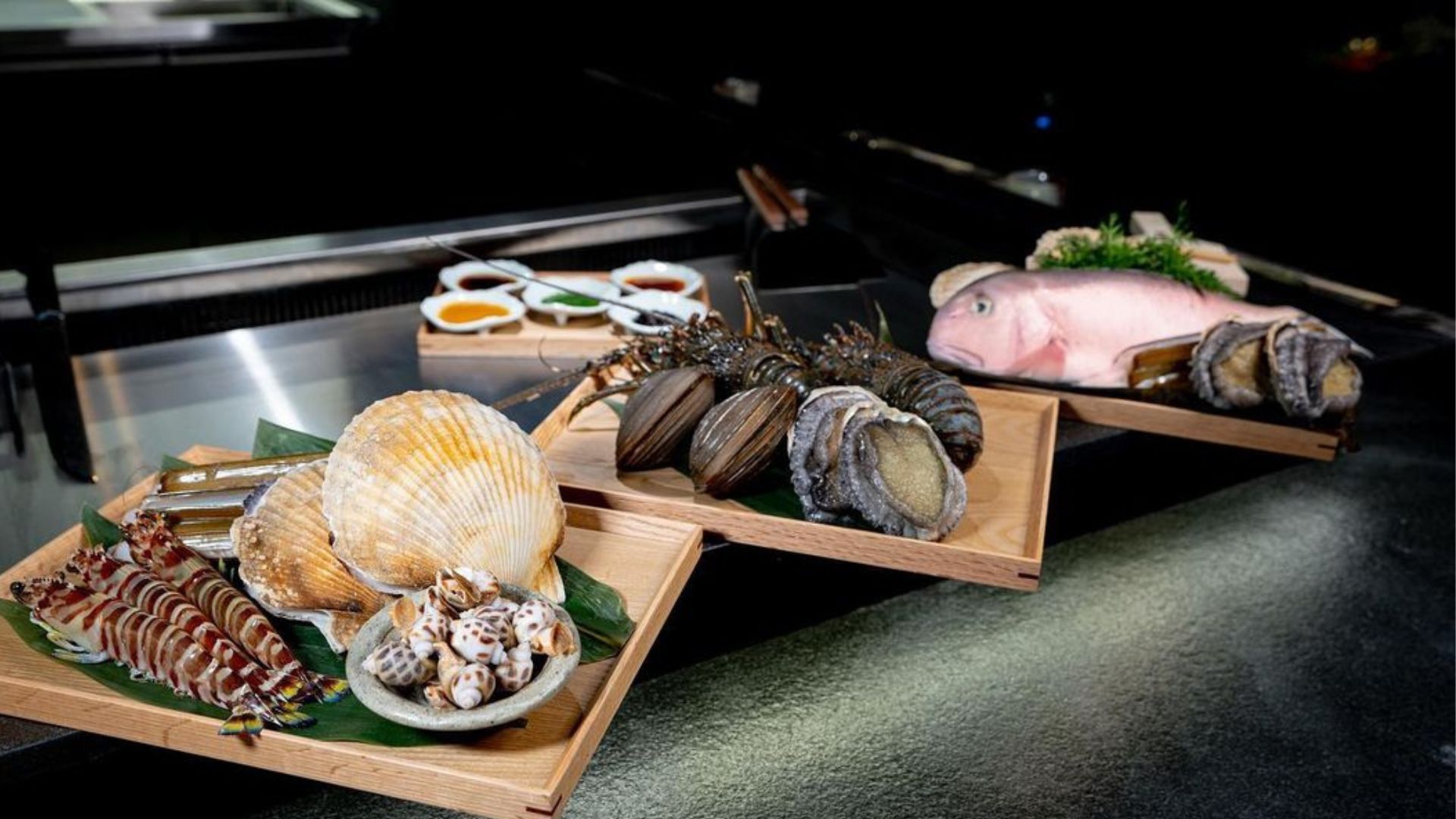 Based on the Japanese concept of night, Yoru Teppanyaki welcomes you with a warm, welcoming ambience that feels authentic in every way. Here, Teppanyaki techniques using Sakura Wood and Bincho Charcoal create perfect harmony, texture, and flavour. In addition, Yoru Teppanyaki's unique 'colourful sauces' enhance the taste. The restaurant reinvents the teppanyaki cuisine with modern sensibilities with fresh and seasonal ingredients. You can also book the VIP rooms to enjoy a private, higher and more comfortable experience.
Address: G/F, No. 17-19 Forest Road, Tsim Sha Tsui, Hong Kong
Phone: 5331 3978
We hope you're hungry Hong Kong.
This story first appeared on Lifestyle Asia Hong Kong
Related: Here Are Some Recipes That Elevate Your Breakfast Meals
Frequently Asked Questions (FAQs)
Question: What are the new themed restaurants in Hong Kong?
Answer: Hiru Omakase and Yoru Teppanyaki are the new themed restaurants in Hong Kong.
Question: Which restaurants have the best fine dining experience?
Answer: Hiru Omakase and Yoru Teppanyaki, the new themed restaurants in Hong Kong offers an incredible fine-dining experience.
Question: Are there any Michelin starred restaurants in Hong Kong?
Answer: The Michelin starred restaurants list included names like L'Atelier de Joël Robuchon and Sushi Shikon.