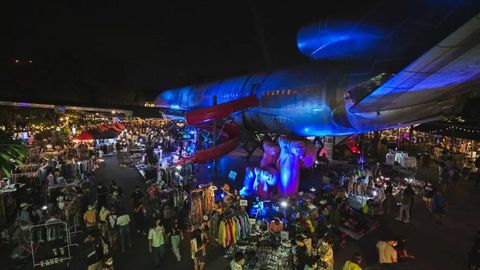 Food, drinks, garments, souvenirs, and more—are all available as you take a stroll down these Bangkok night markets. Next time that late-night craving hits, or you're in the mood for a late-night shop, here's where to head.
The other side of Bangkok brims with life as the sun sets. Sure, we have a very vibrant nightlife filled with bars, clubs, and whatever they're doing in Khaosan, but night markets shine when someone asks "What else is there to do at night in Bangkok?" Come in with an empty stomach, as there will be more to eat than you might think, and no need to shop until you drop, either, as you can stop by the foot massage parlours at these night markets on your way out.
Best night markets in Bangkok for those late-night cravings
Jodd Fairs Located in Rama 9, Jodd Fairs houses over 700 stalls filled with everything you might need on a chill night out. Hungry? Grilled meats, pad thai, Korean delicacies—there are all sorts of cuisines for all kinds of people. Drinks? There's a whole section dedicated to drinking, and with live music, too. Need a haircut? Feel free to walk into one of the barber stalls. It's simply a one-stop shop.
You can find more information at Jodd Fairs.
ChangChui Creative Park Chang Chui's opening was a big deal—finally, something for us in the Thonburi area. The night market has quirky, lively vibes that you can't find anywhere else in Bangkok. It has a decommissioned aircraft hidden in plain sight, art installations and attractions made from upcycled materials, live music and creative performances, along with food and drink. There's even a craft cocktail bar inside.
You can find more information at ChangChui.
The One Ratchada When Covid-19 closed down many businesses in Bangkok, Rod Fai Market (Train Night Market) was also one of the affected victims. After being acquired by new management, the market has sprung back to life once again. Hundreds of vendors offer everything from street food and snacks to garments and nail services. There's ample seating in the middle area if you're looking to dine there.
You can find more information at The One Ratchada.
Book your stay at Waldorf Astoria Bangkok via Booking.com
Book your stay at Waldorf Astoria Bangkok via Agoda.com
Chatuchak Market Many know Chatuchak as a weekend market, but on Fridays, Chatuchak is open from 6 pm onwards. What this market offers rather than the items on sale is a variety of people and cultures. Home to almost 1,000 vendors, there's simply everything you're craving for. Traditional Thai souvenirs? Sure. Street food? There's a bunch. Paella and Sangria? Oh, you're in for a treat.
You can find more information at Chatuchak Market.
Hua Mum Market Hua Mum is not as flashy or photogenic as the other night markets in Bangkok, but it's an underrated food haven for locals. Great food stalls that can satisfy any craving, all with inexpensive prices and friendly service. It's also a nice idea to bring a few friends and chow down on some all-you-can-eat moo krata deals. Don't be afraid to snag a couple of smoothies and snacks for the ride back—we know you want to.
You can find more information at Hua Mum Market.
Ong Ang Walking Street Come for the food, stay for the artsy vibes. The award-winning Ong Ang Walking Street was renovated and opened to the public in 2020, presenting a long pathway filled with beautiful graffiti and vendors lined up to satisfy your cravings. Now bustling with more crowds than ever, upon entry, you'll hear the sounds of sizzling hot grills, people clapping along to the street performers, and everyone enjoying themselves as they munch down food by the waterway.
You can find more information at Ong Ang Walking Street.
Shop the best travel experience here
This story first appeared here.
[Hero and featured image credit: ChangChui/Facebook]
Related: Bangkok Travel Guide: Everything You Need To Know About The Vibrant City
Written By