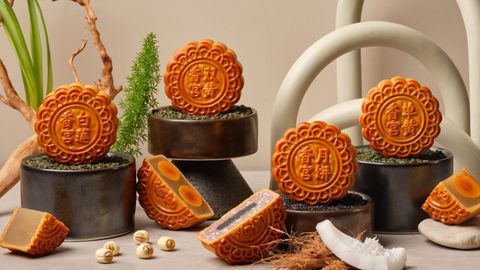 From the classic lotus paste to contemporary fillings of miso, cempedak, and even gin, Singapore restaurants are getting wild with their mooncakes for Mid-Autumn Festival 2023.
The snack has come a long way since its origins centuries ago. It started out as a celebratory food during the Mid-Autumn Festival, where people across China would consume round pastries baked around a sweet or savoury filling.
Other times, certain styles became associated with different Chinese subgroups, such as the lotus paste or nuts in Cantonese mooncakes, and the flaky skin and yam paste popular among Teochews. Reportedly invented in Hong Kong during the late 20th century, snow skin mooncakes, which are not baked, have also become popular.
Due to migration, these three mooncake variants dominate in Singapore, but not without local twists. For 2023, baked versions feature influences such as Parma ham, mala-spiced nuts, tea blends, and bak kwa. But the fun really begins with snow skin mooncakes. There is gula Melaka, cempedak, and durian. Japan lends azuki beans, miso, and kinako. Classic cocktails like Negroni and Martini are turned into fillings. And behind them is a whole galaxy of chocolate-flavoured renditions.
While Mid-Autumn Festival falls on September 29, 2023, most of the places selling them are currently offering early bird discounts. From local pastry brands to Michelin-starred restaurants, see below for Singapore's best mooncakes this Mid-Autumn Festival 2023.
16 places for the best mooncakes in Singapore for Mid-Autumn Festival 2023
Jump To / Table of Contents Written By