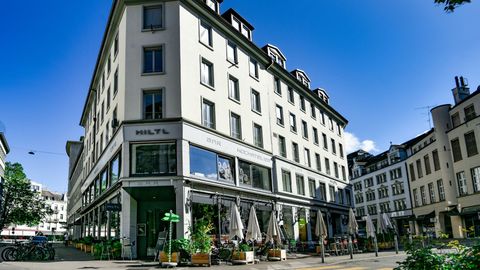 Would you have guessed that the world's oldest vegetarian restaurant is not in India? Haus Hiltl in Zürich has been serving vegetarian food to the Swiss since 1898! Travel+Leisure India & South Asia's contributor visited it for a quick sampling. By Pallavi Pasricha

Never in my wildest dream did I think that one of the highlights of my Swiss sojourn would be dining at a world's oldest vegetarian restaurant. Located near the luxury shopping street of Bahnhofstrasse in Zürich, Haus Hiltl opened in the late 19th century. I get a chance to meet the owner Rolf Hiltl, who is a trained chef and a flexitarian, over a meal. I chat with him about how this place that has made it to the Guinness Book of World Records as the world's oldest continuously-run vegetarian restaurant. I am here on a special day when two popular Indian chefs – Vicky Ratnani and Thomas Zacharias—are cooking up a storm for a few Indian guests. On the menu is Makhana and Swiss Tomato Bhel, Wild Mushroom Millet Yakhni Pulao and Black Rice and Coconut Milk Payasam with mixed berries. But Indian cuisine is not new to Hiltl; Indian and Asian dishes have featured on the menu for years.
History of Hiltl Rolf Hiltl, now the fourth generation to run this restaurant, relates the story of how a Swiss vegetarian place opened at a time when a meat-free meal was scoffed at by Alpine residents.
When a German tailor Ambrosius Hiltl got such severe rheumatism that he could not even sew, he was advised by doctors to have vegetarian food. Thus he began frequenting Vegetarierheim and Abstinence-Café, a restaurant that served only plant-based fare. Opened in 1898, it was looked down upon by locals. He was amazed at the improvement in his health! In 1904, he bought the restaurant and went on to marry its chef, Martha Gneupel. Renamed Haus Hiltl, they struggled to keep it going initially, but that changed slowly as a movement focusing on healthy living began in Switzerland over a century ago. And the rest, as they say, is history! Over the years, Haus Hiltl has constantly expanded its vegetarian horizon to cuisines beyond Swiss and German. Its Indian connection started in early 1950s when Ambrosius' daughter-in-law Margrith visited India to take part in World Vegetarian Congress. After travelling through the country for two months, she went back with a suitcase packed with spices, recipes and ideas. When her plan to introduce some Indian dishes on the predominantly German menu was turned down, she started cooking them separately and serving it to a few guests. Now, these are a part of the mainstream cuisine.
In 2013, Haus Hiltl introduced Switzerland's first vegetarian butchery, after Rolf got the idea on a trip to Shanghai. Today people can get meat alternatives like soy sausages, paneer, tofu and tempeh. And there are also syrups, chutneys and vegan wines available.
Ambience There's a buffet section on the ground floor, while a la carte meals are served on the first floor. When I walk in, I am struck by the amount of natural light streaming in through the floor-to-ceiling windows that bring the outdoors, inside. The slanting glass wall of the kitchen provides a peek into the action inside, while the staircase leading to the first floor has a glass panel on which children can draw and paint.
The a la carte section has different dining sections with grey and white interiors paired with opulent chandeliers. We enjoy our meal on the fifth floor at the Hiltl Academy which has a private table and a cooking studio. Here, chefs are invited for cooking or learning through classes. There's a wall with photographs of famous people who dined here including late Prime Minister Morarji Desai.
Food & Drinks The buffet section has a plethora of about 100 hot and cold dishes from across the world, including Indian. Customers can pay by weight (for every 100 grams heaped on their plate.) Rolf says this unusual feature was introduced to avoid wastage, "we find that this way people take exactly what they can eat," he explains.
In the a la carte menu, the choice goes all the way from Asian, German, Mediterranean to Italian. Should you want to try Indian, there are dishes like Palak Paneer; Banana Madras; a Thali Platter with curries, pickle and chutney; and even Masala Chai. Their most popular dishes are Hiltl Tartare made with eggplant, capers and organic eggs; and the much-loved Green Burger that even has a green brioche bun with pea guacamole. Then there is a Bolognese made with walnuts and braised tomatoes. Have all these, and more, while sipping vegan wines, tea, coffee and cocktails.
So next time the craving to go green hits you in Zürich, you know where to head!
Address of Haus Hiltl
Sihlstrasse 28, 8001 Zürich, Switzerland
Timings
Monday to Thursday: 7am to 10pm
Friday: 7am to 11pm
Saturday: 8am to 11pm
Sunday: 10am to 10pm
For Reservations
Call +41 44 227 70 00
Related: TL Reviews: Gurugram's For Earth's Sake, India's First Zero-Waste Café & Store
Written By