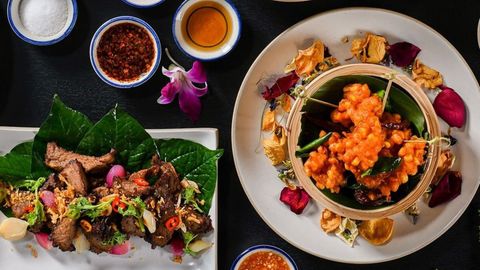 Qatar is slowly developing into a hub for travellers and culinary connoisseurs. The country's capital, Doha, is hosting the FIFA World Cup 2022, which means increased tourism. If you're one of the many visiting, here's your guide to the best (and the fanciest restaurants) in Doha for a delicious bite. Happy travels! By Anushka Goel
Since the beginning of the year, Doha has been in a whole new spotlight. Reason? The upcoming 2022 FIFA World Cup will be hosted there. The football event is definitely the biggest in the entire world, and sees ardent fans from across the globe reach the host country to catch a glimpse of their favourite players battling it out on the field. For the uninitiated, FIFA isn't the only reason behind the popularity this Middle Eastern country enjoys. Its capital, Doha, is located along the east coast of Qatar and offers some of the most scenic beaches with clear water and glistening sand. The city has beautiful mosques that speak of history and modernised buildings to amplify its status as a modern, fast-paced destination. Add to this gastronomic cuisine and a rich cultural heritage, and you have the recipe for the makings of an untapped travel gem right in front of you.
If you're travelling to Doha any time soon (be it for FIFA or otherwise), you'll definitely want to check out its extraordinary gastronomic scene. From Middle eastern delicacies to authentic world cuisine, the restaurants in Doha serve them all. So no matter your preferences, there will be a cuisine for you.
So, if you're in the city, these restaurants are a must-visit for all your gastronomical needs!
Restaurants in Doha you must try
Jump To / Table of Contents Written By