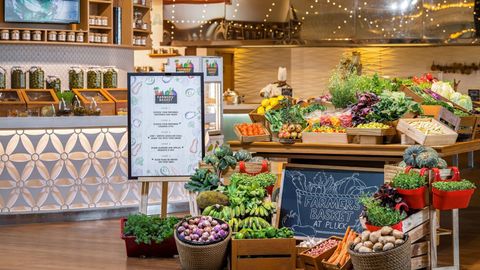 If a farm-fresh meal, cooked to order is what your ideal lunch looks like, a Sunday brunch at Farmer's basket at Pluck, Pullman New Delhi Aerocity, is your calling. Our Digital Features Writer samples the menu on a warm August afternoon. By Anushka Goel
Sunday afternoons for me are about indulgence and spending time with loved ones. Be it family or friends, a cosy day spent in conversations and a great meal are one of the best ways for me to unwind. One such occasion is made better with a scrumptious Sunday brunch at Farmer's Basket at Pluck, Pullman New Delhi Aerocity. Entering the hotel on a warm Sunday afternoon, I am met with the lobby buzzing with people, full desks and a homely, warm vibe. I make my way to their restaurant, Farmer's Basket at Pluck, where I am set to sample their Sunday brunch spread.
The restaurant is a big, open space complete with huge windows, a filled bar and quirky, comfortable interiors. The place is illuminated by natural light, and makes the already cosy seating more homely. As I take my seat by the window, I am surrounded by tables filled with families, couples and groups celebrating various occasions. Children run around, and delectable food fills up each table. I can't wait to dig in.
What the Sunday brunch at Pluck has to offer The moment you enter, the first thing you'll notice is a huge table filled with ripe vegetables and pots full of fresh herbs. A few steps in, the display gradually changes into tables filled with seafood straight from the market, set on trays of ice to retain its flavour and freshness. My server, Binay, explains the concept behind the setting. "About 60-70 per cent of the produce that you see here is from our own farm (which is located behind Novotel, another property by the brand right next to Pullman). The seafood comes fresh from the market. Guests can simply fill a plate or basket with the veggies and meat they like, select a cooking method and cuisine, and enjoy their meal fresh from the farm to the table." Not just that, the entire menu at the restaurant features a major portion of ingredients that come from this kitchen garden, ensuring your food has a local, artisanal touch to it and makes you appreciate your meal even more. And this is something I sample with each dish I try.
The brunch offers a variety of Indian, European, Japanese, Thai, Italian and world cuisine. From live dessert counters to a pasta bar offering fresh, handmade tortellini, ravioli, spaghetti and more, sushi boats and a dimsum bar, the menu consists of delicacies from across the world.
I settle in with a berry-based mocktail before I begin my meal, soaking in the ambience and the chatter around me. The flavours of berry crush and ginger ale, complete with notes of citrus, are refreshing on a warm day, and help me rejuvenate before I sample the first dishes, all from the Asian section. The Japanese section displays four varieties of sushi – two vegetarian and two non-vegetarian. Sushi is definitely among my most favourite things to eat, and the ones at Pluck's Sunday brunch do not disappoint. The California Roll has a great bite and subtle flavour, while the pickled veggies and the mayo-based dip on top offer a contrast of flavours that explode on my palate.
Next are chicken and babycorn skewers. Made with a Thai-style glaze, the skewers offer a gamut of flavours – savoury, sweet, floral, and umami. The lemongrass lends a delicious floral note to the juicy chicken skewer, and lingers on my palate long after I've devoured it. I sip on another mocktail, a cucumber cooler, to cleanse my palate before I dive into the dumplings. There are four dumplings on offer – a chicken sumac open dumpling, lamb dumpling, water chestnut and lotus dumpling and an assorted vegetable dumpling, and I sample them all. While the flavours in each are umami and fresh, it's the textural intricacy of the water chestnut and lotus stem one that has me hooked. Each bite goes from crunchy to chewy and juicy, and the addition of the chilli oil they serve on the side takes my tastebuds to flavour town!
Next, I sample some lamb pie and fritters from the European section, before diving into Thai fish from the Thai section. The pie crust is flaky, and the lamb pie has just the right amount of flavour and texture to keep me coming back for more, while the fritters are mildly flavoured, offering a great flavour and texture contrast. The Thai fish is coated with a delicious sticky sauce, and the flaky, tender fish breaks apart with the gentlest touch of my fork. A Vietnamese duck and rice paper spring roll, stuffed with rice noodles and veggies, completes my meal at the world cuisine sections, and I head on to sample some Indian offerings. I sample some lagan ki boti (a lamb-based starter), jimikand ki shammi, and fish and chicken dishes, each offering a unique flavour and texture. The flavour of the whole spices in the marinades pops out well, and the offerings, while being flavourful, are not heavy on the spice – something I appreciate. Next, I head to the Farmer's Table to pick out veggies to sample – the ripe, full babycorn has been calling out to me, and I head straight to the table and pick some, Paired with kabuli chana, pearl barley and some sweet corn, these are stir-fried for me with some basic herbs, allowing the flavour of the vegetable to shine through – just the way I like it.
Pluck's Sunday brunch also features a chaat counter, shaped like a street-side cart, which serves you your favourite street food dishes, be it chaat papdi, gol gappe or bhel puri. Along with it is rows of flavourful salads and dips such as guacamole and hummus, served with a variety of breads and cold cuts. The bread section also features flavoured butters for you to enjoy, and the mains section also has a carving station for you to choose carved, roasted meats from. I take a break, letting the flavours of the starters dissolve on my palate as I sip on some pina cobbler, yet another fruity, refreshing mocktail. I'm already quite full, but not satiated, so I sample some fried rice and noodles from the Asian section. The umami notes prep me for my next bite, and I decide I want to sample some Italian – one of my favourite cuisines. The thin crust pizza has a tomato sauce that bursts with fresh flavours, while the mushroom tortellini that I sample (from the fresh pasta section) is paired with a delicious white sauce that is creamy, savoury and flavourful. The tortellini itself tastes like the perfect marriage between mushroom soup (which I love) and pasta, and it's safe to say that I am in food heaven. However, no brunch can be complete without a bite of the Indian offerings, and the gluten-free dal makhani is something that delivers on flavour. The dal, slightly sweet, is creamy, without the heaviness that comes with the dish. Next is the dessert section, and I have to admit – I have been eyeing the hot, fresh jalebis ever since I entered. The place has a dedicated dessert counter for Indian sweets, and this Sunday, a live counter also features freshly made churros coated in a cinnamon sugar and toppings of your choice. I fill my plate with the same, along with jalebis, a chocolate mud pudding and a chocolate trio cake – three flavours of chocolate mousse layered in a gradation and topped with chocolate garnish. I also opt for the espresso and chocolate gelatos to cool my palate and round off my meal. It's 3:30 pm by the time I leave, and I cannot be happier. For me, a good meal can set the tone for the rest of the day (and at times, the week!), and I know that whenever I get the chance, I am coming back here to sample yet another collection of new flavours and offerings from the farm-fresh table.
Where: Farmer's Basket at Pluck, Pullman New Delhi Aerocity
When: Every Sunday, 12:00 pm – 3:30 pm
Hero and Featured Image: Courtesy of Farmer's Basket at Pluck, Pullman New Delhi Aerocity
Related: We Visit Mardan, NCR's First Northwest Frontier Restaurant, And Sample Some Offerings
Written By