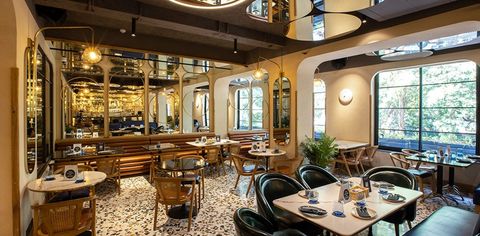 Chef Gurmeher Sethi, Navdeep Singh Sethi and Alekh Vardhan's brainchild, Klap, is making headlines in the culinary world. Nestled in a busy lane of Khan Market, New Delhi, this chic restaurant is transforming the local culinary scene of the city. We visit Klap for an immersive luncheon. By Priyanka Chakrabarti My first thought upon walking into Klap is that—this restaurant is unlike any other I've ever visited in Khan Market. An expansive space modelled into two floors and a terrace area—every corner here exudes pure sophistication. I love how natural light permeates through the glass walls, adding a layer of luminosity to the restaurant.
I learn that the design aesthetic is crafted by interior design and architecture firm group DCA. Imagine a whole lot of mirrors placed strategically on ceilings and staircase walls to give patrons a sense of space; textured hand-plastered walls coupled with earthy wood panels; nude cane furniture colour blocked with pop hued faux leather upholstery—every element in play cast a comfy vibe with strong undertones of sustainable luxury. Chef Gurmeher Sethi familiarises me with the terrace garden that grows all sorts of microgreens, edible flowers, vegetables and more. Talk about the urban farm-to-table dining experience! After the tour of the restaurant, I settle down to begin my 'conscious' culinary trail at Klap. Sethi has crafted a specially curated menu for me. I start with a warm Tom Kha shot – spicy and sour Thai soup with creamy coconut milk. The subtle flavours of lemongrass and artisanal Thai spices soothe my throat and stimulate my senses, piquing my appetite for a soulful lunch.
Next, two innovative salads arrive at my table. First, I dig into the Yum "Som-O" salad – fresh pomelo pearls topped with coconut shavings and roasted peanuts, and tossed in chilli-tamarind dressing. The garden-fresh salad is stuffed in an air-fried dough. Chef says, "Employ 'two fingers, one bite' to savour this. This is the thought behind creating a lot of dishes at Klap." And I do as instructed. The crunch of the dough adds a beautiful texture to the soft pomelo pearls doused in the choicest Indian spices. Then, I try their "Shakarkandi" Chaat; three-ways sweet potato skin (roasted, boiled and steamed) are tossed in red dragon fruit chutney and topped with crispy Kale, and then served in a fried noodle basket. Every bite of this visually appealing salad induces fond childhood memories of autumn. I'm still reeling under the bold flavours of the salads but it's time to try the gorgeous dim sums before they go cold. The baby chicken and celery dim sum in a lavender-hued coating is sitting delicately on a bed of homemade sweet and chilli sauce. I take a bite and as expected, authentic oriental flavours unfurl. The roasted garlic strips on the dim sum add a mildly earthy flavour to the dish. Then, I try the vegetarian dim sum – crystal Asian green dim sum with scallion and ginger hair. This melt-in-the-mouth dim sum has the right amount of sweet and savoury flavours in play. The plate is polished clean in the next two minutes.
Up next in the menu is the small plates section. I opt for the classic Smoked Prawns – doused in red pepper and fragrant kaffir lime dust, and the Hopper Taco – spice mutton pepper fry served on soft appam. Both the dishes are standalone winners for me. Every flavour is vividly distinctive and I could keep coming back to Klap just for these two dishes. The last hors d'oeuvre is called the Klap Zushi. Fried sushis, the vegetarian version comes wrapped in avocadoes and mango mint salsa, and topped with Furikake (a dry Japanese condiment); while the non-vegetarian one has spicy salmon, edamame and Furikake, garnished with silver vark. Delectable flavours apart, the most interesting part about this dish lies in the fact that it's served on a block of herbaceous ice. I can see roots of vegetables, some tomatoes and the likes frozen in eternity in the block of ice. Upon inquiring about this innovative take, Chef Sethi explains, "We believe in upcycling and reducing kitchen waste. Whatever vegetables are not used in the main dish, we try to incorporate them in innovative ways while presenting the food or opt for composting, instead." Full marks for this brilliant eco-conscious move, chef!
For the main course, I indulge in some quintessential prawn biriyani cooked with kale and coriander and served with a bright pink beetroot pachadi. And then, I relish the Chicken Chettinad served with crispy ghee roast cone dosa—this meal truly steals my heart. Every spice hits the right notes. To conclude the epicurean adventure, I use two fingers and one bite to cram down some coconut and jaggery ice cream stuffed delicately in a chocolate shell. This one is called the Klap Egg Tray – a future icon, I predict.
Klap's menu is a reflection of Sethi's myriad travels around the world. From British flavours to Italian, French, Indian, Mexican, Thai, Japanese, Korean and Indonesian gastronomical eccentricities, the multi-cuisine menu here unfolds a series of stories that accentuate the whole dining experience.
Visit Klap for a hassle-free dining experience with your loved one, but when you do, remember their "Two fingers, one bite" mantra! Address: 2 & 3 Khan Market, New Delhi – 110003
Timings: Monday to Sunday, 11 am to 10 pm
Contact: +91 9919918323, 011 46714080
Cost for two: INR 2000++ (without alcohol)
For home delivery: https://klap.dotpe.in/order
Related: Gurugram's Houz Cafe Bar Is Bringing Back The OG Café Culture In Town
Written By