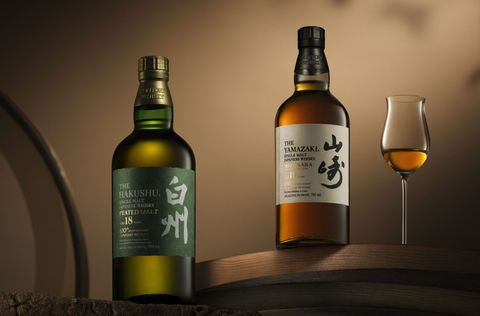 For all its fame and glory, there is no grand reveal of Yamazaki Distillery.
It first requires a 30-minute train ride from Japan's historic capital of Kyoto, and it gradually unfurls from there. Discreet signs around the station direct people where to go. At a local okonomiyaki restaurant, bottles of The House of Suntory's illustrious whiskies are tucked away on a high shelf. After a brief walk through a charmingly quaint village, a chimney peeks out from behind budding spring trees. A disused pot still, its black coat as moody as the grey March sky, points to the birthplace of Japanese whisky.
It has been 100 years since Suntory founder Shinjiro Torii established Yamazaki with the goal of making premium Japanese whisky. If he had any clue as to how successful his spirits have become, he might have laid out the path entirely in gold. In 2020, the brand released Yamazaki 55 Years Old, currently the world's oldest Japanese whisky, at an initial price of JP¥3.3 million (INR 1,87,70,056). One example was auctioned off in Amsterdam for more than a million Singapore dollars. In 2018, a slightly younger 50-year-old Yamazaki fetched USD 300,000 (INR 2,46,28,875) in Hong Kong. In 2011, I saw bottles of Yamazaki's 12-year-old single malt discounted to USD 40 (INR 3,283) at a supermarket in the US. Today, the same liquid in Singapore is SGD 379 (INR 31,114), if you can even find it.
How The House of Suntory invented Japanese whisky The House of Suntory's first hit was not whisky, but sweet wine, which Torii created in 1907. Local demand for Western liquors was thriving back then, and he opened Yamazaki Distillery in 1923 to make whisky based on a philosophy of monozukuri, which prioritises relentless perfection, attention to detail, and high quality. Competitors like Nikka, Hanyu, and Karuizawa followed, and Torii's successor, Keizo Saji set up the Chita and Hakushu distilleries in the early 1970s to make grain and peated whiskies. The first Yamazaki single malt was released in 1984, more than 20 years after Torii's death.
By the mid-1980s, the Japanese whisky industry was facing severe adversity. Virtually unknown outside of Japan compounded with a lack of local demand, Hanyu and Karuizawa were forced to shut down. Yamazaki and Hakushu both reduced their capacity significantly. Not even a smothering Bill Murray with a glass of Suntory's Hibiki 17-year-old in hand could arrest the slide in the early 2000s. The 30-plus years of downturn was abruptly reversed around the mid-2010s. When whisky critic Jim Murray named Yamazaki Sherry Cask 2013 as the 2015 World Whiskey of the Year, global demand skyrocketed. More accolades followed, and more people clamoured for Japanese whisky. But unlike a spirit like gin, an award-winning Hakushu 25 Years Old takes 25 years to make. "We have been running at full capacity for the last 20 years," a Suntory executive said.
The House of Suntory's response has been to stop selling the blended 17-year-old Hibiki in 2018. It also halted sale of Hakushu 12 Years Old but brought it back in 2021. Additionally, the company increased its Japan storage capacity by 50 percent at the end of 2022 as compared to 2016. Whether these moves will keep hysteria in check remains to be seen, but in the meantime, Suntory has other whiskies for you. Last year, they launched World Whisky Ao in Singapore, a blend of seven whiskies from five countries made possible by their buyout of Jim Beam in 2014. Kakubin, Suntory's mass-market whisky that combines liquid from their three distilleries, continues to be Japan's most popular and bestselling example.
"My first 10 years with Suntory was in the whisky department, and it was very tough," said Masaki 'Mory' Morimoto, who joined the company in 1992. Today, he runs Beam Suntory's Asia Pacific operations from a gleaming office in downtown Tokyo. "Nobody wanted to enjoy whisky. But demand dramatically changed. So after our previous situation, our current situation is very good for us. We have challenges to supply whisky, but our first priority is quality." How The House of Suntory makes Yamazaki whisky
This frenzy for all drinks Japanese manifests itself at Yamazaki Distillery. A portion it is under renovation as part of Suntory's 10-billion-yen (S$93.5 million) investment to enhance the visitor experience. The money also lets the facility to do its own floor malting, a process that germinates barley's starch into sugar for alcohol fermentation, and experiment with whisky-making with a small electric pot still. A similar story is playing out at Hakushu Distillery, which will also begin floor malting, cultivate its own yeast to achieve desired flavours, and offer an updated visitor tour later this year.
At Yamazaki, a whisky's journey from grain to bottle starts in the mashing room, a warm, humid place where imported Scottish barley is converted into a beer-like liquid. It is then distilled into a spirit using 2 of the 16 pot stills, poured into a cask, and stored in an adjacent warehouse. Compared to the din on the production floor, the warehouse is ghostly. "Except for the opening and closing of the doors, the air in here is about one to two months old," a guide said. Barrels were stacked up to three tiers high, and one was freshly stamped with year of 2020. Another bore the faded mark of 1979. Over time, the whisky takes on certain characteristics depending on the size and type of oak barrel, and the final product is a blend of different casks.
For its 100th anniversary, the House of Suntory gave centenary labels to the 12- and 18-year-old single malts from Yamazaki and Hakushu, as well as Hibiki 21 Years Old. Those looking for ultra-rare editions like the 55-year-old Yamazaki and Tsukuriwake range, however, are out of luck. So far, Suntory has introduced a limited-edition canned Hakushu highball sold only in Japan. A similar Yamazaki highball will follow this August. Both will sell for around 600 yen (S$5.60). Instead, why not watch a short film directed by Sofia Coppola and starring Keanu Reeves? In Singapore, the company is holding an exhibition with whisky flights at ArtScience Museum this July, followed by whisky pairing dinners in August and September at one-Michelin-starred restaurants Whitegrass and Sumer Pavilion. More than just Suntory whiskies
Perhaps The House of Suntory's future lies in an industrial part of Osaka. Beneath a rumbling flyover, a boxy grey building hides polished columns of copper and steel, some slender and tall, others stoutly built. While the stills were silent in the steamy air, their lingering scents reveal traces of their previous occupants: the peppery bite of juniper, the sweetness of yuzu, a wave of lemon's freshness.
The Osaka Plant predates Yamazaki Distillery by four years, and it is where Kazuyuki Torii holds court today. Thin, with a stylishly dishevelled salt-and-pepper mop and pristine white and turquoise-trimmed uniform, Torii is HR's embodiment of a company man. But behind his wire rimmed glasses, Torii's mischievous eyes give away his status as a provocateur. Since joining Suntory in 1980, Torii has created Roku Gin, a craft dry gin with six native botanicals that put Japanese gin on the world map. The technical advisor and global brand ambassador for gin and spirits was also responsible for Haku Vodka, a soft, subtly sweet style derived from koji-fermented Japanese white rice and filtered through bamboo charcoal. Both Roku Gin and Haku Vodka launched globally in 2018, and they have been runaway successes ever since. They are the only two Japanese labels in Drinks International Annual Brands Report 2023 of the top ten bestselling brands globally. They are also the top trending gin and vodka brands worldwide, with Haku joined only by another Japanese counterpart, Nikka Coffey Vodka.
Today, Roku Gin is exported to over 60 countries and regions including India and China. In Singapore, the brand has been very active in the consumer space, teaming up with bars every few months on seasonal cocktails, and pushing initiatives like World Martini Day.
"The skills, craftsmanship, and our dedication to yatte minahare made Roku Gin so successful," Kazuyuki said through a translator, citing Suntory's ambitious value of taking on challenges without giving up. "Our whiskies are globally praised for the way they express Japan. I kept this in mind when I was making Roku Gin, so when people drink it, they think of Japan."
(Hero and featured images credit: The House of Suntory)
This story first appeared here
Related: Give Your Malt Collection A Japanese Makeover With These Whiskies Under INR 25,000
Written By