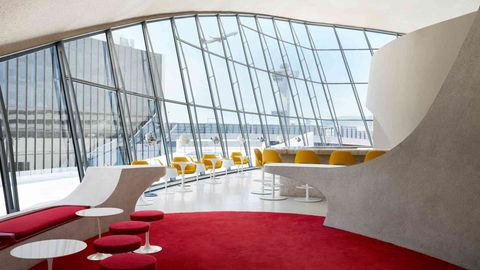 The modern craft cocktail renaissance is a truly global phenomenon. If you're in search of a well-composed adult beverage these days, you needn't look too far. Whether you're in Manhattan or Marrakesh, there'll be some unique and special preparation procurable within walking distance. And yet, at least one frontier remains curiously resistant to the movement: airports. It's quite a missed opportunity, given the fact that their boisterous terminals are filled with international travellers who are often dealing with significant downtime.
Thankfully, some of these hubs have slowly started to address the glaring gap in the mixology market. Better late than never. It started in earnest with airport lounges getting into the game, upping their top-shelf selections, and appointing well-known bartenders to develop menus. Now, you can step into the British Airways Club in Heathrow, for example, and enjoy a garden fresh gin, thyme, and elderflower mashup designed by Ryan Chetiyawardana, one of London's most celebrated drink-makers.
No need to leave it all in the lounge, though. We've scoured the world in search of the best contemporary airport bars accessible to all travellers (above the legal drinking age, of course). If your adventures bring you near any of them anytime soon, it's worth seeking out a stool. You might even find yourself rooting for a flight delay once you do.
One Flew South — Concourse E at Hartsfield-Jackson Atlanta Airport Since its debut in 2009, One Flew South has spearheaded a new standard for airside food and drink. Freshly prepared rolls from the sushi bar are paired here with a smattering of seasonal tipples — each one built around an elevated base spirit. The Subtle Heat is a good example: Lunazul tequila stirred with chilli liqueur, Italian amaro, vermouth and a splash of Cointreau, for a pleasing balance of sweet and spice. And it's not just the cocktails that shine, it's the service. The venue has been nominated twice for James Beard Awards in hospitality. It remains as relevant today as ever, usually flaunting a line out the door during prime-time dining hours.
Bar Sazerac — Concourse B at Louis Armstrong New Orleans International Airport When New Orleans finally got a new airport in 2019, the space was populated by local vendors who promised to showcase the food and drinks which distinguish the surrounding city as world-class. Bar Sazerac brings such in spades. It specialises in its eponymous cocktail, alongside a handful of arrangements that the Big Easy made famous. French 75s, Hurricanes, and Vieux Carres are all cranked out at a high clip — with consistent quality — in a warm, convivial space. New Orleans is never an easy city to leave, but this place ensures that when you do, you're at least left with a good taste in your mouth.
The Sunken Lounge at TWA Hotel, across from Terminal 5 at New York's JFK Airport
If you've got a lengthy layover it's worth exiting security and going groundside to sip some classics at TWA Hotel. The menu for this holdover from the Golden Age of Aviation is devoted to jazzed up variations on the classics (the Mile High Margarita, as well as the Paper Plane, are two standouts). They're even served with a replica of a swizzle stick last seen on TWA flights departing here in the early '60s. If you thirst for an even more intimate re-creation of that period though, arrive between 4 pm and 10:30 pm nightly and you can imbibe in Connie: a 1958 Alaskan bush plane which has been refashioned into a 75-seat cocktail lounge.
Dutch Kitchen, Bar & Cocktails — Amsterdam Airport Schiphol This fun outpost is immediately recognised by its distinctly Dutch seating arrangements; rest and relax in booths fashioned from oversized Delft blue teapots and teacups. It's great for Instagram, of course. And so are the drinks, which often leverage more of the local fare in the form of Bols genever and fruited liqueurs. Try the former as a substitute for gin in a robust Negroni. Or, if you're here right as they open at 10 am, perk yourself up with one the best espresso martinis in all of Amsterdam.
Delta Sky Club — Terminal 3, 5th floor at Haneda Airport, Tokyo Delta's one-year-old lounge is already a fixture with international travellers and it's easy to understand why … if you love great whisky. It's free to the carrier's most loyal customers (and Delta One passengers), but everyone else can buy day passes for USD 50 (INR 4,095), which is entirely worth it considering what they've got behind the bar. Namely: a handful of Japanese whiskies which have become exceedingly difficult to find throughout the country. Hibiki, Yamazaki, and Hakashu are all included with the price of admission and are best enjoyed neat, or in highball form (mixed with soda) and served alongside the venue's daily ramen offering.
The World Is Flat — Jewel Changi Airport, Singapore
Last but certainly not least is this champion of Changi. In fact, sheerly from the standpoint of well-executed cocktails, this one actually ought to be at the top of the list. The only catch is that, to access it, you have to step outside of security and into an adjoining groundside complex. You'll certainly be glad you did. A small sampling of what awaits: pitch-perfect Singapore Slings on draft; a menagerie of martinis, each one highlighting a flavour profile from a particular region of the world; and innovative spritzes spiked with yuzu sake or apricot tea mead. It's easy to lose track of time in this stylish drinking den. Just don't get too comfortable, you still need to make it back through security and to your gate.
This story first appeared on www.travelandleisure.com
Main and Feature Image Credit: Courtesy of TWA Hotel
Related: The 10 Best Centurion Airport Lounges In The World
Written By