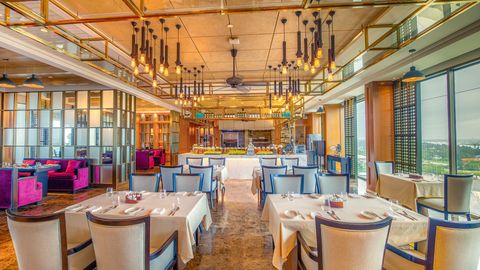 Escape to the lap of nature and indulge in exquisite food and beverages at Colony Clubhouse & Grill, a revered bar housed in Grand Hyatt Kochi Bolgatty.
Nestled on 26 acres of lush green land, Grand Hyatt Kochi Bolgatty is a waterfront urban resort that offers a serene escapade amid breathtaking views of the backwaters of Vembanad Lake. One of the highlights of this luxurious resort is Colony Clubhouse & Grill, one of the most popular bar destinations in Kochi. One can indulge in ingredient-driven dishes and beverages while enjoying a picturesque rooftop ambience in an alfresco seating. With a reimagined contemporary elegance, this classic grill room offers a delightful dining experience — here's why!
When at Colony Clubhouse & Grill, enjoy
…exotic beverages. From creations like Dutch Spice to the Danish Medley, the drink menu has something to satisfy every palate, irrespective of whether you are looking for refreshing mocktails or enticing cocktails. Offering high-quality wines and beers, and even renowned choices like Jacob's Creek Cabernet Shiraz from Australia and Marqués De Riscal Rosado Rioja Doc from Spain, they have it all!
…culinary indulgences. When it comes to food, they have a plethora of delectable options, too. Their menu is curated to showcase the locally available produce of Kochi, ensuring fresh and delicious flavours in every cuisine. Talking pride in sourcing seafood directly from the nearby lake, their grills and dishes are a burst of authentic flavours. From Kerala's specialities like the Malabar Beef Fry to crispy fried calamari rings with sriracha aioli, their appetisers cater to a variety of tastes. Meat-eaters can indulge in drool-worthy main courses like braised beef cheek homemade panasotti with sage emulsion and walnut crumble or even grilled beef tenderloin with truffle mash, chargrilled vegetables, and red wine jus. The culinary journey continues with enticing options like cured salmon carpaccio, pan-seared soya edamame cake, and a rack of red snapper, each of which are expertly curated by their talented chef. The team also offers fresh seafood 'catch of the day' in various marinades. Pro tip: pair it with beverages for a truly rounded experience! Don't miss out on their Grand Sunday Brunch — a unique blend of tropical and European cuisines, where kids can also enjoy pool access.
But, there's more! Colony Clubhouse & Grill also provides the perfect setting for a romantic dinner or to celebrate special moments that you want to etch in your memory forever. With its serene ambience, lakeside views, and exquisite culinary offerings, this resort is an epitome of luxury that meets natural beauty, and gastronomy takes centre stage.
Colony Clubhouse & Grill, Thai Soul, Malabar Café, and the Grand Lounge have been nominated across categories at Travel + Leisure India & South Asia's Delicious Dining Awards 2023. To vote, click here.
Related: Grand Hyatt Kochi Bolgatty Is The Perfect Coastal Wedding Destination For You!
Frequently Asked Questions (FAQs)
Question: How to reach Grand Hyatt Kochi Bolgatty
Answer: Grand Hyatt Kochi Bolgatty is located on Bolgatty Island in the Marine Drive area of Kochi, Kerala. The resort is located 32 kilometres from Cochin International Airport, which is well-connected to all major Indian cities.
Question: When does Colony Clubhouse & Grill open?
Answer: Colony Clubhouse & Grill is open daily from 7:00 pm to 11:00 pm. On Sundays, howevr, it operates from 11:30 am to 3:00 pm, and 7:00 pm to 11:00 pm.
Written By