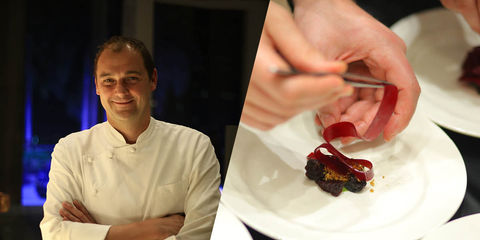 The three-Michelin star Chef Daniel Humm was in India last week to roll out an exclusive culinary experience for a select audience. Check out what was on the menu and who were the lucky few invitees. By Shikha Pushpan
The discerning gourmands in Mumbai and Delhi were in for a treat last week when Chef Daniel Humm curated a bespoke eight-course menu as part of The World Series presented by American Express. Humm is currently at the top of the charts with his New York-based Michelin star restaurant Eleven Madison Park being ranked first in the World's 50 Best Restaurants list. The Swiss-born chef, who swears by his team, flew down ingredients from around the world to curate the bespoke experience for American Express Centurion Card members at The St Regis Mumbai on April 22 and The Leela Palace New Delhi on April 28. The specially crafted menu included some of the signature dishes from the Eleven Madison Park, such as black & white cookies, scallops with caviar, red snapper with celery root, and black truffle. The other creations on the menu were daikon with Asian pear and hazelnuts, foie gras tart with strawberry and chamomile, lamb with yoghurt and cumin, carrot with wheat berries and dates, milk and honey shortbread with brittle and milk ice-cream. Having recced the food and spice markets in Mumbai and Delhi, Humm is clearly smitten by the street food and the traditional cooking methods and plans to take back a thing or two with him to New York. "Just realising the diversity that exists in each and every place in terms of ingredients or spices is pretty mind blowing. I am here with my research and development team and we have been here for the last 10 days. Our takeaway from the trip would be lessons on how to cook in tandoor, the different types of doughs, and marinating techniques. The flavours here are quite bold and the one ingredient that really inspired me was the green apple powder that gives a tinge of acidity to samosas." Manoj Adlakha, Senior Vice President & CEO, American Express Banking Corp India, said there could not have been a better choice for the job. "We have invited a few masterchefs in the past as part of our culinary series, but who would you choose other than the world no. 1 right now? You can't get better than that."
The World Series is a set of signature events for the American Express Centurion Card members and includes the world's best experiences in the field of culinary, performing arts, technology and business innovation.
Written By