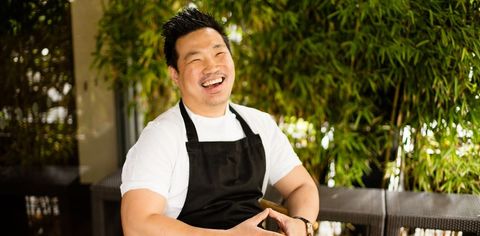 Chef Andrew Wong—who recently won a second Michelin star for his London restaurant A. Wong—was in the country for an overdue visit at Baoshuan, his brainchild at The Oberoi, New Delhi. There couldn't have been a better time for my maiden meal at the rooftop restaurant in the capital. By Rashima Nagpal A delightful French pop-up dinner at 360°, Chef Alfred Prasad's innovative Indian recipes at Omya, and drinks at the atmospheric Cirrus 9—I've had the pleasure of dining at all but one of The Oberoi, New Delhi's restaurants over the years. Baoshuan, the Chinese restaurant at the hotel, was yet to be visited. When I finally make it to the rooftop venue for dinner, it feels like the timing couldn't have been better. Chef Andrew Wong, who runs the two Michelin-star A. Wong in central London and is the Mentor Chef at Baoshuan, is paying his first visit since the lockdown. I choose a quiet corner in dimly lit Baoshuan and sit patiently for the feast to begin. But Chef Wong comes out of the kitchen, greets me, and insists I have a drink first. "You don't get such views [at A. Wong] in London," he says as he walks me out of Baoshuan and to the alfresco lounge of Cirrus 9 next door. "The whole idea of having a bar and a Chinese restaurant next to each other on the rooftop is to make an experience out of it," he adds. Manoj, the mixologist, remembers the poison of my choice and makes a refreshing cocktail while I chit-chat with the chef. Back in the kitchen at Baoshuan, Chef Wong has already placed an order for me, so by the time I get back, dinner is ready to be served. I still glance through the menu, knowing it is inspired by specific regions of China and its 14 different international borders. I'm surprised to see the number of vegetarian options I have for myself. Including nine different kinds of dim sum, four types of soup, and a salad, the starter section itself has enough variety for a vegetarian. I begin with Empress Cixi, a palatable soup made with mock shark's fin, pumpkin, and daikon. Soon, Chef Wong sends a platter with an edamame dumpling, the three-treasure hedgehog bao, a four-seasons dumpling, the vegetable cheung fun, and the wild mushroom and truffle steamed bun—each of which is unique and delicious in its own right. I dare to ask Chef Wong the difference between a dim sum and a dumpling. "It's like the Spanish have tapas or small plates; traditional Cantonese restaurants serve a range of bite-sized dim sum from early morning till brunch time. A dumpling is just one kind of a dim sum," he makes it crystal clear for me. For mains, chef decides to give me a taste of authentic Sichuan flavours with a big bowl of mapo tofu, vegetable fried rice with chilli oil, and dry wok French beans each. As much as I enjoy the umaminess of the rice and tofu, it is the crispy beans that I can't stop munching on. For dessert, I happily keep the chopsticks aside and dig into my first mango dish of the season. Called the mango textures cheesecake with lychee granite, it looks picture-perfect in a glass surrounded by the drama of liquid nitrogen. But dinner doesn't end there. Before I leave, I am given a casual tour of the Baoshuan kitchen, where the woks are hot and orders are flowing even when it's close to midnight.
Related: The Toast Of Delhi — Cirrus 9, The Rooftop Lounge Bar At The Oberoi, New Delhi
Written By