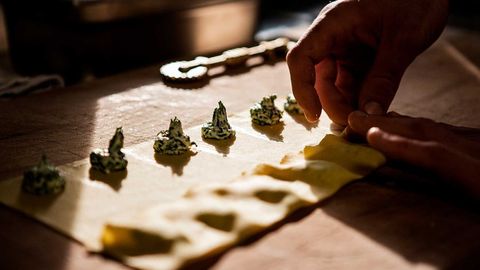 One New York evening, Alice Waters found herself at a party with Adele Chatfield-Taylor, then president of the American Academy in Rome. The academy had hosted the likes of Maya Lin, Roy Lichtenstein, and Chang-rae Lee through its esteemed fellowship program — but, Chatfield-Taylor explained, the food wasn't quite as brilliant as the visiting luminaries. By Hannah Walhout
Fifteen years later, the collaboration that resulted has grown into Waters's Rome Sustainable Food Project: part farm restaurant, part culinary incubator, and one of the most innovative kitchens in the city. (Its exclusive reservations are certainly among the most coveted.) The network Waters and team have created with local farmers and purveyors, and the long list of chefs who have come through the Gianicolo campus, continue to spread the farm-to-table message well beyond the Academy's walls.
T+L spoke to Waters, who visits Rome regularly from her home in California, about where food goes from here, and where travellers can taste Italy's long tradition of local cuisine.
Alice Waters on her sustainable food project Travel + Leisure: What drew you to Italy?
Alice Waters: "When I first visited Rome in the sixties, it was so hot I cooled off in the fountains. But I loved the culture from the start. I suppose the deeper love came when I met Carlo Petrini, the founder of Slow Food. It was in the early days of the movement, but I felt like a member already. We're so detached from that way of eating in the USA, but the Italians — thank God for Carlo — still have a strong local tradition. Industrialisation is everywhere, but there are many in Italy pushing back in a big way, with people across disciplines thinking about food."
What was your vision for your work in Rome?
"This was always about building a new educational model. It was once believed that food would be a distraction from academics, which was strange — what better place for exchanging ideas than at the table? It was completely intuitive. I brought Mona Talbott, who worked with me at Chez Panisse, to be the first head chef at RSFP. Chez Panisse had always had interns, and we continued that in Rome — teaching young cooks how to purchase food directly from farms. It began simply, just foraging around to find the right ingredients. One early find was a regenerative farmer, Giovanni Bernabei. We still get produce from him. His picture is hanging above the stove."
How has the RSFP evolved over time? "At the first lunch, back in 2007, we probably had a third of the fellows. The second day, everybody. There was an immediate energy, and it's really changed the intellectual character of the academy, which is now bringing in scholars who are thinking about landscape and climate change. An institution like that should have the most advanced thinking about food systems. We've collected that wealth of knowledge into a series of cookbooks. The most recent is Carne, but we also have Pasta, Verdure, Zuppe, Biscotti…"
Where are your favourite spots to experience this kind of food in Rome?
"My favourite place to eat is Armando al Pantheon, a Slow Food restaurant right by the Pantheon. Other organic restaurants I love are Piatto Romano, in Testaccio. And in Ostiense, Trattoria Pennestri and Marigold, a café just down the street."
What has this work taught you? "My nonprofit, the Edible Schoolyard, is based on the idea of school-supported agriculture. I always use the example of the Academy, and how quickly it won people over, to show what is possible. We've been so indoctrinated to think it's impossible to change our food system, but I know it's not. And the great news, the beauty of it all, is that the best-tasting food is the food that's procured locally, in season. I call it a 'delicious revolution.'"
To dine at the Rome Sustainable Food Project, join the Friends of the Academy; from USD 250 (INR 20,428) for a dual membership.
This story first appeared on www.travelandleisure.com
Main and Feature Image Credit: Altrospazio/Courtesy of American Academy in Rome
Related: I Quit My Full-Time Job And Moved To Italy To Work On A Vineyard
Written By