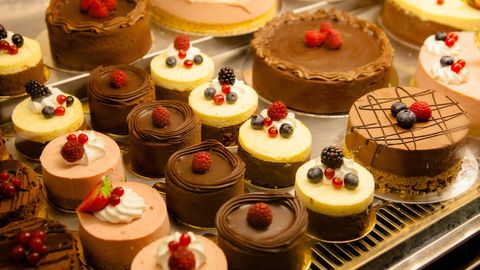 Between a host of chic cafes and iconic bakeries – India's maximum city sure does know a thing or two about baked treats. In fact, you're never too far away from a picture-perfect dark chocolate number or a decadent mawa affair. If you're in the market for some cake, here's our pick of the best spots to shop for it in Mumbai. By Eshita Srinivas
From honey-sweetened, bread-like creations of the ancient Egyptians to elaborate, buttercream-layered extravaganzas of the modern-day culinary world – cakes have truly evolved. The dessert is the stuff of sweet dreams, a classic choice for comfort food, and the main attraction at most celebrations. Naturally, it's safe to say the humble flour-eggs-sugar creation is quite popular world over. In India, however, these were reserved for grand affairs – like the former president Dr Rajendra Prasad distributing a 40-pound Christmas cake to children in 1955. Besides, they were often limited to cities with the most British presence.
The first cake in India is believed to have been dished out of the bakery of Mambally Bapu in Thalassery, Kerala in 1883 – a plum per the request of a British official. Soon, several bakeries specialising in the baked creation popped up across the country – especially in Bombay. This includes authentic Parsi restaurants and Italian bakehouses offering sponge cakes and homely loaves. As years passed, several patisseries opened their doors to customers – with menus boasting of decadent cheesecakes and complex bundts. Whether you've got a birthday to shop for or a craving to satisfy – the cakes over at these spots in Mumbai won't disappoint.
Head on over to these spots in Mumbai to shop for indulgent cakes
Moner This elegant dessert destination channels the spirit of an upscale New York City neighbourhood bistro. At the helm of affairs is chef Freny Fernandes who – having worked at several Michelin-starred restaurants – knows a thing or two about cakes. The menu boasts of the most exciting options – Birthday Cake with confetti almond cake, lemon curd, and Italian buttercream, Caramel Apple with vanilla bean mousse and cinnamon streusel, Tiramisu with mascarpone coffee mousse and almond joconde sponge, and Black Forest with chocolate cake and cherry compote. For something more elaborate, there's the Jardin Du Rose, which features pistachio air cake, handmade pistachio baklava, chocolate soil, rose caviar, raspberry parfait, and edible flowers.Best part? There's lots more where that came from. Don't miss out.
Address: Shop 4, Darvesh Royale, Perry Road, Near Hill Road, Bandra West, Mumbai
Le15 Led by celebrated chef Pooja Dhingra, known for her French desserts – especially macarons – Le15 has an extensive cake menu which often features seasonal delights. You could choose from cocoa creations like Triple Chocolate, Hazelnut Crunch, Dark Delight, and Belgian Chocolate or go the fruity route with Mixed Fruit or Blueberry Cheesecakes. The patisserie also offers signature macaron cakes in rose, dark chocolate, vanilla raspberry, and lavender flavours. Their Lotus Biscoff cheesecake, garnished with Biscoff spread, biscuits, and mini sea salt macarons comes highly recommended. For those on board the bento cakes trend, there's mini cake boxes on offer as well. Delicious!
Address: Elphinstone Bridge Road Next to St. Mary's Church, Parel [E, Krishna Nagar, Parel, Mumbai
Yazdani Bakery
View this post on Instagram
Every bite of baked goods from this iconic spot in the city is steeped in nostalgia. Set up by immigrants from Iran, the most recommended menu features are the bread pudding, bun maska, bread, and chai. That said, the buttery mawa cakes – made in large diesel ovens – are an absolute must-try as well. Soft and fragrant – these are irresistible. The carrot cake here is popular as well. Heads up, these sell out quite quickly so be sure to head here early.
Address: 11A, Cawasji Patel Rd, Kala Ghoda, Fort, Mumbai
Chantilly This elegant, laidback cafe has artisanal desserts on the menu. Of these, the Rose Double Chocolate Cake, Roasted Almond Cake, and Lotus Biscoff Cake come highly recommended. That said, the cheesecakes are where this spot truly shines with flavours like Nutella, double chocolate, Oreo, and peanut butter on offer. That's not all, you could also choose to grab a Keto cake – classic chocolate – or have it made sans eggs. This one's a good bet for when you've to pick something up at the last minute.
Address: Shop 6, Shaktiraj CHS, Near Gold's Gym, Pali Hill, Bandra West, Mumbai
Deliciae The cake shop that's favoured by most Bollywood celebrities – read Sonam Kapoor and Alia Bhatt – Deliciae has a dizzyingly large menu of cakes. In fact, there's something here for every occasion and season – birthdays, anniversaries, festivals, baby showers, and more. You could also choose from their ready-to-order desserts like Death By Chocolate with almond sponge and meringue, Almond Nougat with crunchy praline, Triple Chocolate Cake with silky chocolate mousse, Raspberry Gateau with moist sponge cake, and more. The cheesecakes – in flavours like Lotus biscoff, strawberry pistachio, and raspberry are worth savouring as well.
Address: Shop No 11, Gasper Enclave, St. John`s Road and, Pali Rd, Bandra West, Mumbai
B. Merwan and Co.
View this post on Instagram
Another popular old-school bakery in Mumbai, B Merwans in Grant Road is a must-visit. For over a century, the good folks' over at this spot have been serving the most lip-smacking bun maska, jam puff, and mawa puff. That said, it's the mawa cakes that truly draw people from across the country. Soft and melt-in-the-mouth delicious, these are baked fresh every morning and are sold out in about 30 minutes to a few hours. Also on the menu? Homely walnut cake and cheesecakes – both of which will transport you to dessert heaven as well. Need we say more?
Address: Opposite Station, Alibhai Premji Road, Grant Road East, Grant Road, Mumbai
Theobroma The brand that needs no introduction, Theobroma is a go-to in Mumbai for all things dessert. And while they do specialise in gooey brownies, the cupcakes, cakes, and pastries here hit the sweet spot as well. On the menu are options like their signature decadent Theos Dutch Truffle Cake as well as Opium Cake, Red Velvet Cake, Fresh Cream Pineapple Cake, Chocoholic Cake, and Hazelnut Praline Mousse Cake. Their classic, New York-Style Cheesecake is a must-try as well. Best part? There's a branch most everywhere you look, so there's always a place to head to to satiate those cravings.
Address: Cusrow Baug, Shahid Bhagat Singh Road, Colaba Causeway, Colaba, Mumbai
American Express Bakery An absolute icon in its own right, American Express Bakery has been around since 1902 and is run by the Carvalho family. Specialising in ginger cookies, rusk biscuits, fresh bread, and cream rolls – there's plenty to savour at this spot. That said, there's something special and homely about the cakes here – mawa, Hungarian coffee, plum, chocolate chip, sponge, date and walnut – that hits the sweet spot. The blueberry cheesecake here is an absolute must-try. The pastries, muffins, and cookies are also delightful. It's no surprise that the spot has a near cult-like following in the city.
Address: 66A, Aeb House, Mirza Galib Marg, Byculla, Mumbai
Monginis Founded in 1902 by two Italian Brothers, Monginis is an iconic cake shop in Mumbai. Many locals can attest to savouring a slice of the layered goodies from this spot on their birthdays. Back in the day, the menu offered Christmas cakes with and without icing. Each came baked in hot air ovens with the 'Mogini Bombay' seal. Today, you can choose from flavours like black forest, alpine chocolate, hazelnut, pineapple, butterscotch caramello, rainbow, rasmalai, and more! Best part? There's also pinata cakes, tiered cakes, and designer cakes to choose from. If that doesn't get you excited about dessert time, we don't know what will.
Address: Bellasis Rd, Navjeevan Society, Dalal Estate, Mumbai Central, Mumbai
Kyani Bakery
View this post on Instagram
Rounding out this list is another iconic vintage restaurant in Mumbai that was set up by Zoroastrian migrants. It's served everyone from freedom fighters to MF Hussain and has a cult-like following amongst locals. Popular here are the bun maska, chicken sali boti, Irani kebab, rum ball, and chicken cheese bhurji. However, the cakes here are just as delicious, with just mava cake featuring options like badam and kaju. That aside, the special mawa cake, glass cake, hot cross cake, marble cake, and white cutter cake are a must-try. We can't think of a more nostalgic way to satiate sweet cravings.
Address: Jer Mahal Estate, JSS Road, Opposite Metro Cinema, Marine Lines, Mumbai
All images: Brands and Shutterstock
Related: These 7 Buffet Restaurants In Kolkata Are Known For Their Unlimited Delicious Offerings
Written By