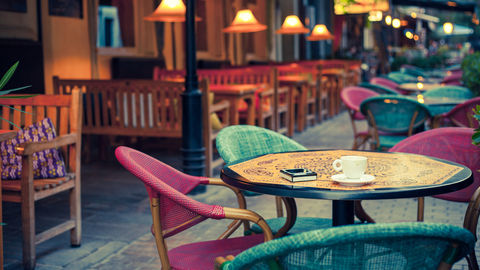 These Insta-worthy cafes in Shahpur Jat area of New Delhi will make your Insta feed look nothing less than a canvas. By Tanvi Jain
View this post on Instagram
Missing college days? Go check out this cool cafe today, whose colourful interiors and laid-back ambience, coupled with live music performances will remind you of your campus life, and we bet you won't be able to stop yourself from flaunting it on your Instagram feed. It's a cosy place, perfect to chill with your gang. If you are in the mood for some casual binging, choose from their variety of Maggi, sandwiches, pizzas and more. Oh, and don't forget to order yourself a warm cup of creamy coffee!
Price: INR 1,000 for two, approx.
Where: 1st floor, JP HOUSE, 118, Shahpur Jat, opposite Asian Games Village
2. THC –
The Hunger Cartel
View this post on Instagram
Imagine spending an evening under the stars, along with some drool-worthy continental food, and an array of lights and flowers to give you company. Yes, this café has everything that will not only satisfy your hunger pangs but will also fill your Instagram feed with dreamy posts. And the best part is, this place has no time constraints! Lebanese, American or Italian food — just name it and it'll appear on your plate even before you know it. Up for something spicy? Try their Bhut Jolokia Wings. Looking for a sugar rush? Go for their banana bread or space cake with dollops of Nutella.
Price: INR 1,200 for two, approx.
Where: Building 4-A, Second Floor, Shahpur Jat
View this post on Instagram
If you are a sucker for Bihari cuisine then this is your go-to place. A beautiful rooftop café, perfect for an evening plan with your peeps, or just by yourself, Potbelly offers a bunch of yummy Bihar delicacies. If you are a native of Bihar, this place will definitely make you homesick! What truly amplifies the dining experience here is the vibrant view and the eco-inspired decor. Imagine indulging in a hot plate of Litti Chokha while being surrounded by soothing plants. When here, do try their Tarkari Thali, Dhamaka Maggi, Madhubani Thali, Maithili Thali, Aloo Lalu Chop and Tomato Chokha.
P.S – this is one of our favourite cafes in Shahpur Jat!
Price: INR 1,000 for two, approx.
Where: Top Floor, 116 C, behind UCO Bank, Shahpur Jat,
View this post on Instagram
It's a café located inside a home décor store called 'The Wishing Chair', which makes it a treat both for your taste buds as well as for your eyes. After spending a whole day shopping for irresistible decorations for your home, a cup of hot chocolate here, especially in Delhi winters will give you the perfect warmth to beat the cold wave. Hungry much? Try their wide variety of salads, flatbreads and shakes — served in aesthetic crockery. Secret Spiral, Moonface Madness, The Ploughman's Picnic and The Folk of Faraway! Wondering what they are? Nothing but some top picks from their vegetarian menu.
Price: INR 1,000 for two, approx.
Where: Shahpur Jat, Siri Fort
View this post on Instagram
This is yet another multi-purpose café meant both for foodies as well as for fashionistas. How you may ask? Well, after filing your belly with their delicious burgers, pizzas and sandwiches, you can head to the designer Indianwear store located on the first floor and try their ever-so-pretty ethnic attires. Moreover, the cafe's high-speed Wi-Fi, makes it a perfect spot for freelancers and remote workers who prefer a cool, informal workspace over a boring cubicle. Apart from this, you can also try your hand at sketching and painting, as this place has a designated spot for art lovers too.
Price: INR 900 for two, approx.
Where: 253, Shahpur Jat, Siri Fort
If you have more recommendations of cafes in Shahpur Jat that should feature on our list of Instagram-worthy cafes, give us a shoutout on social media!
Relates: Did You Know About These 10 Weirdly Interesting Cafes Around The World?
Written By