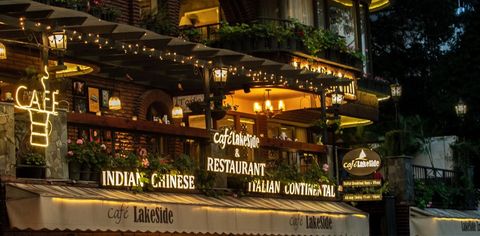 Nainital, the largest hill-resort town situated in the serene valleys of Uttarakhand, continues to be a classic hill station. If you are planning a Kumaoni getaway, spend some delightful time at these cafes in Nainital. By Karan Kaushik
Nestled around the Naini Lake, Nainital is as touristy as they come. From soulful boat rides in the pristine lake to cable car rides to birdwatching to shopping at the mall road, the popular hill station has it all. And not to forget the warm and friendly folks of Kumaon. Nainital offers a range of dining options at affordable prices.
Here, we feature some of the best cafes in Nainital
Simz Cafe
View this post on Instagram
This gorgeous little cafe will charm you with its wooden ambience, splendid views, nice book and comics collections, and coffee. They even give their guests card games to make the waiting fun. They have an impressive range of pastries, cookies, cakes, and shakes. You must also try their burgers and sandwiches. And don't forget to leave behind a small token of appreciation by writing about your experience on a sticky note and pasting it on their wall, something that all guests at Simz Cafe have fun doing.
Where: Thandi Road, Tallital, Nainital
Cafe Chica
View this post on Instagram
One of the most beautiful cafes in Nainital, Cafe Chica is set in the well-manicured lawns of Abbotsford Heritage Hotel. Run by the friendly Ms. Jhanavi, the cafe makes for a nice place to unwind and drink in the scenic beauty of Nainital. When here, do try their Apple crumble with ice cream, Pepper roast chicken, and Arrabiata penne. They have an excellent book collection too. The cafe deserves extra marks for its hospitality and polite staff.
Google Rating: 4.2
Where: Prasada Bhawan, Oak Park, above Academy Traning Institute, Mallital, Nainital
Cafe de Mall
View this post on Instagram
Cafe de Mall may not be the most aesthetic cafe you'd find in Nainital, but it sure makes up for it with its food. It's one of those typical eateries which is packed with tourists munching on chhola bhaturas and dosas at any given hour of the day. They serve breakfast, lunch, and dinner. Try their omelette, coffee, and south Indian fare. Located near Naini Lake, the cafe is a little strict about its timings. No breakfast after 12 pm.
Google Rating: 3.9
Where: Mall Road, Mallital, Nainital
Sakley's Restaurant & Pastry Shop
View this post on Instagram
Every hill station has that one iconic patisserie that regulars swear by. For Nainital, it's Sakley's. Established in 1944, the iconic cafe has the best pastries in town. What sets their pastries apart is the fact that the cream is fresh and does not overwhelm the underlying cake. Their apple pie and lemon cheesecake are to die for. So are their pizzas, which are as authentic and as delicious as they come. You'd love the lively ambience too. Their knowledgeable staff deserves a special mention.
Google Rating: 4.2
Where: Poplar Estate Alps Hotel Compound, Mallital, Nainital
Baker's Hut
View this post on Instagram
This secluded cafe is located inside Hotel Pavilion, near the High Court in Mallital. This cafe is recommended for those who enjoy quietude and want to get away from the touristy bustle. They are known for their yummy waffles and cakes. Enjoy a game of carrom or read a book while you sip your hot chocolate or coffee. The interiors are tastefully decorated and feature comfy sofas and dining tables. Try their chocolate brownies and coffee.
Google Rating: 3.9
Where: The Pavilion, Mallital, Nainital
Cafe Lakeside
View this post on Instagram
Perhaps the most-flocked of all cafes in Nainital, this beautiful place must not be missed. The cosy cafe sits at the edge of the pristine Naini Lake and draws visitors throughout the day. On offer here is a range of impressive delicacies. From regional delights to global fare to mocktails, they serve it all. Do try their pizzas, fish and chips, chicken wings, pasta, momos, and noodles. They may seem a little overpriced but the ambience and music make it worth the run.
Google Rating: 4.5
Where: Mall Road, Mallital, Nainital
The Chocolate Room
View this post on Instagram
This has to be the chicest cafe in Nainital. The interiors feature red brick walls decorated with quirky things like a cycle and tires. They are known for their genuine coffee, chocolate shakes, chocolate fondue, and snacks. And you'd kill for their waffles. Try their Kitkat Choco Shake, Chocolate Frappe, and hot brownie with hot chocolate sauce and vanilla ice cream.
Google rating: 4.3
Where: Mall Road, Near Ropeway, Mallital, Nainital
Related: Make Your Holiday Nights Memorable With These Bars In Nainital
Written By