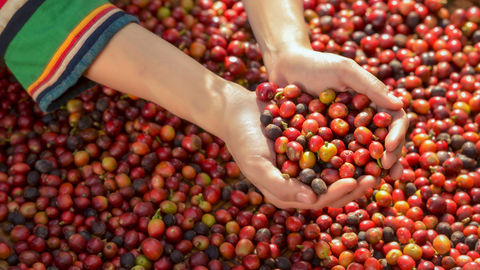 If you are a coffee connoisseur, at heart or by profession, then you have to plan a Guatemalan trip this year. Here's how you can navigate your way to bagging some of the best beans that Guatemala has to offer. By Shubhanjana Das
1. Guatemala Huehuetenango Coffee
For people who like their coffee textured, multi-layered and low on acid, this one's your go-to option. The fruit and caramel-like tones of this organic coffee comes from one of the most well-known regions of Guatemela, Huehuetenango. It's creamy and smooth texture and the medium roast are a culinary treat and will make you question the coffee you brew at home everyday. This Arabica has a lingering aftertaste and will leave your sense of taste elevated and heightened.
2. Fat Cat
Antigua is synonymous to coffee and Fat Cat has created its own niche in the trade when it comes to signature coffee beans. These coffee house experts roast their own beans for both purchase as well as on-site drinking. The light, medium or dark roast options all come from the Acatenango region of Guatemala and if you're giving it a try, don't forget to pack yourself some for it will have you craving for more.
3. Antigua Santa Barbara
If you like the taste of nuts and chocolate in your coffee but also prefer a creamy velvety texture, the Antigua Santa Barabara will make you weak in the knees. The volcanic soils of Antigua have the key to this medium-roast, vibrant, single-origin Arabica coffee.
4. Cafe Azotea
Noticing Cafe Azotea amongst a number of other Guatemalan coffee brands is easy, thanks to its distinctive packaging that evokes the traditional Mayan dress. The Arabica of Cafe Azotea is hand-picked from a plantation that is both bird and animal-friendly. Hailing from Antigua itself, this whole bean dark roast coffee can be ordered online as well. However, don't you worry about any degradation in quality for the brand promises that the coffee is roasted and sealed in bags only after every individual order.
5. Guatemala Pacamara Santa Felise Coffee
Fan of a fruity, wine-like undertone while sipping your cuppa? The Guatemala Pacamara Santa Felise Coffee may just have been made for you, then! The complex undertones of fruit, wine and chocolate in this creamy medium-roast Arabica is what coffee-lovers' dreams are made of. The moderate sweetness and the smooth aftertaste of chocolate is the perfect introduction to you if you have not tried Pacamara beans before.
Related: 7 Artisanal Coffees in India You Probably Didn't Know About
Written By