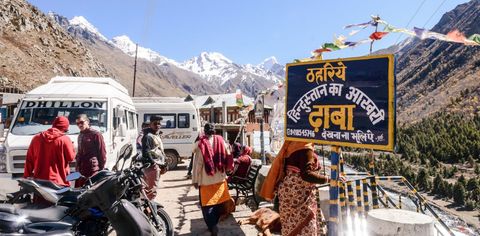 Embarking on a mountain sojourn sometime soon? We have shortlisted some of the best dhabas in Himachal Pradesh for you. By Karan Kaushik
The spectacular hilly state of Himachal Pradesh continues to be a tourist magnet. Replete with verdant valleys, majestic mountains, alpine meadows, and an unparalleled old-world charm, the Himalayan state is a sheer paradise for the seasoned traveller. Being a north Indian state, Himachal Pradesh also offers lip-smacking cuisine. From buttery paranthas to ghee-soaked lentils and spicy non-vegetarian fare, the dhabas of Himachal will leave the foodie in you spoilt for choice. Here are some of the most popular dhabas in Himachal Pradesh.
Best dhabas in Himachal Pradesh
Giani Da Dhaba, Dharampur
The legendary Giani Da Dhaba is one of the most renowned dhabas for tourists visiting Shimla. It's located on the Kalka-Shimla highway. They are famed for their mouthwatering Punjabi offerings. Patrons include the likes of Captain Amarinder Singh, Farooq Abdullah, and several Bollywood stars. Their best dishes include the classic Butter Chicken, Lemon Chicken, Dal Makhani, Matar Paneer, and Mixed Veg. You can also pick up packed snacks, biscuits, and ice creams along the way. The dhaba is located halfway between Parvanoo and Solan. The iconic dhaba was demolished in 2017 for the four laning of NH-22. Their new building is beautiful and offers stunning views. Extra points for their fantastically quick service.
Where: Dharampur, Himachal Pradesh
Goldy Vaishno Dhaba, Nurpur
Established in 2000, this dhaba was started by a truck driver. The dhaba offers 24X7 service. It's known for its quick service and fresh delicious food at pocket-friendly prices. The dhaba has two separate spaces for the vegetarian and non-vegetarian fare. Most patrons flock to this dhaba for its Tandoori Lacha Parantha. Other popular dishes include Kadhai Paneer, Paneer Butter Masala, Kadhi Pakora, Aloo Matar, Dal Makhni, Paneer Bhurji, Chana Masala, and Shahi Paneer.
Where: 7VRG+VQ6, Nurpur, Himachal Pradesh
Verma Dhaba, Palampur
If you are a hardcore meat lover and can't do without your fair share of mutton, look no further than Verma Dhaba in Maranda. The place is renowned for its Special Mutton Curry. They cook all the dishes with brass utensils. Apart from their mutton delicacies, people flock here to enjoy wholesome meals of Rajma, Chana, Kadhi, and other dishes that are served with hot rice. They also serve delicious Kangri Dham, which comes with their special Khatta Chana. Their popular mutton curry is served with rice. The best part about this eatery is that you can have unlimited food for INR 90.
Where: 3GM8+C83, Mandi – Pathankot Road, Maranda, Bag Uparla, Himachal Pradesh
Sharma Dhaba, Kalka
Established in 1969, the iconic Sharma Dhaba of Kalka is known for its lip-smacking north Indian food. Their limited menu features Amritsari Naan, Paneer Naan, Gobhi Naan, and Pyaj Naan under the special naans category. Then there are the evergreen panner delicacies like Shahi Paneer, Kadhai Paneer, and Paneer Bhurji. They also make delicious and filling Gobhi Paranthas, Paneer Paranthas, Pyaaj Paranthas, and Special SD Parantha. If you are looking to eat light, try their Dal Fry, Aloo Matar, or Rajma. Their special thali comes with one lentil, one dry veggie dish, 3 rotis, and jeera rice.
Where: Barog, Kalka
Mani Ram Dhaba, Manali
Any trip to the enchanting Jana Waterfalls near Manali is incomplete without savouring authentic Himachali cuisine at Mani Ram Dhaba. Located in a remote hilly hamlet far from the touristy hustle and bustle of Manali, this dhaba will surprise you with its cosy charm and mouth-watering food. Overlooking the majestic mountain valley, this eatery is best known for its Himachali delicacies. The Himachali Village Thali here comes with Himachali red rice, Himachali rajma, Himachali Curry, Bajre ki Roti, Sarson ka Saag. The main attraction of the platter is Siddu, a Himachali dumpling served with ghee and sugar.
Where: Jana Village, Manali
Soni Da Dhaba, Chail
Soni da Dhaba in Chail is best known for its delicious Jaggery Rotis, also known as Gud Roti or Meethi Roti. This Indian bread is served complimentary with every order and makes for a great way to end a wholesome Himachali meal. The dhaba serves authentic native food that is freshly prepared on an earthen stove or chulha. The over 50-year-old eatery is perhaps the most sought-after dining places in Chail. Try their Kadhi-Chawal, Palak Paneer, Jaggery Raita, Dal Makhni, and the classic home-style Pahaadi Rajma.
Where: Kandaghat-Chail-Kufri Road, Janedghat, Himachal Pradesh, India
Bahadur Dhaba, Bilaspur
Located in Ghagas, Bilaspur, Bahadur Dhaba is famous for its makke ki rotis or corn chapatis. For a modest dhaba, they make more than 400 chapatis every day with fresh gharaata whole wheat flour. The chapatis are cooked on a wood stove, which lends them a smoky flavour. These are served with delectable Ma Ki Dal and Kadhi. The dhaba is a favourite among tourists from Delhi, Haryana, Punjab, and Himachal Pradesh. Those travelling from Delhi to Manali make sure to stop here for a satisfying meal. In winters, the footfall surges substantially, thanks to their Makke Ki Roti and Sarson Ka Saag. The best part? You can have a meal for as little as 80 bucks.
Where: Banaula Village, Chandigarh-Manali NH-21, Bilaspur, Himachal Pradesh
Hindustan Ka Aakhri Dhaba, Chitkul
One of the reasons why travellers, especially the food-loving ones, visit Chitkul is Hindustan ka Aakhri Dhaba. As its name suggests, this is the last eatery on the India-Tibetan border. Decorated with rows of colourful Buddhist prayer flags, the dhaba offers mesmerising views of the mountains and the gurgling river beneath them. There's huge signage here which makes for the perfect gram-worthy photo spot. You will be happy to meet the humble and helpful locals here. While your food gets prepared, it's a good idea to take a short walk to the ITBP check post. If that doesn't sound interesting to you, you can simply relax on their balcony and drink in the beauty of the majestic Himalayas.
Where: 9C2P+6G3, Chitkul, Himachal Pradesh
Related: Make Your Road Trips Amazing With These Highway Dhabas On The Delhi-Uttarakhand Route
Feature and hero image courtesy: Shutterstock
Written By