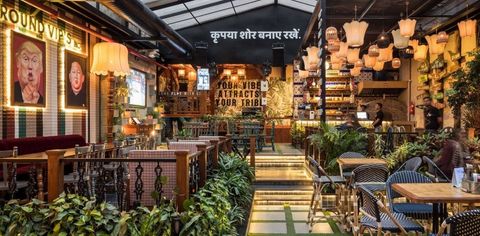 When a city prides itself on being one of the most beautiful in the country, its public spaces can't afford to have low aesthetic value either. Chandigarh, the city beautiful, is home to several beautiful cafes. Here, we feature some of the most Instagrammable cafes in Chandigarh. By Karan Kaushik
8 Cafes in Chandigarh that are absolutely Insta-worthy
Cafe JC's
View this post on Instagram
You know a café has to be beautiful when its owner is an interior design graduate. Run by the warm and friendly Jannat Chadha, Café JC's is every bit grammable. The pet-friendly café serves a range of interesting dishes. From a wholesome American breakfast to Continental, Italian, Oriental, and our very own North Indian fare, you'll get it all here. The café offers both indoor and patio seating. Mix that with good retro-pop music and an irresistible aromatic fresh air, and you have an amazing place to spend some quality time with your mains after a hard day's work.
Where: Coal Depot Complex, Shop No. 2 & 3, Azaadi Rte, 10D, Sector 10, Chandigarh
The Crown Patisserie
View this post on Instagram
Plush maroon sofas, classy ivory-hued walls, opulent chandeliers, and a big red lip wall art welcome you to this chic cafe. The casual cafe serves delicious salads, sandwiches, Continental mains, and desserts. When here, try their Spaghetti, Paneer Tikka Club Sandwich, Cappuccino, and their impressive range of TCP Signature Burgers. Their rice bowls are as wholesome as they come. Their dessert menu features tarts, cakes, macarons, mousses, and custards.
Where: SCO 14, First Floor, Sector 17-E, Chandigarh
The Willow Cafe
View this post on Instagram
The Willow Café has become a favourite hangout spot for the young guns of Chandigarh in a very short time. Replete with English countryside vibes, the café serves delicious Indian and Continental fare. While the indoor seating boasts opulent sofas, wooden flooring, and lavish upholstery, the outdoor seating is set around a rooftop garden. Popular dishes on their menu include Willow French Toast, Shikari Chicken Tikka, Amritsari Kulcha, Grilled Mushroom and Broccoli Ragout, and Spinach and Cheese Ravioli.
Where: Shop No, 01, Azaadi Rte, 10D, Sector 10, Chandigarh
Kamaa Cafe
View this post on Instagram
This elegant high-end cafe features a plush ambience and offers quality food. It's one of the most luxurious cafes in Chandigarh. They welcome all guests with a welcome platter, which comes as a pleasant surprise for most. The cafe's interior features wooden walls and flooring and colourful velvet sofas. One of the walls also boasts incredible graffiti that adds a bit of quirkiness to the place. As far as their menu goes, the cafe is famous for its sushi and subs. Popular dishes include Tom Yum Chicken Soup, Alfredo Pasta, and Pesto Pasta. Their pizzas, mocktails, and shakes are amazing too.
Where: SCO 15A, Front Side, Madhya Marg, Sector 7-C, Chandigarh
Books n Brew
View this post on Instagram
If you have always loved reading in gorgeous spaces while you sip a cuppa hot coffee, you must head out to Books n Brews. One of the most popular book cafes in Chandigarh, Books n Brew is known for hosting book readings, live music sessions, open mics, poetry recitals, and art exhibitions. No wonder, the ambience of the cafe is high on aesthetics. Most regulars at Books n Brew have only good things to say about the vibe that the place offers. Try their home-style pancakes with hot chocolate. Other must-try items include Hand-Beaten Coffee, Cappuccino, Spinach Corn Cheese Sandwich, Veg Pizza, Virgin Mojito, and Mint Lemonade.
Where: SCO 8, 1st Floor, Udyan Path, Sector 16-D, Chandigarh
Scola Kitchen & Kaffe
View this post on Instagram
Scola Cafe is known for its wonderful experiments with International cuisine. The lively cafe dishes out some of the best Spanish, Italian, Turkish, Moroccan, and Greek delicacies that you'd find in the city beautiful. The cafe is so tastefully embellished that you won't wait to enter the cafe for those mandatory selfies. Scola Cafe used to be Gusto Kitchen and Kaffe. The ambience remains the same. Order their Lamb Shanks, Crumbed River Sole, Grilled Chicken Breast, and Sole Grilled Sofiar. They have an impressive range of burgers and pizzas too. Don't miss their Sangrias.
Where: SCO 180, Inner Market, Sector 7-C, Chandigarh
Backpackers Cafe
View this post on Instagram
Featuring white brick walls and classic dark wooden furnishings, Backpackers Cafe is always buzzing with energy. The cafe is loved by people of all age groups, thanks to the good vibes it offers. It's one of those places where you'd love to catch up with an old friend over an omelette and coffee on a fine Saturday morning or plan your next investor meeting. The cafe serves hearty meals and snacks with an impressive range of drinks. But most people visit the cafe for their all-day breakfast options. You must try their Grilled Chicken Breast, Potato Mash, and Boiled veggies.
Where: SCF 16, Inner Market, 9-D, Sector 9, Chandigarh
Virgin Courtyard
View this post on Instagram
And last, but definitely not the least, on our list is Virgin Courtyard. . Drop in and experience a sunlit courtyard, where the mood is always set to bliss. This aesthetic cafe will remind you of that Spanish countryside you may have seen on celluloid. Their sunbathed courtyard makes for a perfect place to spend some relaxing time with your loved ones. The cafe serves Italian fare and an array of fine wines.
Where: SCO 1A, Sector 7-C, Sector 7, Chandigarh
Related: 10 Trips Within 150 Kilometres From Chandigarh That Will Make Your Weekends Better
Written By