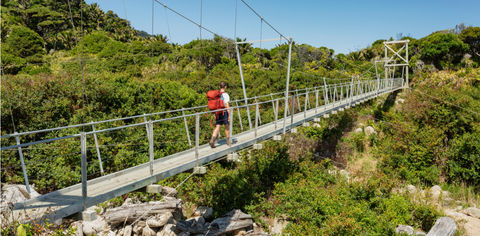 From magnificent mountains and golden beaches to azure blue lakes and tranquil islands, New Zealand is truly endowed with abundant natural beauty. Embarking on the Great Walks of New Zealand allows travellers to explore the gorgeous backcountry. These walks are managed by the country's Department of Conservation. You may choose to explore at your own pace or take a guided trip. Walk, run, bike, or paddle. There are different ways to make the most of your experience. These walks can be easily accessed from all the major cities of New Zealand, where there's no dearth of good accommodations, transport, and dining. By Karan Kaushik
5 epic trails in New Zealand
Abel Tasman Coast Track
View this post on Instagram
Undoubtedly the most popular of all Great Walks in New Zealand, the Abel Tasman Coastal Track takes you through pristine golden beaches and dense coastal forests. The prime attraction on this track is the Abel Tasman National Park. If you are planning to travel with your kids and family, the Abel Tasman Coastal Track is perfect. It doesn't require you to be too fit, thanks to the easily navigable terrain. This route is also blessed with myriad picnic spots, which make for great pit stops. The best part? The pleasant climate of Nelson Tasman lets you undertake this track any time of the year.
Fast Facts
Length: 60km
Level: Intermediate
Duration: 3-5 days
Location: 40 minutes from Nelson
Kepler Track
View this post on Instagram
Mammoth mountains, local forests, enchanting waterfalls, rich wildlife, and glacier-carved valleys make the Kepler Track an amazing choice. The awe-inspiring track introduces you to the dramatic Fiordland, home to the Fiordland National Park. You would love this track if you are a true blue wildlifer always on the lookout for something special. The main attraction here is keas, the only alpine parrot in the world. Witnessing these beautiful birds flaunt their colourful wings is a sight to behold. What's interesting about this track is it offers a loo with a view. Yes, you read that right. You'd come across one of the world's most spectacular toilets at the top of this hike.
Fast Facts
Length: 60km
Level: Intermediate
Duration: 3-4 days
Location: 2 hours from Queenstown, 5 minutes from Te Anau
Heaphy Track
View this post on Instagram
If you are a beach baby and wish to explore the wild West Coast, the Heaphy Track fits the bill. Also known as the ancient Maori trail, this route takes you through dense palm forests of nikau and wonderful little grasslands. This track offers the thrill of spotting native flora and fauna. The ancient rocks that you'll find on this track are considered New Zealand's oldest rocks. They are 500 million years old. If fortune decides to favour you, you may also end up spotting or hearing the sound of the great spotted kiwi. The Heaphy Track also crosses through the Kahurangi National Park, which is home to over 40 species of carnivorous land snails. This also includes Powelliphanta, the world's largest carnivorous snail.
Fast Facts
Length: 78.4km
Level: Intermediate
Duration: 4-6 days
Location: 1 hour from Westport, 1 hour from Takaka
Rakiura Track
View this post on Instagram
If absolute bliss is what you are seeking, go for the Rakiura Track. This track is based around Stewart Island. On offer here are breathtaking views, lovely birdsongs, a beautiful beach, and much more. This is New Zealand's southernmost Great Walk, and you can cover 80 per cent of Stewart Island over three days. This track also gives you a chance to spot the kiwi, the national bird of New Zealand. Stargazing can also be done here at Aurora Australis or Southern Lights. Stewart Island is the fifth International Dark Sky Sanctuary in the world.
Fast Facts
Length: 32km
Level: Intermediate
Duration: 3 days
Location: 30-minute flight from Invercargill, 1 hour ferry from Bluff
Routeburn Track
View this post on Instagram
Mountain lovers, this one's for you. The Routeburn Track takes you from Mount Aspiring National Park to Fiordland National Park. It doesn't get better than this. You'd be greeted by deep valleys, massive waterfalls, soaring mountains, and spectacular lakes. This track is for those who have lesser time on their hands. It's the shortest Great Walk in New Zealand. However, it's not an easy track. Be ready to climb steep and rocky terrains. If you are into landscape photography, you will be up for a joy ride on this track. A major attraction during this track is Earland Falls, one of the most stunning waterfalls in the country.
Fast Facts
Length: 33km
Level: Intermediate
Duration: 2-4 days
Location: 45 minutes from Queenstown, 1 hour from Te Anau
Related: Spain Lifts Ban On Non-Vaccinated Travellers From Non-EU Countries
Written By