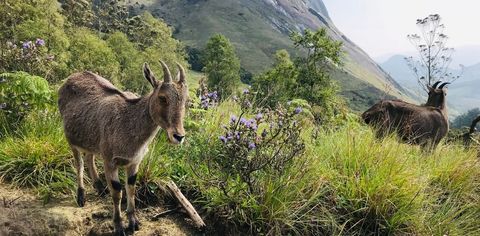 Wildlife, undeniably, is integral for a harmonious coexistence. This World Wildlife Day, we not only take stock of these various species and jot down some rare Indian animals, but we also reveal where to find them. Check it out! By Bayar Jain
There are many animals which seek shelter in India, some of which are rare and indigenous to the country. In celebration of this exclusivity and as an ode to World Wildlife Day today, Booking.com has curated a list of wildlife sanctuaries to spot the beautiful creatures.
1. Lion-tailed macaque (Shendurney Wildlife Sanctuary, Kerala)

View this post on Instagram
Native to the Western Ghats, lion-tailed macaques rank among the rarest primates in the world. While endangered, these species can be found at Kerala's Shendurney Wildlife Sanctuary. Spread over 1,72,403 square kilometres, this massive space also houses India's first eco-tourism project—Thenmala Eco-tourism Project.
2. Nilgiri marten (Anamalai Tiger Reserve, Tamil Nadu)
View this post on Instagram
A small omnivorous animal, the Nilgiri marten is the only marten species in India. Ordinarily found in the wet evergreen forest of the Western Ghats at an altitude of 2,200 metres, these dark brown animals can be spotted at the tropical Anamalai Tiger Reserve in Tamil Nadu. However, sightings have been reported at terrains as high as Charmadi Ghats and as low as Kerala's Neyyar Wildlife Sanctuary.
3. Kashmir stag (Dachigam National Park, Jammu and Kashmir)
View this post on Instagram
Also known as Hangul, the Kashmir stag is a subspecies of elk. It is believed that in the early 1900s, close to 5,000 species of this majestic creature pranced around the union territory (then state) and Himachal Pradesh. Today, however, only 150 remain, all of which stay hidden within the dense riverine forests of Dachigam National Park just 22 kilometres away from Srinagar.
4. Sangai (Keibul Lamjao National Park, Manipur)
View this post on Instagram
Manipur's Keibul Lamjao National Park not only boasts of being the world's only floating park, but it also houses the endangered and endemic Sangai. Christened as the state animal, these subspecies of a brow-antlered deer is considered culturally significant and is believed to be the binding thread between humans and nature. And thus, conservation efforts are underway to protect the dancing deer (as it is also known) from being driven to extinction.
5. Pygmy hog (Manas National Park, Assam)
View this post on Instagram
Architects in their own right, the endangered pygmy hog is one of the few mammals capable of building its own roofed house. Once native to the alluvial grasslands of the Himalayan foothills, today only 150 remain in Assam's Manas National Park. As the sole-remaining torchbearer of the porcula genus, the extinction of these small wild pigs would result in the elimination of the species as a whole.
6. Nilgiri tahr (Eravikulam National Park, Kerala)
View this post on Instagram
Found in the tropical rainforests of the Western Ghats, the Nilgai tahr is South India's only mountain-based ungulate. Complete with curved horns and short fur, these endangered species are ordinarily found in fragmented pockets, one of which is at Eravikulam National Park, Kerala. Here, an estimated 700-800 Nilgai tahrs live in groups of two: mixed groups, and an all-male group.
Related: This World Wildlife Day, Meet Dr. Latika Nath, India's First Woman Wildlife Biologist With A PhD on Tigers
Written By