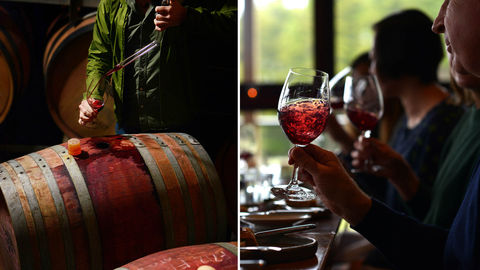 Australia may be relatively new on the winemaking circuit, but it's got many tricks up its sleeve. The most important of them is sustainability. A whirlwind tasting tour of South Australia and Tasmania reveals organic and biodynamic wines and a communal passion for innovation. By Sumeet Keswani
'FIVE REASONS WHY YOU SHOULD DRINK WINE EVERY DAY!', 'Benefits of wine unproven!', 'Wine can make you feel skinny, wise, and happy!', 'Beware! Red wine can lead to headaches!' If I had an Australian dollar for every time I came across an article that claimed to have decoded wine and its effects, I would start a winery of my own. Personal experience aside, the claim that drinking wine makes you feel happy seems to have a scientific basis—curse that damn dopamine! The jury is still out, though, on wine's health benefits. In my search for definitive answers—and the best wines—I embarked on a journey through the southern region of Australia this fall. Europe may have had a head start in viticulture and winemaking, but Australia is no bush-leaguer.
A MOUTHFUL OF MCLAREN VALE
Australia has 65 distinct wine regions, and its winemakers aren't afraid to break the mould. "Here, no technique goes untested and no convention goes unchallenged… we have a proud tradition of starting new traditions," says Andreas Clark, CEO of Wine Australia. Nowhere is this aversion to convention more evident than the bewilderingly imaginative d'Arenberg Cube in McLaren Vale, a 45-minute drive from Adelaide in the state of South Australia. The fourth-generation winemaker at d'Arenberg Wines, Chester Osborn, first pitched the idea for the Cube—a five-storeyed museum and cellar door—in 2003. It was promptly laughed at by his family. The project finally took off in 2014 and finished three years later. Dressed in a Hawaiian shirt, Osborn literally sways from end to end on the pathway, showing me the right way to experience the reverse-perspective art installed at the entry of his dream world. Things only get crazier inside. On the ground floor, eclectic art installations depict the company's values, like organic farming, its labels' quirky names (the Money Spider is represented terrifyingly by thousands of spiders laying siege to a 360° video room), Chester Osborn himself (a vagrant accompanied by a dog on the streets of the USA), and Osborn's two alleged cats, Ordinary Hepburn and Non-alcoholic Booze, who sound as surreal as Dali's original artworks look on the second floor of the Cube. Some of the art on the walls was commissioned to local artists (for e.g. caricatures inspired by the winery's unique label names), while some others were conjured up by Osborn himself, including a caricature of himself as Willy Wonka made with thousands of mini wine labels. An exhibit like this would be incomplete without futuristic installations: a joystick lets you explore a holographic projection of the region's terrain, and an AI system generates a dynamic portrait of Osborn's father, having been fed his photo and some works of the world's greatest artists. By the time you get to the tasting room on the top floor, you expect the absurd at every turn. The bar does not disappoint—it's modelled after a mouth, with a CGI woman's shadow swimming across LED screens behind the bar stools. But don't let the quirky labels and wacky decor fool you; the bottles are all business. The heroes are Shiraz (The Dead Arm), Cabernet Sauvignon (The Coppermine Road), and Grenache (The Ironstone Pressings, a blend with Shiraz and Mourvèdre).
This does not come as a surprise given the area's Mediterranean climate. In fact, of McLaren Vale's 7,308 hectares of plantations, over 50 per cent are dedicated to Shiraz. But there is place for alternatives like Tempranillo, Nero d'Avola, Vermentino, Sangiovese, Zinfandel, and Fiano. McLaren Vale also takes its sustainability seriously. Apart from declaring and managing its underground water resource smartly, the vineyards of the region are tapping into treated reclaimed water. D'Arenberg may have raised the bar in presentation, but there are wineries in McLaren Vale that still lean on good old tradition. Among them is Wirra Wirra. At this 1894 winery, not only do I get to taste the legendary Church Block, the first wine produced by the late Greg Trott under the label in 1972, but I also get to ring the huge Angelus bell at the property—its tolling heralds the beginning of a wine vintage—and fire a watermelon into a neighbouring paddock with a medieval siege machine. A chocolate pairing with Wirra Wirra's finest Shiraz vintages ends the tour on a bittersweet note. While many vineyards in McLaren Vale have turned organic, Gemtree Wines has taken sustainability up a notch by getting their wines certified 'biodynamic'. Thus, synthetic fertilisers have been replaced by cow manure filled in cow horns—buried in the earth for months until it transforms into rich fertiliser; natural ground quartz is sprayed on the vines to strengthen their resilience against disease and to amplify the available sunlight; and a flock of sheep and alpacas are employed to eat the weeds growing beneath the vines instead of using sprays. It also means that the vineyard's farming processes are in sync with the lunar cycle—they plant, graft, and harvest according to the phases of the Moon (there are root days, leaf days, fruit days, and flower days). Even tasting is ideal on a fruit day, I'm told. While some in the business scoff at the belief that the Moon affects the quality of grape produce on Earth, the folks at Gemtree Wines are absolutely convinced that the extra cost and effort they've put in has begun to show in their wines—after 10 years of following biodynamic principles. Whichever side of the lunar debate you fall on, the core of biodynamic viticulture is a strong, intimate bond between the farmer and the soil, and that can never be a bad thing. With a tasting at Gemtree's sustainable glass-walled tasting room—built with recycled materials and powered by solar panels—I bid adieu to McLaren Vale. It's time to explore the higher reaches of South Australia.
HIGH IN ADELAIDE HILLS
After a brief stop at Cleland Wildlife Park, where I get to cuddle a koala and feed free-roaming kangaroos and other marsupials, we drive on to Mt Lofty Ranges Vineyard in Adelaide Hills for a comprehensive lunch spread. En route is the Lenswood Valley, a filmstrip of pastoral landscapes pregnant with lush orchards of apple and pear. Even though the weather is cold and wet, the occasional cherry blossom hums a prelude to spring. The restaurant perches on a slope that nourishes the vineyard—rolling hills draped in vines and dotted with kangaroo families. The elevation of the region echoes in the wines on the table. A much cooler climate than McLaren Vale means I'm in familiar turf now—Pinot Noir, Chardonnay, Sauvignon Blanc, and sparkling varieties dominate the produce here. Say what you will of Shiraz, but it's too heavy-duty for my vegetarian palate! However, the unique climate and terrain of the Lenswood wine sub-region dictate more than the grape varieties. Vines separated by as little as 150 metres grow differently. Gary Pearson of Mt Lofty Ranges Vineyard tells me he picks his grapes for the sparkling wines from the bottom of the slope since that area is usually cooler by two degrees. "In fact, my vintages of 2017 and 2018 turned out quite different because of a much cooler year in 2017—the grapes took six additional weeks to ripen." The 2017 vintage is markedly paler, in hue and flavour.
The region is so sensitive that regulations are pretty tight. There are just over 50 cellar doors and 100 labels. The best red on the table is from the Shaw+Smith stable. "Pinot Noir is the most challenging variety to grow and make, but when you get it right, it's the most satisfying of them all," says founder Martin Shaw. There is a bonhomie among the three winemakers on the table, and they don't shy away from sharing oenology secrets. But Shaw knows what he's doing. "I've been to Burgundy (France); the winemakers there don't share much with one another. But Australia is catching up to hundreds of years of European expertise in a matter of decades; we need to share information, to elevate the quality of the region." Touché, Mr Shaw! From fine dining in a sprawling vineyard, we hop over to a bare-bones shed that doubles as the winery and cellar door of Ochota Barrels. At the helm of this establishment are Taras and Amber Ochota, members of an emerging community in Basket Range town who believe in 'minimum intervention wines'. Simply put, their ethos of winemaking involves using wild yeast, allowing plenty of skin contact, no filtration, and addition of the bare minimum sulphur during bottling. I can taste the raw, organic process in a wine called Home, which Amber Ochota squeezes out of a barrel. Her choice of label name becomes clearer when her two kids, Anouk and Sage, and rescue dog, Elska, barge into the shed—and our hearts. Inside the warmth of the Ochotas' cottage, a structure that dates back to the 1800s, two cats, named Red and Zinfandel, are already tucked in for the night.
In a smug reply to Amber's wine, Home, her husband Taras has made a starkly different Pinot called Impeccable Disorder. Amber recalls their love story with the blush of a teenager. The two opposites met at an Adelaide pub over 21 years ago and bonded over their VW Kombi Vans. They started this winery in 2011, and five years later, began whipping up pizzas in an old, abandoned church in Uraidla, a little way down the road. Today, the restaurant is poetically called Lost in a Forest; it hosts our last meal of Adelaide Hills. A meal full of familial love and a communal passion for wine. TRYST WITH TASMANIA
A connecting domestic flight takes me further down south, over the 240-kilometre stretch of Bass Strait, to the wild and untamed island state of Tasmania. Over a third of the state's area is covered with National Parks that brim with rare wildlife species, but I am here to check out the wines. You'd be forgiven to assume that Tasmania is the poorer cousin of Hunter Valley and the like in mainland Australia. But, in fact, Tasmania's first vineyard was planted in 1823 near Hobart, and it was vine cuttings from this island that produced the first recorded vines in Hunter Valley, Victoria, and South Australia. While almost 95 per cent of the wine produced here is sold within Australia, there are 95 cellar doors to give visitors a taste of the region's cool-climate wines: Chardonnay, Sauvignon Blanc, Pinot Gris, Riesling, Pinot Noir, and sparkling varieties. The first stop is Moorilla Estate on the Berriedale Peninsula. Before I get a tour or tasting, I tumble down a rabbit hole and end up in the dark halls of MONA (Museum of Old and New Art), located on the winery estate; it houses a unique, if bleak, private collection of art. From ancient Egyptian sarcophaguses to modern art to immersive installations to hard-hitting social commentary, the David Walsh collection is eclectic and eccentric. There is even 'a shit machine' in there, which is exactly what it sounds like.
The winery welcomes me with the most delightful sparkling rosé of the trip. A guided tour takes me through the history of Moorilla Estate, which owes its existence to an Italian textile merchant, Claudio Alcorso. Alcorso purchased a 19-hectare plot of land in 1948 and planted the first vines (Rhine Riesling cuttings), against the advice of the local government, which suggested pears and apples instead. Tasmanian gambler David Walsh purchased Moorilla in the mid-1990s and converted the modernist villa on-site into an antiquities museum. But it was in 2007 that Moorilla turned a corner with the Canadian expert, Conor van der Reest, taking charge of its winemaking; MONA opened in 2011. The tasting in the posh cellar door includes some fine labels of Moorilla. But there is a hushed whisper in the room about a certain label of Domaine A—a winery that Moorilla bought in 2018. The legendary wine in question starts to come in only by October and sells out by December. It's reputed to be so good that it makes people cry! Called the 'finest oaked Sauvignon Blanc' by James Halliday, this wine called Lady A was first made in 1996 in secret, by Peter Althaus as a gift for his wife, Ruth Althaus, who never put Tasmanian Sauvignon Blanc on par with the French ones. The Swiss couple were the ones who started the Domaine A winery and owned the Stoney Vineyard, the oldest in Tasmania's Coal River Valley until they retired and sold it all to Moorilla. Lady A eludes me this time, but the story tugs at the same strings that Taras and Amber Ochota's wine-soaked fairytale did. While Moorilla pairs its wines with art, my final destination holds a fluffy surprise. Tasmanian Truffles could be the poster child for bucolic tourism. Located on Mole Creek Road, two and a half hours from Hobart, the farm is owned by Henry and Anna Terry. But it's Sherette, a truffle harvester, who ushers us in and hands us protective footwear. Fortunately, we've reached just before the harvest of winter truffle (black truffle) packs up. But it's not Sherette whose lead we must follow. It's her eight-year-old border collie named Bickey! At her human's command, Bickey sprints along a row of trees at the plantation, stopping only when she gets the sweet whiff of a ripe truffle under her paws—truffles grow on tree roots, five to 10 centimetres beneath the ground. Bickey stiffens, paws at the ground, as if marking the spot, and looks at Sherette with a triumphant look. Then it's Sherette's turn to stop her eager dog from pawing any further, and dig out the truffle with surgical precision so as not to break it. After all, each shaving of this subterranean fungus fetches a hefty price at restaurants around the world—at the farm, 30 grams of truffle costs 105 AUD, or INR 5,110. Truffle, like wine, has many reported health benefits. The canine harvester has been doing her job gleefully for six years now, and she took just six weeks to learn the trick, Sherette says. Bickey may have gotten her name from a tin of biscuits that her previous owners used to draw her attention, but she's a 'ball dog', not a 'treat dog'. As a reward for her pinpoint accuracy in detecting each truffle, Bickey gets to fetch her favourite pink ball once. Sherette leans towards picking rescues from pounds instead of buying from breeders, and she prefers ball dogs over treat dogs for the latter "tend to get lazy when they're full." But that hasn't stopped her from trying to train her children's one-year-old beagle, Oddy, who has a weakness for treats. Both the dogs cut a heartwarming figure on their makeshift bed in the trunk of Sherette's car, as we feast on button mushroom soup with truffle shavings, truffle cheese, truffle honey, and truffle butter, with a glass of local rosé. The feast takes place in a ramshackle shed that doubles as a rustic tasting room. Outside, the Tasmanian sky drenches the ground that harbours the next batch of summer truffles, which will be harvested from December onwards. In the distance, Bickey gets a long game of fetch as a reward for her day's olfactory labour. She's caked in wet mud and euphoria. I can't say with conviction whether drinking wine (and eating truffles) makes you healthier. But I do learn this from Australia: growing vines, making wine, and harvesting truffles—the right way—fills your days with love and warmth, much like a fine glass of Pinot Noir.
Sip Your Way Through South Australia
Base yourself in Adelaide for a taste of McLaren Vale and Adelaide Hills. Fly to Tasmania for some unique flavours. Getting There
Multiple airlines, including Air India and Singapore Airlines, operate daily flights to Adelaide International Airport. McLaren Vale is around 40 kilometres away and is best accessed by road. It takes one hour to reach Adelaide Hills from here. Virgin Australia and Jetstar Airways operate connecting flights to Hobart, in Tasmania, via Melbourne. A 25-minute ferry ride from MONA Ferry Terminal takes you to MONA and Moorilla Estate Winery.
Stay
Adelaide has many luxury options for your stay. One of them is the Mayfair Hotel (45, King William St), based in a Heritage Listed building. It offers 170 rooms and suites, with the chic HENNESSY rooftop bar on level 13 to boot. In McLaren Vale, there aren't too many luxury accommodations, for most tourists make a day trip from Adelaide. However, if you want to stay overnight and explore the region over multiple days, The Vineyard McLaren Vale (165 Whitings Road, Blewitt Springs) is a lovely collection of boutique guesthouses and cadoles set on a vineyard. From INR 19,227 per night.
Written By