Leopard spotting may be the prime reason why Jawai has made it to the travel map, but it is certainly not the only one. From off-roading thrills to endearing red-turbaned Rabaris herding flocks of goats, the spectacles here are wide and varied. By Punita Malhotra
Undisturbed monotony had been our loyal companion all along the National Highway 162 from Delhi. But now, as we curved along the Pali-Beawar flyover and glided over the asphalt ribbon slicing through the sheer rock of Aravallis, anticipation stirred.
Past the congested lanes of Sumerpur village, it was a catapult, without fair warning, into the most bucolic scenes. A lavish tapestry of gentle farmlands stretched for miles in every direction. Lacing the horizon were lava-cooled hills sculpted over billions of years by the forces of nature. The natural caves and rock shelters of these enormous granite mountains sheltered one of the world's highest non-forest concentrations of Panthera Pardus. This was leopard country, and we had just been blind-sighted by a lost GPS.
In the last lap of our 660-km, 10-hour ride we manoeuvred waterlogged tunnels, hard-rock stone surfaces and even a bumpy dirt road running beside railway tracks, we landed weary and weather-beaten at Bera Safari Lodge. Artfully designed by the owner, wildlife conservationist and photographer Shatrunjay Pratap Singh and his wife Katyaini, it instantly struck a chord with its thatched roof mud huts, lantern-lit sandy paths, and five (naturally distanced) stone cottages. Other than a few rustic village homes, there was no evidence of civilisation in the cacti-filled rocky desert.
Into the wilderness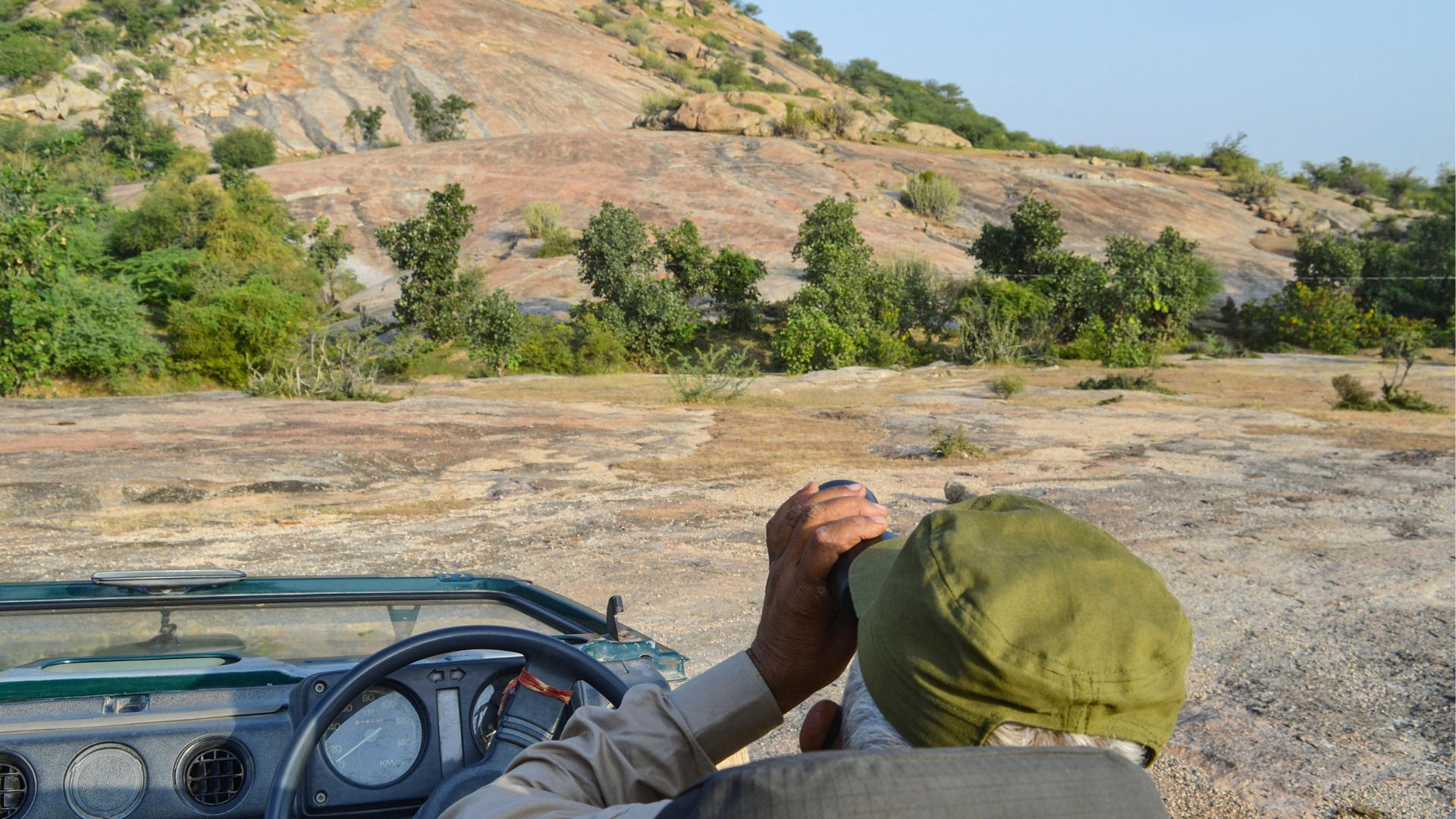 The exhaustion had vaporised at the prospect of the first evening safari. So, within a couple of hours, we settled into the open-top jeep with our unarmed driver-guide, Narayan, raring to go. Bouncing over dried river beds, skidding over sandy stretches, and ducking to avoid spiny dudhli and thorny kikar, it was an off-roading expedition like no other. Every now and then, Narayan's tracker companion would step off the jeep to scan the area on foot, climb a rock, or call a friend to exchange notes on recent feline movements.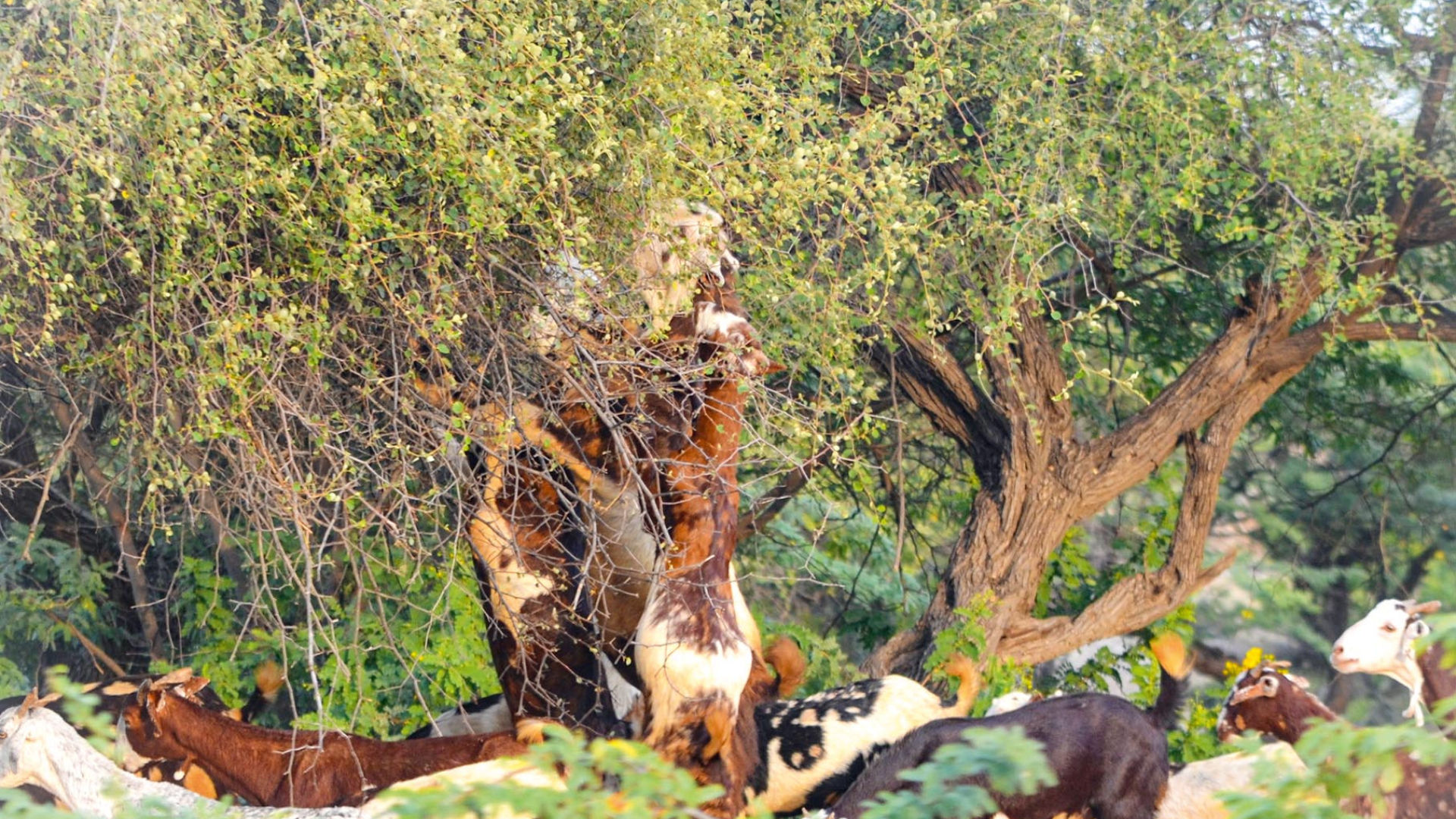 Meanwhile, there was extraordinary topography to keep the eyeballs hooked. Caked plateaus led to soaring scarps, and bushy thickets opened up in rivers of sand. Every inch of the rugged territory was a spectacle, carved with overhanging ledges, jutting precipices, and deep crevices.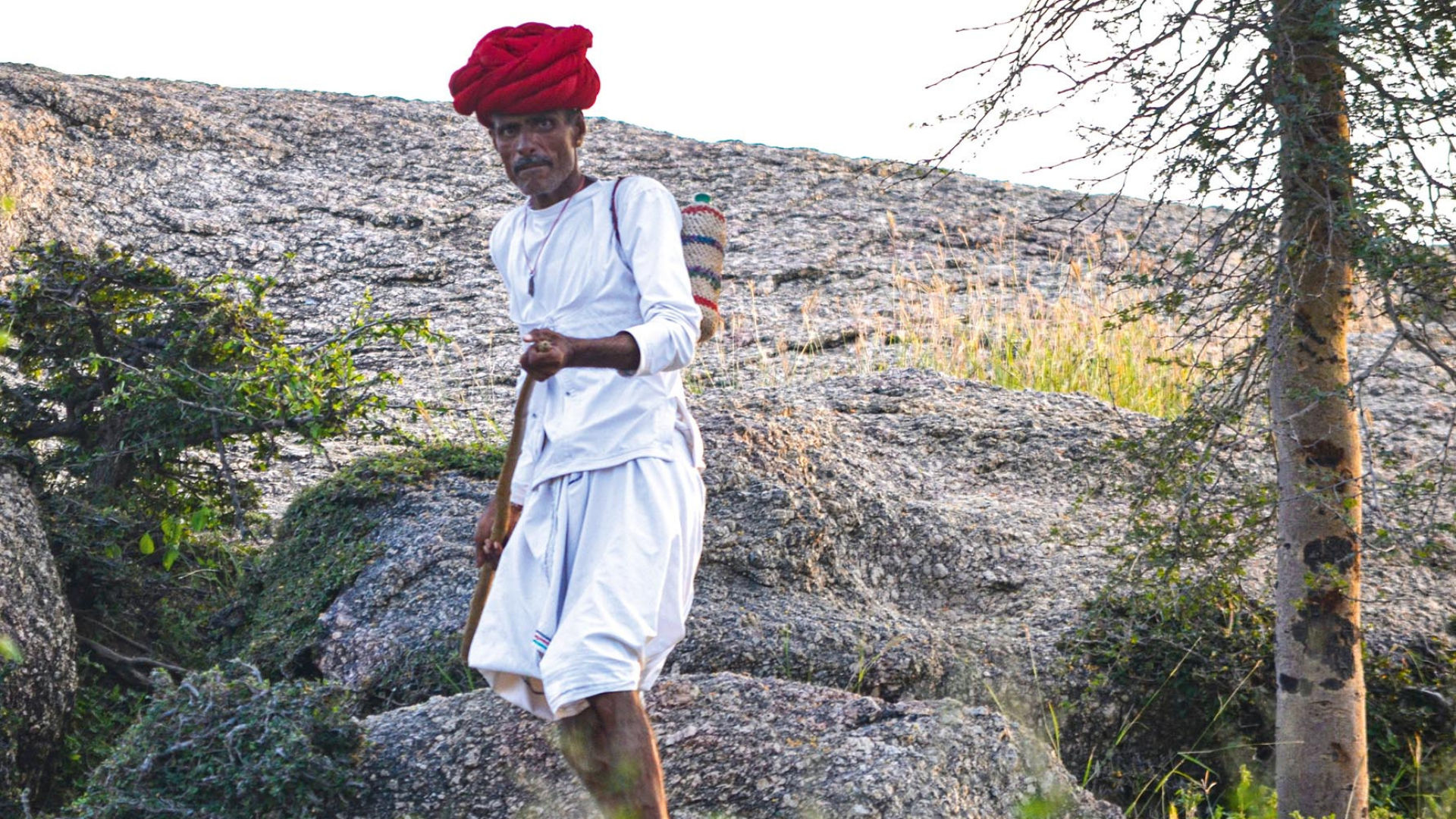 A bunch of native Rabari shepherds passed by, escorting a flock of goats homeward. Did the smiling, crinkled faces sporting long, thick, twirled moustaches capture our hearts? Or the fitted white angrakhas, dhotis and blood-red turbans complemented by gold earrings and silver amulets? Maybe the long sticks that rested casually on their shoulders. The goats clamoured cheekily to devour low-hanging berries from a nearby tree while the men skilfully hastened them along. We debated their millennia-old nomadic lineage, one that had brought their ancestors here from Iran via Afghanistan.
A peaceful co-existence
But what about the dangers that lurked in the untamed forest? Narayan revealed the unwritten code of peaceful co-existence between leopards and herdsmen. The Rabari community believes leopards to be the sacred guardians of the 300 hill shrines across the region. In fact, the wild cats are often found resting on temple steps while priests and pilgrims perform their daily chores. Apparently, locals never counter-attack the leopards for killing their livestock; some even refuse compensation from the forest department or local hoteliers.
We gorged on a delectable dinner of lal maas and dal baati churma accompanied by puffy, ghee-slathered mini phulkas and pored over coffee table books for some more inspiration. Later, Singh stoked our appetite for adventure with the story of his fierce tirade against illegal stone quarry mining. A decade ago, leopards were often encountered in and around the property, and you could even run into a big cat while on a morning walk. Then rampant tourism played spoilsport.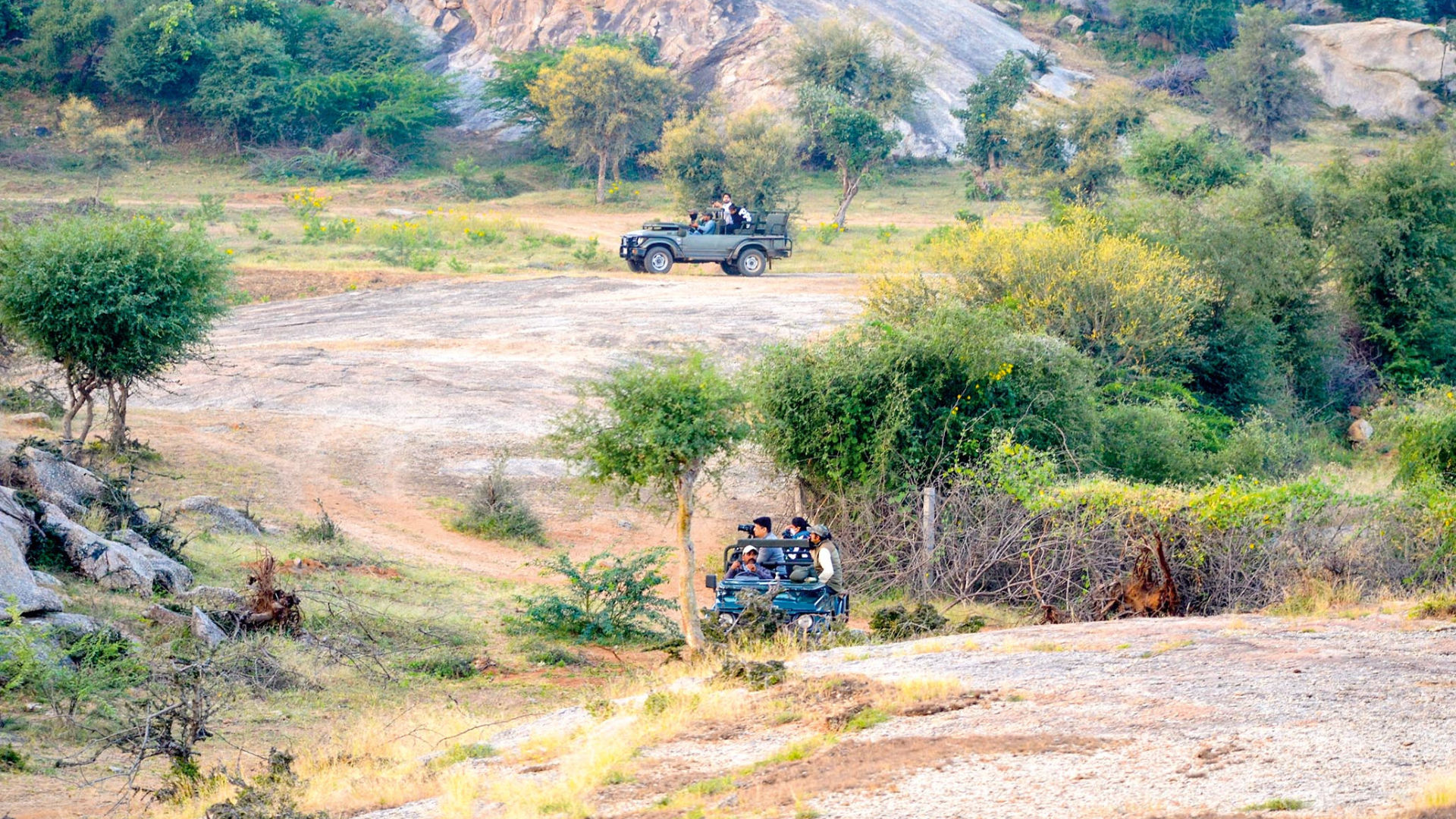 The roosters were still snoozing when we launched onto the jungle trail the next day. Swaying, jolting, lurching, chill-stung eyes, windswept hair—everything felt right. One hand on the wheel, the other brandishing a swinging flashlight, Narayan headed straight to the lair of the lady leopard, Neelam. These days, she was often spotted outside her cave, guarding her newborn cubs against possible predators. He explained that Jawai is the only place in India where leopards live in caves. With their territories marked out and regular routines predictable, the guides were accurately tuned to the possible locations. Still, with animals, there are no guarantees.
We joined a group of jeeps prowling around in the dim light. An amusing battle of instincts and judgement ensued to choose the ideal viewpoint. And the dune-bouldering began. Who would win the first right of sight? A whirlwind joyride of alarming angles, exhilarating plunges, and knife-edge inclines culminated on a cliff-top perch directly opposite Neelam's cave. The craggy terrain was spread out for miles, resplendent in every imaginable shade of brown from soft sepia to burnished buff and toasty tan. Dawn was breaking over the Jawai Hills. Surreal seemed like a flimsy understatement.
In pursuit of the Big Cat
A sudden flurry of activity and Narayan's urgent whisper averted our gaze to the cave high up on the rock face in the distance. The rough landscape was perfect camouflage for her spotted skin. We had to squint and use binoculars, but eventually, we saw her. She padded out elegantly, surveyed her territory, glanced at the waiting audience, stretched and settled on a rock. She basked in the warm sun, tail dangling from the overhang in a classic coffee-table book pose. The cubs showed up briefly, frolicked around, and departed, adding to the excitement. Clicking continued at a frantic pace from every vehicle. It had been a statement appearance, and the retreat was even grander. Just like that, it was curtains down. But we weren't done yet.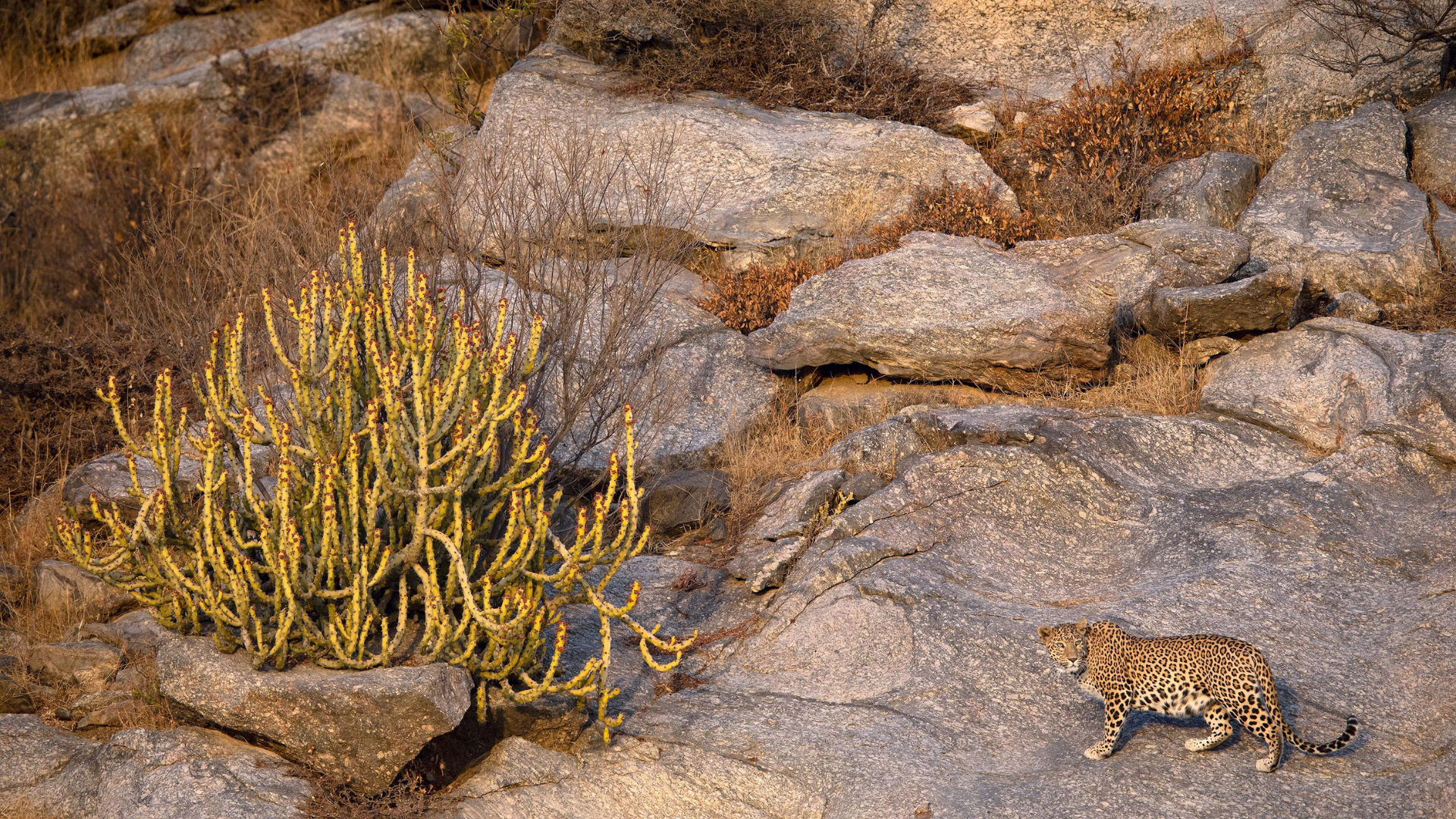 The evening was spent tracking Zia, waiting outside rocky crevices, listening to alarm signals, creeping up stony plateaus, and racing through fields. Eventually, we found her poised on a hilltop, her golden fur outlined against a blinding electric blue.
Singh had recommended a trip to the Jawai Dam, and we had bookmarked it for the end. A dam is a dam, is it not? I wondered as the jeep ascended a sandy hillock and rolled down a steep one, landing squat on a broad plain of gigantic proportions. This was the largest dam in western Rajasthan, built by Maharaja Umaid Singh of Jodhpur in 1957 and it served the entire district of Pali.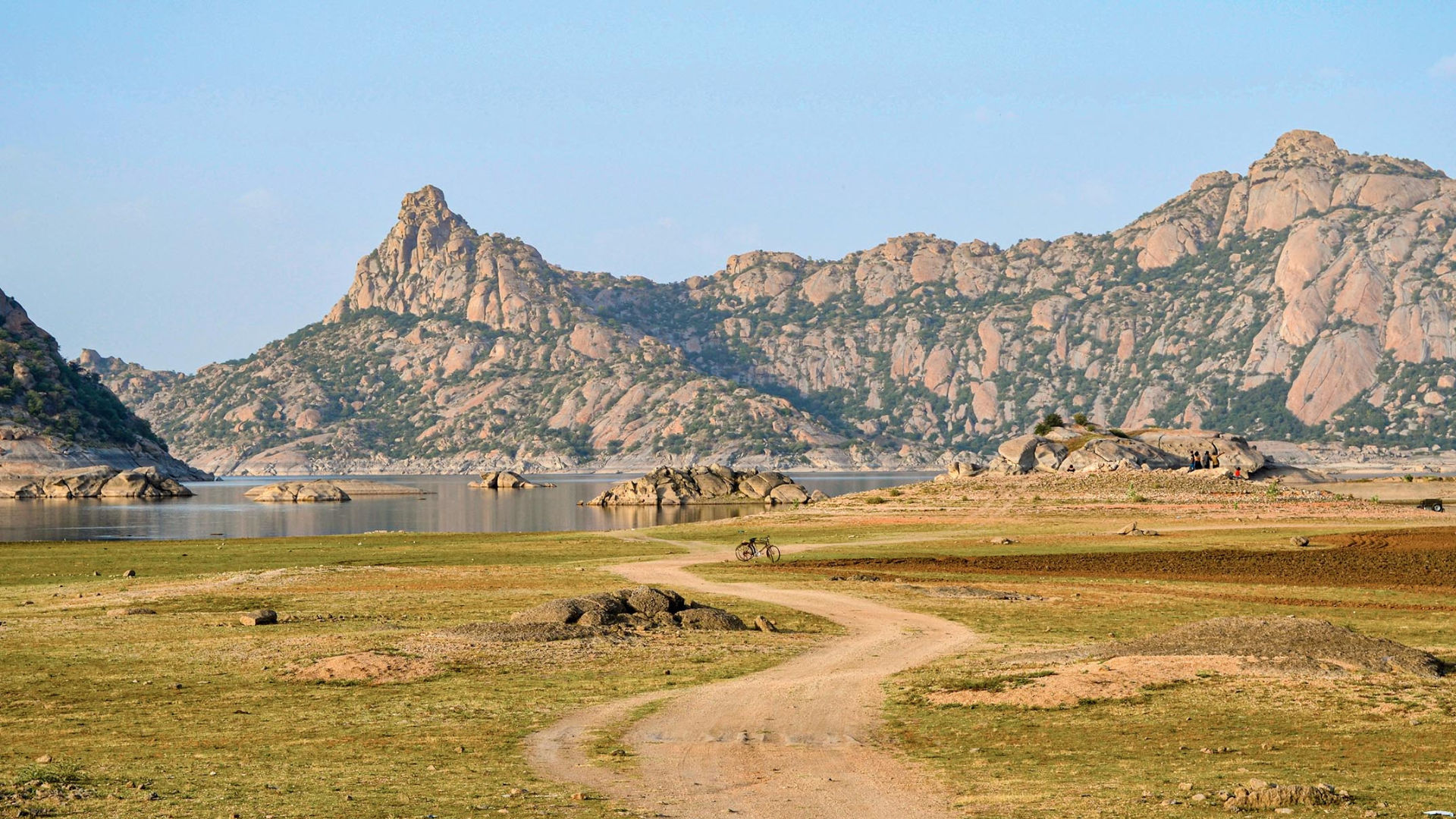 "How far are we from Jawai Bandh, Narayan ji?" I quizzed him.
"We're in it", his voice flew back to me in the wind, jerking me upright. We were off-roading on the dried sandy bed of the dam, ringed in by jagged granite mountains. Shallow waters were mirroring blue skies and fluffy clouds. Crocodiles were sunning themselves on the marshes. Smooth boulders of immense sizes were strewed around. It was a scene evocative of the Scottish highlands in dry and arid Rajasthan!
Getting To Jawai
IndiGo and Air India operate regular flights to both the nearest airports— Udaipur (130 km) and Jodhpur (229 km).
Stay
Bera Safari Lodge has five spacious stone cottages and serves rustic home-style Rajasthani fare. Doubles from INR 23,000.
Related: Up-Close And Personal With The Indian Leopard In Rajasthan's Jawai