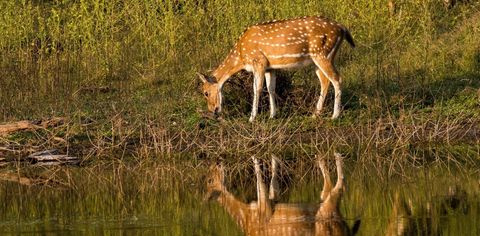 Maharashtra's thriving wildlife and vivid topography needs no introduction. But with such a diverse flora and fauna, one requires some help while carving out an itinerary. Let this list of the best wildlife sanctuaries in Maharashtra serve as your guide. By Bayar Jain
Maharashtra is home to 49 wildlife sanctuaries, six national parks, and many other lesser-known sanctuaries and reserves. This expansive flora and fauna, then, requires some help to navigate through. Usher in Maharashtra Tourism who have recently noted some of the state's best wildlife sanctuaries in an issued press release.
1. Tadoba-Andhari National Park, Chandrapur
View this post on Instagram
Dubbed as the Jewel of Tadoba, Tadoba-Andhari National Park is conserved under the national government's Project Tiger Initiative. With 69 tigers sprawling through the luscious greens, paired with shy sloth bears and wild dogs peeking every now and then, the park doubles as an apt getaway for wildlife and nature lovers. The three zones here—namely Moharli (Mohurli), Tadoba, and Kolsa—are easily accessible by jeep. Adventurous folks can even book an open top gypsy for better sightings. However, the limited-period park is accessible only between October 15 t0 June 30 every season, barring Tuesdays when it remains shut for visitors.
Timings: 10:00 am to 06:00 pm
2. Melghat Tiger Reserve, Amravati
View this post on Instagram
Also notified under Project Tiger, Melghat Tiger Reserve is dotted with Wild Cats across its gigantic 1,500.49 square kilometre space. But its true crowning glory are the unusual avian species that glide through the trees, particularly the critically endangered forest owlet. Plan a visit between December and May to heighten the chances of a sighting.
Timings: 06:00 am to 06:00 pm
3. Pench National Park, Nagpur
View this post on Instagram
Nestled on the border of Maharashtra and Madhya Pradesh, Pench National Park is an ecosystem of a diverse fauna. The park is home to 33 species of mammals, 162 bird species, 50 types of fish, 10 amphibian variations, 30 reptile species and countless insects. So captivating is its beauty that even Rudyard Kipling couldn't resist mentioning it in the classic novel, The Jungle Book. To get an idea of the surrealism housed here, visit between July and February.
Timings: 05:30 am to 09:30 am; 03:00 pm to 07:00 pm
4. Rehekuri Blackbuck Sanctuary, Ahmednagar
View this post on Instagram
Spread across 2.17 square kilometres, the Rehekuri Blackbuck Sanctuary—as the name suggests—hides the Indian blackbuck in its abode. Located about 80 kilometres on the route to Ahmednagar city, the sanctuary was established in the 1980s. Since then, close to 400 blackbucks call the greens their home. To whisper a quick hello to the mystical creatures, visit between August to September, particularly before 03:00 pm when the animals scurry through the forest.
Timings: 08:00 am to 06:00 pm
5. Radhanagari Wildlife Sanctuary, Kolhapur
View this post on Instagram
Christened as a natural world heritage site, Radhanagari Wildlife Sanctuary's lush greens with steep landscapes beckon all year round. Here, the thrill of walking on forest pathways is unmatched while the murmurs of Nilgiri wood-pigeons accompany each step. One can even see Oriental Turtle Doves nesting and hatching here, along with the rarely-found bison meandering with all its might. Some of the other prominent species are Ceylon frogmouth, yellow-browed bulbul and dusky eagle-owlet, each of which can be find while trekking through the greens. Visit between August to February for a fruitful excursion.
Timings: 06:00 am to 02:00 pm
6. Bhimashankar Wildlife Sanctuary, Pune
View this post on Instagram
Once the natural habitat for the endemic Indian Giant Squirrel, Bhimashankar Wildlife Sanctuary now also houses leopards, barking deer, wild boars, Malabar grey hornbills, black eagles and many more. This biodiversity hotspot is replete with well-marked safe walking routes. Alternatively, safari car rides are also available. Wildlife aside, religious offerings also lure tourists here. One of the 12 jyotirlingas of Hindu deity Shiva is situated here as well, making this park a famed attraction among spiritual travellers. Plan a visit between October to March for the ideal jungle experience.
Timings: 06:00 am to 06:00 pm
7. Bhamragarh Wildlife Sanctuary, Chandrapur
View this post on Instagram
Replete with animal species like leopards, the blue bull, peacock, flying squirrel, and wild boars, Bhamragarh Wildlife Sanctuary is spread across 104.38 square kilometres. Animals aside, however, this green hotspot also houses countless natural offerings. Think mango, jamun, kusum, and bamboo trees; neel, tarota, and kuda shrubs; and Pamalgautam and Parlkota rivers flowing calmly amid the greens. Visit between October and May to see nature in its full glory here.
Timings: 09:00 am to 06:00 pm
Related: Wildlife Sanctuaries Including Tadoba Andhari Tiger Reserve Reopen For Visitors
Written By