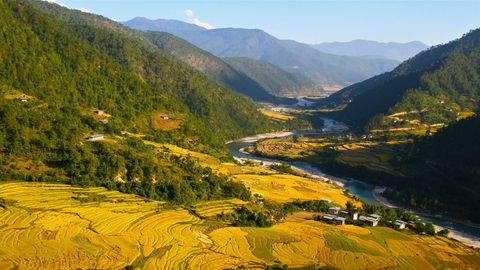 Everything you need to know about planning a trip to Bhutan — a quiet country quickly emerging as the perfect winter escape for every traveller.
Nestled between India and China, Bhutan, a tiny Himalayan country, offers a transforming journey, both physically and spiritually. Picture fragrant forests, grounds cushioned with pine trees, crisp air and clear rivers. If you are dreaming of enjoying these earthly pleasures this winter, the breathtaking treks and restorative hot-stone baths of Bhutan await. Add to it many immersive and one-of-a-kind experiences that highlight the country's natural beauty, thrilling adventures, rich culture, and spiritual legacy.
Disconnect from the digital world this festival season and embrace the simplicity of Bhutan's way of life. Spend quality time with your loved ones by the fireplace or a bukhari (wood-burning stove) with a cup of steaming suja, wine, cognac or local whiskey, or play traditional Bhutanese sports such as archery and khuru (Bhutanese dart) December boasts of the perfect weather to visit Dzongs and other places of religion. Bhutan's winters are bearable, with temperatures averaging three to 12 degrees celsius, which is warmer than many winters in northern Europe and North America. Having said that, the temperatures during winter in Bhutan vary depending on the region and altitude. While high-altitude areas experience snowfall, and mountain peaks are snowy year-round, the lower valleys remain sunny but chilly and crisp, where you can enjoy a cup of steaming locally brewed coffee or butter tea (suja).
One of the best ways to experience Bhutanese traditional culture and lifestyle is through homestays, where one may savour authentic Bhutanese food. But that's not all! The country is a treasure trove of experiences. Travel+Leisure India & South Asia has picked out a few to get you started for your winter escapade.

Bhutan in the Winter
Go on gorgeous treks Gear up and get moving across gorgeous mountain trails that meander through lush green forests. Challenging routes like Snowman Trek and the Trans Bhutan Trail offer breathtaking views. In the colder months, these beauties become even more surreal. Consider falling asleep under blue skies and waking up to vast expanses of all-white landscapes that stretch as far as you can see–including the snow-capped peaks of the Himalayas and Bhutan's highest peak, Gangkhar Puensum. Or hike through the sections of Trans Bhutan Trail in Phobjikha valley, where you can spot the rare and globally endangered black-necked cranes who migrate to Bhutan every winter from the north. You can also hike up to the Tiger's Nest monastery with your family and feel the living energy and spiritual aura permeating the place. Winter is the ideal time for taking part in lively and colourful festivals that celebrate the country's rich traditions and culture. From enjoying traditional dances, tasting delightful cuisines, and even learning how to make local crafts, the festivals promise an immersive experience for all who attend. Bhutan celebrates more than 153 festivals throughout the year. Some of the popular celebrations are Punakha Dromchoe (February 26 to 28) and the Druk Wangyel Tshechu or the Dochula Festival (December 13).
Take off on fast-paced adventures
Bhutan has lots in store for those seeking an adrenaline rush. Taste the thrills of river rafting amidst high mountains in several popular spots in the Zhemgang and Punakha districts or go mountaineering through gorgeous villages, snow-capped mountains, and frozen lakes.
Go bird watching Catch a glimpse of Bhutan's aviary wonders in their natural setting at Phobjikha Valley, Jigme Dorji Wangchuck National Park, Bumdeling Wildlife Sanctuary, and the Royal Manas National Park. What's more–you can also enjoy the spectacular sight of the endangered Black Necked Crane during winter!
This Christmas, experience the warmth of Bhutanese hospitality to experience a different kind of magic in the Kingdom of Bhutan.
Related: All About The International Train That Will Connect India To Bhutan Soon
Frequently Asked Questions (FAQs)
— How to get to Bhutan?
Just a two-and-a-half-hour flight from New Delhi, the Buddhist kingdom offers the perfect escape from the hustle and bustle of city life and allows you to luxuriate in nature's lap. Paro International Airport, the country's sole international airport, connects the Kingdom to the world. From India, one can take direct flights to Paro from Kolkata, and connecting flights from New Delhi, Bagdogra, Guwahati, and Mumbai.
— Do Indians need a visa for Bhutan?
The best part is that Indian passport holders don't need a visa to travel to Bhutan. A travel permit will do.
— Are there any dress codes for tourists visiting Bhutan?
Tourists aren't expected to wear local garb, but great care should be taken when selecting clothing for temple and fortress visits.
Written By