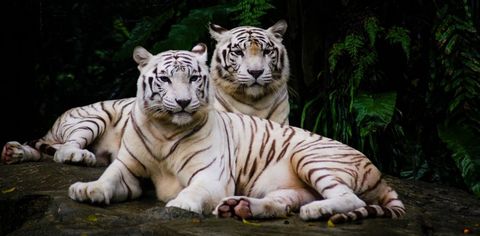 White tigers that cannot be spotted in plain sight demand for efforts to be discovered. Thankfully, we're here to guide you through the various routes to spot this unique animal.
By Upasana Sarangi
The new Netflix original, The White Tiger, garnered immense intrigue among viewers owing to the metaphorical use of the animal in the movie. White tigers are a rare breed that has white fur due to lack of pigmentation. They are born carrying an unusual gene, which sets them apart from their nurtured environment, much like the protagonist Balram in the film. If you're intrigued by this rare animal, head to these destinations in India where white tigers still persist.
1. Madhya Pradesh
View this post on Instagram
If you're looking for white tigers in Madhya Pradesh, you won't be disappointed. There isn't one, but two sanctuaries that claim of its presence. The White Tiger Safari & Zoo in Mukundpur is the first white tiger sanctuary. It was constructed with the sole purpose of protecting this rare breed. History claims that the first white tiger here was procured by the Maharaja of Rewa in 1951. Today, two white tigers reside in its enclosure. There is also a Baghel Museum where you will find abundant information about the animal's rich history. The sanctuary is open from 9:30 am to 4:30 pm.
Bandhavgarh National Park is an equally prominent sanctuary. Although the park claims to reserve white tigers, they haven't been spotted in this forest for many years. However, locals claim that while the animal is in hiding, it is still present.
2. West Bengal
View this post on Instagram
Since it is believed that white tigers come from the lineage of Bengal Tigers, it is natural to expect a few of them still inhabiting the region. Sunderbans National Park–one of India's largest reserves—hosts several tiger breeds, including the white tiger. The park offers tour packages which include excursions around the forest, accommodation and dining options within the premises.
3. Tamil Nadu
View this post on Instagram
Located in the western region of the state, the Nilgiri mountains are a rather recent addition to the list of white tiger homes. During a safari in 2017, a wildlife photographer spotted the animal in the Nilgiri Biosphere Reserve for the first time. Some zoologists believe the animal that was spotted is a rare variant of the white tiger and not the same one per se. However, it remains a unique sight waiting to be explored! The reserve closes by 6:00 pm, and you can book a jungle safari to explore all the corners of the region at a nominal charge.
4. Assam
View this post on Instagram
Assam's Kaziranga National Park is known for housing an extremely dense population of Bengal Tigers. Although white tigers have not been explicitly identified here, park authorities and a few locals claim that they can be found. If you're lucky, they could be discovered during your visit! The park hosts tourists in style, as they provide accommodation options for all budgets. They even host exclusive safari tours throughout the year.
Related: Have You Seen The Viral Photos Of A Rare Black Tiger Spotted In Odisha?

Written By