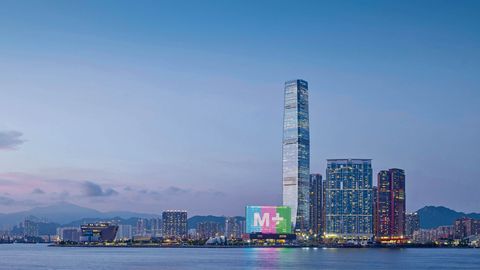 After three years of near-total closure, Hong Kong is finally back on the tourist map. Travel+Leisure India & South Asia's contributor returns to the city to determine what's changed—and what's better than ever.
It seemed almost too good to be true. After 34 months of hard quarantine rules and ever-shifting regulations that scared off all but the most determined travellers, Hong Kong announced in late 2022 that it would drop almost all COVID restrictions. These days, only a self-administered rapid test is required of visitors coming from the USA.
I jumped at the chance to be one of the first Americans to enter under the newly relaxed rules. Though I hadn't been to the city since May 2019, this would be my 12th visit to the city—a place that my parents once called home. Much has changed, as a result of both the pandemic and recent political turmoil, including protests against government curbs on freedom of expression. Yet I still found much to enjoy, not least Hong Kong's blend of Chinese and international cultural influences—a mix that, as a Chinese American, resonates particularly strongly for me.
"Now more than ever, we want to remind travellers what there is to love about our city—its rich and layered culture, its historic-meets-contemporary atmosphere," says Hugo Montanari, managing director of the Rosewood Hong Kong (doubles from INR 67,788)
Here's how to make the most of a trip, whether it's your first, or just your first in a while.
Hong Kong Reopens
What's New Around Town Despite the difficulties of the past few years, the destination has undergone a museum renaissance, particularly in the West Kowloon Cultural District, which sprawls along reclaimed land lining Victoria Harbour. The centrepiece is M+, a self-described "global museum of visual culture," which opened in November 2021. During my visit, I was impressed by several exhibits, including the permanent installation Conserving Neon Culture, which celebrates the electric signs that have illuminated Hong Kong for decades. Though a Yayoi Kusama show closed in mid-May, other intriguing options, like a survey of contemporary Chinese art, will run through the summer.
Meanwhile, the Peak Tram, a Hong Kong classic since it opened in 1888, has gotten a glow-up. In August 2022, new (if retro-looking) carriages increased capacity on the line by 75 per cent and are wheelchair accessible. Unchanged is the lovely journey from Central to the top of Victoria Peak, where visitors can soak in sweeping views of the Hong Kong skyline.
Where to Stay in Hong Kong For much of the past three years, the city's legendary hotels have hosted local staycationers rather than overseas visitors—but they've also taken time to rebuild and refresh. Four Seasons Hotel Hong Kong (doubles from INR 56,326, for example, redesigned its 399 rooms and suites and opened Argo, an ambitious Art Deco–ish bar with skyline views that went straight onto the 2022 World's 50 Best list.
"We have full confidence that Hong Kong is back on the global stage," says hotel general manager Christian Poda. Other big names, such as Mandarin Oriental, Hong Kong (doubles from INR 45,928) and Regent Hong Kong (doubles from INR 57,390), which was formerly the InterContinental, have also gone through major renovations. For its part, the Peninsula Hong Kong (doubles from INR 62,384) has introduced wellness programmes, including classes and mindfulness retreats.
New properties on the scene include the St. Regis Hong Kong (doubles from INR 52,151), which was Marriott's 7,000th hotel when it opened in 2019. The Fullerton Ocean Park Hotel Hong Kong (doubles from INR 36,514) is the brand's first in the city—and its first-ever resort-style property, with a spa, a massive pool, and a water park.
Montanari, the Rosewood GM, is meanwhile eager to show off his hotel, which occupies 25 floors of a 65-story Kowloon tower overlooking the harbour. Though the property opened in 2019, this year will be the first opportunity many international guests will have to see it. "We expect a resurgence of international business and leisure travel," the hotelier tells T+L. "And we're looking forward to the return of cultural events such as Art Basel."
The Scoop on Dining In addition to easing entry requirements, authorities here have eliminated the curfews and mask mandates that had kept a tight lid on dining out. "There's an optimism in the air," says Elliot Faber, a restaurateur who has lived in the city for more than a decade. "Now is a great time to visit, because you can feel the energy—but it's not impossible to get a seat," adds Faber, who's part of the team at Sake Central (tasting menu INR 8,351). "I see things improving for the first time in a long time."
Getting There Made Easier
In March, United Airlines resumed its daily nonstops from San Francisco, on Boeing 777s outfitted with 60 Polaris business-class seats. At the same time, Cathay Pacific continues to increase service between the city and the US, with capacity expected to return to pre-pandemic levels by 2024. The carrier is also one of four working with the Hong Kong Tourism Board to give away 5,00,000 free flights to the city, including some seats reserved for North Americans, through the website of Hong Kong International Airport.
Related: From Island Trips To Museum Tours: 10 Things To Do In Hong Kong That Are Absolutely Free
Frequently Asked Questions (FAQs)
– When did Hong Kong reopen for global travellers after the COVID-19 pandemic?
Hong Kong eased COVID-19 restrictions and relaxed borders for global travellers in January 2023.
– What is the best time to visit Hong Kong?
According to the official tourism board website, the city can be visited all-year round. It further notes that the city enjoys mild climate from the middle of September to the end of February; hot, wet, and humid from May to mid-September; and August, rainy.
– How to reach Hong Kong from India?
Finnair and Turkish Airlines operate various connecting flights from New Delhi and Mumbai to Stockholm.
Written By