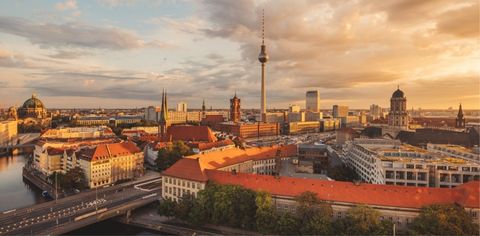 Berlin is a place of stark contrasts. On one hand, reminders of its turbulent past are everywhere. But it's also a modern megalopolis — that's geographically nine times bigger than Paris — with exciting new attractions and an inherent subversiveness. This juxtaposition makes it a destination unlike any other. By Lindsay Cohn
The big question for most travellers when venturing to Germany's once war-torn capital then becomes how to navigate the past while living in the present. It's essential to confront the heavier aspects of the city's history. However, that doesn't mean a visit to Berlin is all memorials and museums. (Though, it bears repeating that you should absolutely carve out ample time to do all that.) The contemporary side of things very much deserves exploration, too.
An artsy mecca with a slew of galleries and eccentric installations, Berlin transformed the last pieces of the wall that once divided it into a permanent open-air exhibition.
This sprawling city also has a wild side with nightlife at its centre. There are hedonistic drinking dens with cabaret acts, swanky speakeasies and anything-goes clubs where people party for 48 hours (that's not an exaggeration). Add to that picturesque parks, a thriving food scene that's garnered international acclaim of late, a world-class zoo and a cool aesthetic sensibility with homegrown designers making a global name for themselves.
Overwhelmed? Berlin tends to have that effect on out-of-towners. Bookmark this guide to help plan your first (or next) trip.
Time Zone
CEST (Central European Summer Time)
Best Time to Go
May through October is the peak travel period in Berlin. Temperatures tend to be moderate, making it a lovely time to walk around, see the historic sites, hang out in the many green spaces and enjoy al fresco dining. Winter isn't the season that most tourists visit due to the less welcoming weather. However, holiday festivities — notably the fabled Christmas markets — are a bright light in the middle of what can feel like a very long, grey few months.
Things to Know
Currency: Euro
(Check the current exchange rate)
Language: German
Calling Code: +49
How to Get Around
U-Bahn: The most convenient and efficient way to navigate Berlin, the U-Bahn, or subway system, has a total of 10 lines stopping at 173 stations. During the day, the iconic yellow U-Bahn trains depart every five minutes. At night, they leave in 10-minute intervals. Tickets are also valid across the Transport Association Berlin-Brandenburg VBB-operated S-Bahn, buses and trams.
S-Bahn: The S-Bahn is a network of suburban train lines that covers 15 lines and nearly 170 train stations. In the city centre, it mostly runs above ground.
Buses: Metro buses M11 to M85 run 24/7. Day bus lines 100 to 399 connect the suburbs and city centre. Night buses—which are marked with an N — cover the day bus and U-Bahn routes that cease operating overnight.
Trams & Metrotrams: Upwards of 20 tram lines extend the network of the U-Bahn through the eastern part of Berlin. The difference between trams and metrotrams is frequency, with the latter running more often.
Taxis: Public transport in Berlin is fantastic — and would be our recommendation. That said, if you'd rather take a car, taxis are widely available.
Rideshare: Prefer to hail an Uber? That's also an option.
Bicycles: Bike sharing is a convenient and eco-friendly way to get around thanks to companies like Nextbike and Donkey Republic. While electric bikes are available to rent through Wheels, Jump and LimeBike.
Best Hotels
Best Restaurants
Things to Do
Best Shopping
Neighbourhoods to Know
Berlin has 12 administrative districts (Bezirk), subdivided into 23 neighbourhoods (Kiez).
Mitte: Keen to stay in the heart of the action? Mitte (which literally means "middle") lies in the centre of the city. Not only is this sprawling borough chock-full of top sights — including Brandenburg Gate, Museum Island, and Tiergarten — but also cafes, bars, and shops. Another major selling point? Public transport. Basically, every train line runs through the main railway station, Berlin Hauptbahnhof.
Kreuzberg: People often liken bohemian Kreuzberg to Brooklyn, but there's really no accurate comparison. Of late, a spate of hip bars and trendy restaurants have popped up at a breakneck pace. Yet much of Kreuzberg still clings to its grittiness like a badge of honour. On one corner, a beautiful community garden and art installation. Veer left and you'll arrive on a gentrification-resistant street scattered with broken beer bottles and graffiti-covered buildings. And that's the beauty of this enigmatic, multicultural hood.
Charlottenburg: Charlottenburg could accurately be categorised as the more upscale side of Berlin. Graceful pre-war buildings, five-star hotels, top-rated restaurants, and designer boutiques dot the litter-free boulevards. The stately Charlottenburg Palace has ornate interiors and manicured gardens, while Berggruen Museum displays an incredible collection of modern art.
Neukölln: A diverse district known for its eclectic, international vibe, the bustling streets of Neukölln brim with Middle Eastern bakeries, vegan eateries, bars, breweries, and artists studios. Check out a poetry slam at Heimathafen Neukölln and shop for fragrant spices at the Turkish Market.
Schöneberg: The epicentre of nightlife back in the 1920s, today Schöneberg is the hub of LGBTQIA culture. It's home to an array of bars, cafes, galleries and shops, including Kaufhaus des Westens, as well as Natur-Park Südgelände.
Weather
Things begin to thaw in the spring. As the months move ahead, the temperature rises. Summer is warm, but rarely hot. Pack a light jacket and be prepared to layer as it moves later into fall. When winter rolls in, expect some clouds, rain, sleet and snow.
The following are average Celsius highs and lows by season.
Spring: 18°C / 8°C
Summer: 23°C / 14°C
Fall: 14°C / 6°C
Winter: 4°C / -1°C
Apps to Download
Berlin Subway: U-Bahn and S-Bahn maps and route planner
iOS | Android
berlinHistory: Berlin history by location
iOs | Android
Going Local Berlin: Insider travel tips
iOs | Android
accessBerlin: Route planner; online and offline maps; restaurant, hotel and activity recommendations
iOs | Android
Related: The Only Dublin Travel Guide You Need To Experience This Beautiful City
Written By