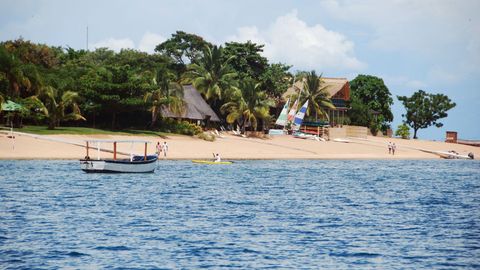 From immersive honey harvesting, and tranquil tea plantation walks to shopping for regional food ingredients, kayaking on Lake Malawi and hiking to a UNESCO World Heritage rock art site, Malawi embodies the warm heart of Africa.
Visiting Malawi, The Warm Heart of Africa
Honey with a Heart Donning a beekeeper suit, I am all set for my first honey-harvesting experience in Malawi. The smoker and hive tool complete my look. Escorted by Malawians who harvest honey as part of the community development of Majete Wildlife Reserve which is managed by African Parks, my experience is safely fruitful.
Later, I learned about how high-quality honey is processed from honeycombs, packaged and sold under the brand, Honey with Heart. It is an apt name as honey is a social enterprise that is economically empowering local communities.
Interacting and listening to a few stories from the hundreds of women beekeepers who have immensely benefitted from Honey with Heart, I am enriched. Back at Thawale Camp located inside Majete Wildlife Reserve, I happily buy a few bottles to gift to friends and family.
Where to stay: Thawale Camp
Cheers to tea With Majete echoing a sweet chord, I proceed to my next location: Huntingdon House located at Satemwa Tea Estate in Thyolo. Here I experience Scottish lineage that beautifully blends with warm Malawian hospitality. The house, which was built by Maclean Kay, is a fourth-generation home. It is counted among the country's oldest homes. There is a story in every nook and corner. I sip a refreshing white hibiscus iced tea while listening to the birds chirping after playing a game of croquet on the well-manicured lawn. I feel calm and at peace. The tea estate, which covers 1,500 hectares, offers tea plantation walks and bird-watching trails in the Shire Highlands. One evening, I walked to the first tea that was planted here and even sampled a tender macadamia nut right from the tree.
Stocking up on speciality teas like white nectar and green velvet, along with flavoured speciality teas like white antlers and white Zomba pearls, fill my days at Satemwa.
Where to stay: Huntingdon House
Malawian food and shopping By the time I reach Sunbird Ku Chawe in Zomba, I am famished. Craving a Malawian meal, the chefs curate a delicious lunch. It comprises nsima, a staple dish in Malawi made using maize flour. I eat with okra and pumpkin leaves stew. A tangy glass of baobab juice and some masau which is Indian jujube complete the meal. For snacks, there are zitumbuwa or banana fritters which are made with corn flour, bananas and sugar.
On other days, I savour nyemba zophika, a bean stew served with Kilombero rice. Breakfast includes futali which is sweet potato cooked with groundnut flour, boiled cassava, and chimimina which is African banana cake. There is also boiled corn on the cob. Beverages are tamarind juice and red hibiscus juice.
A leisurely visit to Zomba's local market is rewarded with procuring some of these local ingredients including dried pumpkin leaves and dried sweet potato leaves to make a Malawian meal back home.
Where to stay: Sunbird Ku Chawe
Lake Malawi ahoy Malawi has varied natural wonders but my favourite among them is Lake Malawi. Pumulani Lodge by Robin Pope Safaris is located on the banks of this lake, inside Lake Malawi National Park — a UNESCO World Heritage Site. I wave at local fishermen in dugout canoes and watch the sunset from Pumulani's speed boat. Kayaking and trying stand-up paddle boarding on the lake unleashes the aqua woman in me.
With its clear and safe water, Lake Malawi is a popular snorkelling and diving spot. On a sunny breezy morning, I enjoy feeding the colourful cichlid fish of the lake and watching fish eagles being fed. At night, I gaze at the Milky Way, including Mars and Venus, while sitting around a bonfire. It is the best star gazing I have ever done!
Where to stay: Pumulani Lodge
Rock on art So far my trip has been a wholesome mix of community development, tea culture, gastronomy and natural wonders. For my next activity, I hike to the Chongoni Rock Art Area, another UNESCO World Heritage Site. There is a rock shelter containing red and white paintings. The red paintings were made by the Batwa or pygmies while the white ones were created by the Chewa People of Malawi. On another rock boulder, the paintings depict initiation ceremonies. Later, lazing in the cosy room of Kumbali Country Lodge while eating my vegetable lasagna, I reflect and agree with Malawi being known as the warm heart of Africa.
Where to stay: Kumbali Country Lodge
Featured image and hero image courtesy: Maria Zardoya/Unsplash
Related: Go Beyond The Safari With These Wildlife-Focused Volunteer Trips In East And Southern Africa
Frequently Asked Questions (FAQs)
— What can I buy in Malawi?
Some of the most famous souvenirs from Malawi are Chitenje products, Whoa Malawi cloth, carved frames, dedza pottery mugs, baobab oil, Malawi gin, Linga wine, and satemwa tea.
— What is the old name for Malawi?
Malawi, officially the Republic of Malawi, was formerly known as Nyasaland.
Written By