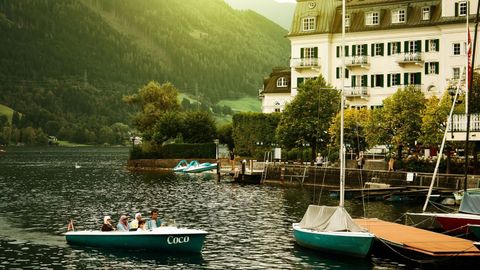 We may be aware that our vacation choices can have a significant impact on the environment, but we don't always know which direction to take, especially when it comes to choosing a destination. The UN's World Tourism Organization recently published a list of villages that are developing tourism activities while preserving their natural and local environment, offering travellers some handy pointers.
Sustainable travel has been a subject of discussion for several years, and some travellers are now looking to choose hotels and activities, as well as destinations that are more in line with their ecological convictions. Still, it's not always easy to get started, between the rankings listing the most eco-friendly destinations, or highlighting places to visit with minimal risk of inflicting harm.
For an alternative view, the American guide Fodor's recently published a list of places not to visit this year, in order to help preserve these destinations. And now, the World Tourism Organization has shared its "Best Tourism Villages."This list is not about celebrating destinations for their touristic appeal or popularity, but about highlighting those places in the world that have identified how to benefit from tourism revenues while developing an environmentally friendly activity.
Launched last year, this initiative promoting rural tourism took the form of a call for applications, following which 32 villages in 18 countries were recognised for their ability to preserve their cultural heritage and local populations. "For rural communities everywhere, tourism can be a true game changer in providing jobs, supporting local businesses and keeping traditions alive. The Best Tourism Villages by UNWTO showcase the power of the sector to drive economic diversification and create opportunities for all outside of big cities," explains UNWTO Secretary-General, Zurab Pololikashvili.
While the United States is noticeably absent from the list, Asia's presence is also minimal. The selected villages largely offer an alternative view of Europe crisscrossing Austria, Switzerland, Italy and Spain, before heading further afield to South America or Morocco.
The UNWTO's list of "Best Tourism Villages" to visit in 2023: Zell am See, Austria
Wagrain, Austria
Puqueldón, Chile
Dazhai, China
Jingzhu, China
Choachí, Colombia
Aguarico, Ecuador
Angochagua, Ecuador
Choke Mountains Ecovillage, Ethiopia
Mestia, GeorgiaKfar Kama, Israel
Sauris-Zahre, Italy
Isola del Giglio, Italy
Umm Qais, Jordan
Creel, Mexico
El Fuerte, Mexico
Ksar Elkhorbat, Morocco
Moulay Bouzerktoune, Morocco
Lamas, Peru
Raqchi, Peru
Castelo Novo, Portugal
Pyeongsa-ri, Republic of Korea
Rasinari, Romania
AlUla Old Town, Saudi Arabia
Bohinj, Slovenia
Rupit, Spain
Alquézar, Spain
Guadalupe, Spain
Murten, Switzerland
Andermatt, Switzerland
Birgi, Türkiye
Thái Hải, Vietnam
This story was published via AFP relaxnews
Main and Feature Image Credit: Photography Daniel Frank / Unsplash©
Related: TL Conscious Travel List: 9 Sustainable Hotels In India
Written By