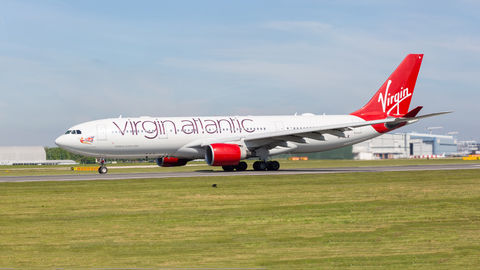 Virgin Atlantic to resume operations to Delhi, Mumbai, Washington, Seattle, Los Angeles and Johannesburg in September, and more in October as well. By Tanvi Jain
View this post on Instagram
Virgin Atlantic has recently announced its plans to resume operations to Delhi, Mumbai, Washington, Seattle, Los Angeles and Johannesburg in September. The airlines had already resumed flights to selected locations across the United States, Hong Kong and Shanghai.
It has also confirmed adding Heathrow, San Francisco, Tel Aviv, Miami, Lagos, and Atlanta in August, and Boston, Montego Bay, Antigua, Grenada and Tobago (via Antigua) in October.
All the flights will be operated from Terminal 2, and all the passengers will be provided with a 'Health Pack' comprising of face masks, surface wipes and sanitiser.
View this post on Instagram
"Virgin Atlantic has announced its plan to restart passenger flying to 17 additional destinations from August 2020. Following the airline's announcement that services from London, Heathrow are expected to resume from July 20, 2020, onwards, Virgin Atlantic has unveiled more detailed plans that will see passenger flying restart to many destinations across the airline's network," the airlines mentioned on its official website.
"As countries around the world begin to relax travel restrictions, we look forward to welcoming our customers back onboard and flying them safely to many destinations across our network. From July 20 we are planning to resume some services and then from August 1 onwards, we will resume passenger flying to 17 additional destinations around the world including Tel Aviv, Miami, Lagos and San Francisco," Virgin Atlantic Chief Commercial Officer Juha Jarvinen confirmed.
We're taking to the skies again. We'll be flying from @HeathrowAirport to Orlando, New York, Los Angeles, Hong Kong and Shanghai from the 20th July. And with our brand new health and safety measures in place, you can be sure you can fly safe, and fly well: https://t.co/BCk1jCKFcq pic.twitter.com/2bqqBtUD7h

— virginatlantic (@VirginAtlantic) June 4, 2020
He further said that the airlines is also monitoring travelling restrictions imposed by different countries including the 14-day quarantine policy for travellers entering the UK.
Apart from the 'Health Pack', the airlines has taken a bunch of other measures as well for the safety of its flyers such as, enhanced and thorough cleaning practices at check-in, boarding gates and onboard including the use of electrostatic spraying of high-grade disinfectant onboard in all the cabins and lavatories. Safe distancing wherever possible, particularly at check-in and boarding and where not possible, etc.
Related: #SomeGoodNews: International Airlines To Resume Limited Operations Across Select Destinations
Written By