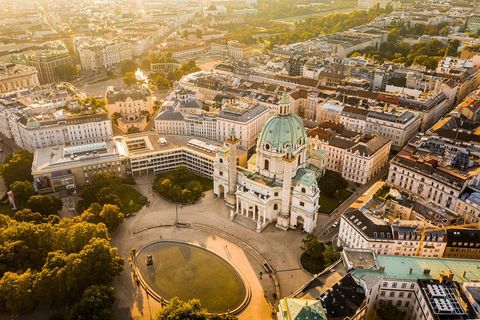 Vienna (Wien in German), Austria's capital city, is rich in history, architecture, art, music, food, and wine. Located on the River Danube, Vienna dates back to a Roman-era settlement. Most of the city's many Baroque buildings were created under Empress Maria Theresa (18th Century) and Emperor Franz Joseph (19th Century), and today they stand in contrast to modern glass and steel structures. By Patricia Doherty
Beautiful buildings, walkable streets, delicious food, and lots to do both indoors and outdoors make Vienna a wonderful vacation destination. Voted one of the most livable cities in the world, Vienna's city limits include vineyards, parks, and the forested Vienna Woods (Wienerwald in German), a protected natural landscape. A dog-friendly city, Vienna permits dogs on public transportation as well as in restaurants and shops. The "coffee culture" features prominently in Viennese life, and coffee houses are places to relax, socialise, and enjoy the city's famous desserts.
Called the "City of Music," Vienna was home to classical composers Schubert, Mozart, Haydn, Strauss, Brahms, and Beethoven. Vienna is known for its Ball Season when, from November until the Tuesday before Ash Wednesday, nearly 500 balls take place — with the Viennese Waltz and elegant formal attire in full display.
Time Zone
Central European Time Zone (CET) UTC +1
Seasonally: Central European Summer Time (CEST) UTC +2
Best Time to Go
For mild, although sometimes chilly weather, spring and fall are pleasant times to be in Vienna. Fewer tourists make it easier to see the city's attractions, and hotel rates are lower. Summer is warm and sunny with temperatures in the high 70s and perhaps a bit more rain. It's also a lovely time there, but the city sees more visitors during the high season, reflected in hotel prices.
Christmas markets and magical decorations attract tourists in winter, despite colder temperatures. The ball season from November until February can be fun even if you're not ready to waltz onto the dance floor. Ball gowns, traditional Austrian dirndls, live music, and the festive atmosphere create memorable experiences.
So it seems that there's no wrong time to visit Vienna. Take a travel umbrella, warm clothing, and remember the well-worn adage, "There's no such thing as bad weather, only the wrong clothes."
Things to Know
Currency: Euro
(Check the current exchange rate)
Language: German
Hello – Hallo
Good Morning – Guten Morgen
Good day – Guten Tag
Good Evening – Guten Abend
My name is… Ich heiße…
What is your name? – Wie heißen Sie?
How are you? – Wie geht's?
I'm well – Mir geht's gut.
How much is that? – Wie viel kostet das?
Where is the bathroom? – Wo ist die Toilette?
Men – Herren/Männer
Women – Damen/Frauen
Please – bitte
Thank you – Danke
Calling Code: +43
The letter ß, unique to the German alphabet, is used in many words to replace "ss."
Snow globes, a favourite souvenir of Vienna, have been produced there for more than a hundred years by the Perzy family in their 17th district factory. They depict St. Stephen's Cathedral, landmarks, animals, cakes, and more. The snow globes, made in a variety of sizes, are favourites at Vienna's Christmas markets.
Vienna is the only world capital with wineries within its city limits. In the city's outskirts of Grinzing, visitors can hike, bike, or visit a Heuriger, a seasonal wine tavern. Most of the wineries produce white wines, mainly Grüner Veltliner, Weissburgunder, Rheinriesling, and Gemischter Satz.
Danube Island, built as part of a flood protection system, has become a major recreation centre with a beach, waterpark, restaurants, and nightclubs. An annual open-air music event, Danube Island Festival (Donauinselfest) is held there.
Austria's national dish is Wiener Schnitzel, thin cutlets of veal, breaded and fried. It's usually served with parsley potatoes or potato salad. Veal is most commonly used, but chicken may also be prepared as schnitzel.
Sacher Torte, one of Vienna's most famous desserts, is a rich chocolate cake with a thin layer of apricot jam, covered with chocolate. It's said to have first been prepared by Franz Sacher, a 16-year old apprentice, for Prince Metternich in 1832 when the head chef was ill. National Sachertorte Day in Austria is December 5.
In addition to coffee and sweets, Vienna is known for hot dog stands where you can choose either sweet (süss) or spicy (scharf) mustard.
If you live outside the European Union and your single local Vienna shopping bill exceeds EUR 75.01 (INR 6,539), you can claim a refund of the Austrian value-added tax. Ask the seller for a Global Blue Cheque and the Global Blue Envelope that includes a list of all refund offices. (Global Blue is an international payment provider for tax-free shopping.) While you are buying, make sure the original invoice is stapled to the Global Blue Cheque. When you leave Austria (or the European Union), go to the customs officer at the eValidation service counter at Vienna International Airport and get your Global Blue Cheque stamped on the presentation of your purchase. Then cash your refund at one of the more than 700 refund offices worldwide, including at Vienna airport. Alternatively, send the Global Blue Cheque of your Vienna shopping to Global Blue and they will transfer the money to you.
How to Get Around
Vienna's public transportation network is extensive. Buses, trains, trams, and underground lines operated by Wiener Linien make getting almost anywhere in the city quite convenient. Ticket machines are located at underground stations, tobacconists, online, and onboard (with a slightly increased rate.) In addition to single tickets, passes are available for longer periods of time.
The subway is called U-Bahn; local trains are Schnellbahn or s-Bahn; the tram is the Straßenbahn, and Autobus is the bus.
Taxi stands can be found throughout Vienna.
Uber operates in Vienna for ridesharing.
From Vienna International Airport, there is a bus, train, and taxi service into the city as well as Uber for ridesharing.
The Vienna City Card provides discounts on tours and attractions as well as free public transportation on most lines. CityBike Wien operates approximately 120 bike stations around Vienna, one of the most bike-friendly cities in Europe.
Best Hotels
Best Restaurants
Things to Do
Best Shopping
Neighbourhoods to Know
Innere Stadt (1st District) is the city centre where most hotels, stores, restaurants, and attractions are located. St. Stephen's Cathedral, the Vienna Opera House, Parliament, and many museums are located in this district. The Ringstrasse, once the city's fortifications and now a fashionable boulevard, circles the district.
Leopoldstadt (2nd District), once Vienna's Jewish quarter, is now a trendy area a short subway ride from the central city. Prater Park, Vienna's amusement park, is in this district as is the modern art museum and Augarten porcelain factory.
Landstrasse (3rd District) includes Stadtpark, Schwarzenberg Palace, Belvedere Palace, and several embassies and consulates. Stadtpark features lush lawns, playgrounds, and the excellent restaurant Steirereck im Stadtpark for Austrian cuisine.
Mariahilf (6th District) features the busy Mariahilferstrasse shopping street and the Naschmarkt produce and dining market as well as theatres and pubs. Vienna's aquarium is in this district, housed in a World War II air defence tower built by Hitler's engineers.
Neubau (7th District) includes the Spittelberg quarter, a lively cultural and upcoming trendy area. Bordering the MuseumsQuartier, this neighbourhood's Christmas market is a popular winter destination. The large museum complex, formerly Imperial Stables, features bars, restaurants, shops, and an appealing outdoor area that attracts locals and tourists.
Hietzing (13th District) is home to Vienna's most popular tourist attraction, Schönbrunn Palace, and the Vienna Zoo. An elegant residential area with gorgeous 18th- and 19th-century summer residences, the district includes the Klimt Villa, with an exhibition of the artist's life and work. Döbling (19th District) borders the Vienna Woods and is home to exclusive residences as well as lush woodlands, wineries, and vine-covered hills. Explore wineries or stop at a wine tavern. Hiking among hilly trails is popular here as well.
Weather
The climate of Vienna is continental with cold winters and moderately warm summers. Winter is cold and gray, with an average of 21 inches of snowfall each year. Snowfall is frequent, but generally not abundant.
January is the driest and coldest month, and July is the warmest and wettest. Hurricanes do not occur in Austria, and there is a chance of tornadoes during summer. Winter, December through February, is quite cold, and the weather starts warming in late March. Spring is mild and pleasant, and summer temperatures are warm, reaching into the 80s at times. Fall is mild, an ideal time to visit Vienna.
The following are average Fahrenheit lows and highs by month. The average annual precipitation is 23.9 inches, with somewhat more rain occurring between May and August.
January -2°C – 2.7°C
February -1.6°C – 5.5°C
March 1.1°C – 10°C
April 5.5°C – 16°C
May 10°C – 20°C
June 13°C – 23.8°C
July 15.5°C – 26.6°C
August 15°C- 26.1°C
September 11°C – 20°C
October 6.6°C – 14.4°C
November 2.2°C – 8.3°C
December -1.6°C – 3.3°C
Apps to Download
Zoo Adventures Guide – Schönbrunn Zoo guide, photos, videos, animal stories
iOs | Android
WienMobil Guide – route planner, real-time departure information, transportation services
iOs | Android
Wien.at – official city homepage for local news, events, and weather
iOs | Android
Quandoo – restaurant search, booking reservations.
iOs
Bike Citizens – City Bike finder, navigation, directions to available nearby bikes
iOs | Android
Uber – ride-sharing
iOs | Android
Related: Rio De Janeiro Travel Guide: The Ultimate Holiday Checklist
Written By