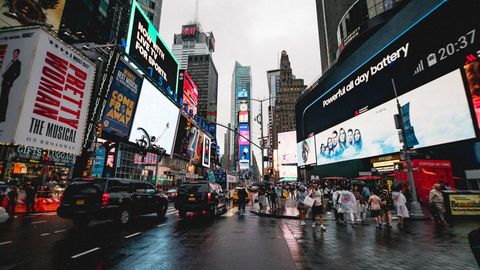 Here's my shopping guide to help you satisfy your retail cravings while travelling to the USA!
Aanam C's USA Shopping Guide
SoHo, New York
SoHo is one of the best places to spend a day or a weekend, exploring all the luxury brands the New York-based neighbourhood has to offer. On my visit there, I loved exploring The RealReal. As a thrifting noob, this was a great experience! The authentic luxury resale chain is popular in the States and is legit with its luxury finds. Plus, they have many latest trendy pieces to choose from.
Los Angeles
If you're a high-end shopper, this one's for you! During my time in the USA, I found some of the best shopping deals on Kate Spade, COACH, lululemon, Diesel and more at Citadel, Los Angeles. This outlet mall has a VIP concierge service that includes snacks, drinks, and access to a dedicated floor to store your retail haul, instead of lugging it around. Priced at USD 30 (approximately INR 2,480), the service makes for a sweet deal if you know you're going to shop your heart out through the day.
Any shopping guide to the USA is incomplete without a mention of Melrose Avenue. They have every high-end and luxury brand you can think of. You could spend a whole day between shopping and bar hopping. They're also home to the reality TV famous places like SUR and Pump. The popular restaurant Cecconi's West Hollywood is also just around the corner.
USA's famed retail chain Premium Outlets has all the leading global luxury brands at their strip malls. I got my hands on Gucci, Saint Laurent, Burberry, COACH, Tory Burch, and Jimmy Choo from these malls. They even have discounts all year around, especially during Black Friday and the Fourth of July. My pick? The Premium Outlet Malls in Houston and Livermore.
Beyond Retail Therapy Perfect for a day trip, Ovation in Hollywood is a movie-dine-shop experience. They have one of the best Dolby Atmos theatres in the country and a range of places to shop and eat from. A shout-out to the Sephora and Victoria's Secret outlets here, as well as Cho-Oishi, a cute Japanese food joint that serves delicious food.
Featured image courtesy: Miquel Parera/Unsplash
Related: Designer Michael Kors Shares His Travel Guide To Los Angeles In USA
Frequently Asked Questions (FAQs)
– What should you shop for in the USA?
Apple's iPhone is one of the most popular purchases in the USA. Smartphones aside, when in the USA, consider buying gadgets, beauty products, vitamins and supplements, and American-brand clothing like Guess, Abercrombie, Levi's, and more.
– Why are clothes cheaper in the USA?
Clothes are usually considered cheaper in the USA because of the cost of production and taxation imposed by the government–be it on the raw materials or on the textile industry as a whole.
Written By