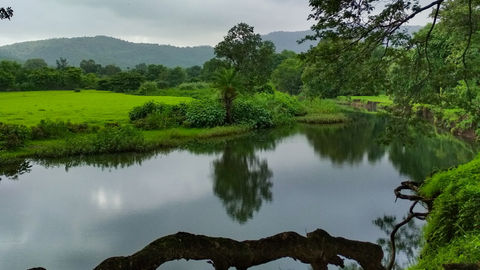 With an unexplored expanse of beach, lush chikoo plantations and a slice of Parsi life, Bordi in Maharashtra makes for a refreshing day trip from Mumbai. Text by Japleen Kaur and photographs by Neel Raut "Let's go to Alibaug," my friends deliberated for the nth time. Growing up in Mumbai meant taking frequent trips to nearby locales, for a break from the hustle and bustle of city life. Slowly but surely, we began to run out of such getaways. Just as we thought we'd seen them all, we stumbled upon a secluded beach, off the tourist radar, waiting to be explored. Bordi in Dahanu, Maharashtra was a pleasant surprise.
A four-hour drive from Mumbai on the Ahmedabad highway, Bordi is the ideal destination for a quick road trip. If you are a group of friends waiting to catch a break from the weekday routine, there is nothing better. We left the metropolitan views behind, and were welcomed by cool breeze, beautiful green vistas, and tiny villages.
With rumbling tummies and the thought of delicious Parsi fare running through our heads, we reached the quiet little town of Bordi after a journey of 150 kilometres. Though it is home to a big Parsi community, its culture traits don't echo the fact. Most of the residents here are descendants of the Warli tribe, who still speak their native language along with Gujarati, since the Gujarat border is a short drive away. Houses with slanted roofs line the
narrow lanes, their mud walls decorated with the famous Warli stick-figure art. The smell of fresh catch from the sea was overwhelming; Bordi has traditionally been a fishing village. A walk through chikoo (sapota) plantations revealed how important the fruit is for the villagers. To call it their lifeline would be an understatement. Bordi organises a chikoo festival every year in January, and invites people to participate in games, learn more about the process of farming, enjoy local dance performances, and interact with the locals. But above all, you also get to sample various delicacies made from chikoo—wine, chaat, finger chips, theplas, and much more. The creative integration of the fruit in different dishes makes you marvel at the ingenuity of the people.
While January is definitely a great time to visit Bordi and witness its culture in all its glory, we had come here for a peaceful beach getaway. Bordi Beach is probably one of the handful of beaches in Maharashtra that are not just devoid of tourists, but also supremely clean. It is roughly 17 kilometres long and has not fallen prey to the din of hawkers or watersports. A part of the 'green zone', Bordi has not made it to popular itineraries, which worked in our favour. Imagine birds flying on the horizon, the roar of the waves, and shimmering sand all around. As we began walking along the seashore, we came across mangroves on one end of the beach. Here, the sea retreated and we easily ventured into the water for a kilometre and a half. This beach may not be great for swimming, but is absolutely amazing for those who wish to splash around. The sunsets looked straight out of a photograph. The water and sand shone in the golden light. Soon, children came out to play, as water receded to the farthest point. Sitting there, soaking in views of silhouettes of fishing boats against a setting sun, was a magical experience.
One of my friends is a 'boat enthusiast'. So, with clear instructions from a fisherman, we drove towards the Dahanu–Bordi stretch, where hundreds of boats in different sizes are parked after a day's hard work. Now that is the kind of hustle you would want to experience, if the sight and smell of freshly-caught fish and the strong smell of sea don't repel you. Though I'd read of the Parsi influence in this region, we were told that the only way to relish authentic salli boti (a mutton gravy dish with thinly-sliced potato chips on top, traditionally eaten with local bread) was at a local's home. We headed to a restaurant called Goolkhush run by a Parsi family, but were informed that the order needed to be placed in advance. Famished as we were, a plate of surmai fry (king mackerel) and sol kadi (kokum drink) came to our rescue, right next to the beach. The food here was cheap, and came with the natural ambience of the sea.
We hit the highway once again. I knew that Bordi had a lot more to offer, and that I would soon be making my way back here to know more about its Warli traditions, prawn recipes, and perhaps, even a fishing technique or two.
Getting There
The nearest airport is in Mumbai, which is about 150 km from Bordi.
Stay
Goolkhush Resort serves authentic Parsi cuisine at its restaurant (starts from INR 6,900/ USD 97; goolkhushresortbordibeach.com).
SaffronStays Master's Courtyard is a homestay run by a Parsi architect (starts from INR 5,000/ USD 70; saffronstays.com)
When
The best time to visit Bordi is from January until March, June, and September until December.
Ideal For
Nature lovers and beach buffs.
Discover
Gholvad
This comparatively bigger town, just two kilometres away from Bordi, is where you alight if you're travelling by train. There is hardly any difference in the landscape, but it does have a more prominent cultural showcase. It is known as the 'chikoo bowl of India'.
Asvali Dam
Small green hills form the backdrop to this dam, about six kilometres east of Bordi. Pack lunch and head here for a picnic. Tribal villages lie downstream from the dam, offering easy access to the local communities.
Umergaon
Another village at a distance of 20 minutes from Bordi, Umergaon draws in the crowds with its Kalpataru Botanical Gardens, and is a treat for nature enthusiasts.
Related: You Need To Take A Trip To These 5 Not-So-Known Beaches In Maharashtra
Written By