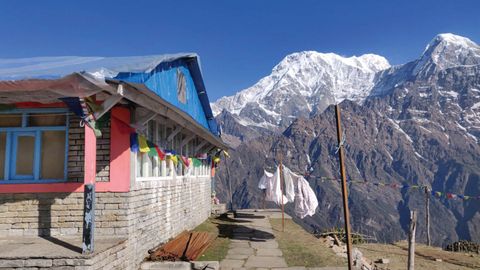 On the way to the Mardi Himal Base Camp in Nepal, Travel+Leisure India & South Asia's contributor falls in love with the country's tea houses, rhododendron forests, and views of the Annapurna Mountain range.
The hillsides are carpeted with blooming lali gurans or rhododendrons, Nepal's national flower that signals the onset of spring. I am stationed inside Annapurna Conservation Area (ACA), in Central-Western Nepal, at 3,580 m. It's close to 4 am on a windy morning in April. The glistening mountains feel an arm's distance away and the skies are so clear that I see the Milky Way without much effort and let out a short-lived delightful squeak.
Soon, I am drawn to the reality that awaits—the final climb that'll take me to the Mardi Himal Base Camp at 4,500 m. Excited and nervous, in the bare light of the dawn, I join the hordes of trekkers, their headlamps like the North Star, in the most arduous climb of the trek and my six-day itinerary.
En Route Mardi Himal Base Camp I brave frigid air that lands me with a headache and running nose, shrouds of mist that make visibility impossible, and traverse ankle-deep snow, narrow ridges, and boulders. Experiencing these mild symptoms of altitude sickness during a gruelling 10-hour climb makes me jittery. "You won't make it to the top," says the angry voice in my head, weighing me down. However, I push forward, giving in to the softer voice that says, "You can do it," and make it to the base camp. I had fallen in love with Nepal's countryside on my first excursion during the pandemic, so I jumped at the opportunity to trek in Mardi Himal when my Indian friends were planning to do their first-ever trek in Nepal. We left behind Nepal's suburbs for the hillsides bathed in warm, clear sunlight. April had brought the flowers out and the rhododendrons were opening their petals, filling the air with their sweet scent. "It's been just a decade since this trek route opened to tourists," says my guide, Jayaram Thapaliya. I find out later that before the trails were developed, it was a camping ground. But 10 years brought about a lot of change. We pass by hamlets with enough tea houses to accommodate hundreds of trekkers, gardens blooming with seasonal flowers and small vegetable patches, and espresso bars selling hot chocolate and coffee at exorbitant prices. I am taken aback by the ongoing development—forest clearings for upcoming accommodations and paths littered with chocolate wrappers and beer cans. I trudge the trails, sometimes stepping on slippery tracks and tree roots that form natural staircases, astounded by the mint green lichens and moss-covered tree trunks, taking heed of the coffee-coloured mushrooms and wildflowers springing from the murk. In the climb, I feel the kindred spirit of the Gurung community, one of the many linguistic groups inside ACA, who are the backbone of the Mardi Himal trails. Our group of four break for lunch at Pothana, a remote hamlet on the trail. While our shy host, Sushita Gurung, escapes to her small garden to pluck fresh vegetables to cook us thakali—an authentic Nepali meal of steamed rice, lentils, salad, greens, and gundruk (local herbs), I take the stony cobbled paths, moist from the drizzle. I spot one Laxmi Gurung, scrolling through Facebook as she guards her provisional store selling chips, apple cider, and local beer. Laxmi shifted from the nearby town of Pokhara to Pothana for business, leaving her children behind. But the day we arrive, her kitchen is empty, the flames barely burning and the bhada (for utensils in the local lingo) neatly stacked on her wooden shelves. Yet, her face radiates with hope. Although the feeling of triumph on reaching the Mardi Himal Base Camp is unmatched and unbelievable, what truly stays with me are the moments spent with the many Laxmis I met on the way. I am left in awe of the sacrifices they make to serve trekkers.
A Rewarding Journey Being the only ones at the Mardi Base Camp, we stake sole claim to the bold landscape of the majestic mountains—The Annapurna South (7,219 m) and Machhapuchhare (6,993 m). I make myself at home amidst this rugged landscape hugged by fleeting clouds, and breathe in the cold air. I listen to the sound of the wind blowing down from the heights and the caw of the mountain crows. Nature's rhythm seems to be assuring me that I have conquered my fears of the unknown. The feat would have been impossible without my group who cheered me on when I gave up, or my guide, Jayaram, who didn't fail to point us to the beauty of nature, like a sparkle of fireflies. But more importantly, those unsung heroes— Maya, who extracted rocks from the hillside, the porter who made the five-hour climb to deliver goods to higher altitudes, and Sushma Gurung, who welcomed us the previous evening. During our chat, she had disappeared behind the billing counter. "Take them to a good place for a meal," I heard her say to her husband. Nepal was ushering in a new year and she'd chosen to sacrifice her family time to run her business to host trekkers. These businesses offer fellow trekkers like me unconditional support, be it through uncountable cups of tea and black coffee or freshly prepared thukpas (noodle soup) and garlic soups to acclimatise to the cold weather. Their tea houses with wooden cots and woollen blankets shielded us from the growling winds. The room walls didn't have any photos and lacked character, but brimmed with life and warmth, countless stories and laughter. Jayaram's voice interrupts that quiet pleasure in the mountains. "We should leave. It looks like it is going to pour." In the distance, the mist drifts over the mountains and the clouds grow grey. Swirls of fog and thick clouds wrap the snow-dusted peaks, that sparkled under the sunlight just moments ago. Interpreting it as a signal from nature, we decide to withdraw and leave her undisturbed. It was a privilege to behold one of the most exceptional vistas on the trail. Not everyone ventures to the Mardi Himal base camp, many opt for views from a slightly lower elevation. I learned valuable lessons in kindness that often elude us in the grind of daily life. Despite the nearly 10-hour climb that day, I emerged with a renewed sense of purpose, realising that fears can be overcome by focussing on each step rather than fixating on the result. Above all, I was humbled by the kindness that I encountered in this small pocket of Nepal.
Related: Annapurna Base Camp: Your Guide To A Successful Trekking
Frequently Asked Questions (FAQs)
– How to reach Mardi Himal Base Camp?
IndiGo and Vistara operate regular flights from India to Kathmandu. Yeti Airlines operates multiple flights from Kathmandu to Pokhara. From here, one can hire a cab to Kande to begin the trek.
– Where to stay at the Mardi Himal Base Camp?
Mardi Himal trek has multiple tea houses en route that provide lodging and meals.
– What is the best time to visit Mardi Himal Base Camp?
The ideal time to trek is from March to May and from October to December.
– How hard is the Mardi Himal Base Camp trek?
Mardi Himal Base Camp trek is considered moderately difficult.
– How many days do you need to complete the Mardi Himal Base Camp route?
Depending upon your physical endurance and experience, the total Mardi Himal Base Camp route can be completed in four to five days.
Written By