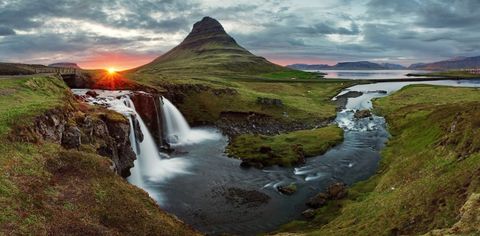 Some places just seem better suited for travelling during a pandemic. If we've entered an era of safe, socially distanced destinations — with a little luxury thrown in — then Iceland should be right at the top. By Jamie Carter
A sparsely populated, spacious utopia of waterfalls, glaciers, and volcanoes, Iceland's dreamscapes are only accessible to those who pass COVID-19 tests.
It's also now home to some uniquely Icelandic rural resorts and hotels that make luxuriating in its wide-open spaces a special experience.
"If you want to travel and stay away from other people you can easily do that in Iceland," says Fridrik Palsson, owner of Hotel Rangá, a luxury hotel in Hella in southern Iceland. "A lot of the tourism industry in Iceland was against testing at the border, but I think it's a very good thing — most tourists like it, they come here because they know that we are doing everything we can to keep the country disease-free." At the time of writing, USA citizens weren't permitted to enter Iceland, while Canadians and Europeans have to go into quarantine between taking two COVID-19 tests — the first at Keflavik Airport near Reykjavik and the second at a healthcare centre five days later. Paid for online in advance for USD 65 (INR 4,832), every passenger has to file off the plane and into a cubicle to undergo brief throat and nose swabs. That could be the future for visitors travelling during the pandemic to Iceland from the US and everywhere.
So what does Iceland look like post-coronavirus?
Iceland is virtually mask-free. In a week in Iceland, I only had to wear a mask in the airport and during a 30-minute ferry ride to the puffin-watching paradise island of Vestmannaeyjar.
There are the usual subtle differences. You can't approach within 1.5 meters of reception desks and bars, and buffet breakfasts have either disappeared or become something you negotiate while wearing disposable blue gloves. Bottles of handspritt are sprinkled around.
But internally, Iceland never had a lockdown. This is a country that got to grips with the disease from the beginning, but COVID-19 has nevertheless changed it completely for visitors; where there was over-tourism now there are almost-empty parking lots.
"In previous years our top guides and favourite hotels would have been fully booked for 2020 and well into 2021," says Alex Wix, director at bespoke travel company Wix Squared. "We're now able to book them for last-minute travel and also with flexible booking terms and conditions."
Travelling to Iceland during the pandemic is bliss — it's empty and it's safe — but a five-day quarantine means most visits will probably need to begin with a short workcation. Iceland has a lot of accommodation that welcomes guests in quarantine. Cue the remote luxury of Torfhús Retreat, which has a plan to fill guests' time before they can legally explore Iceland. A Viking-inspired cluster of black and white hand-crafted slate-and-pine huts, each with a gorgeous grassed roof, this unpretentious ranch in Selfoss has instant Instagram appeal. It's got everything a workcationer needs, from super-fast Wi-Fi and a high-end kitchen to a huge smart TV with Netflix, an all-inclusive minibar and (the clincher) a private geothermally heated basalt hot tub outside.
The owners — who breed Icelandic horses — have optional Zoom-based activities including cookery classes, beer and gin tastings, and an expert to help you photograph the aurora borealis raging right outside your door (September through March). Or you can go hiking. As soon as quarantine is up, get yourself to the retreat's Viking Langhús to check out the sofa made from an Icelandic fishing boat and a horse carriage from the 19th century that doubles as a table. Then it's time to explore Iceland's Golden Circle sights nearby by super Jeep; Thingvellir National Park where the North American and Eurasian tectonic plates meet; the Strokkur geyser that shoots boiling hot water up to 130 feet into the air (a bit like Yellowstone's Old Faithful); the vast Gulfloss "staircase" waterfall; and the tall Háifoss and Granni waterfalls. In a normal September, there are queues for these sights, but during my visit, I stood in three of nature's most powerful places with just a handful of other tourists.
If you come to Iceland for remote luxury, you can't miss Hotel Rangá, a cabin-style 4-star resort hotel built using Canadian pine. It's currently trying to help visitors make up for their lost adventures in 2020 with a unique "Around the World" theme that's centred on its incredible themed rooms — one for each continent — and its fabulous food. Having seen its rooms online after missing out on a trip to Japan this summer, I requested the Asian suite complete with tatami mats, sliding doors, and a Kyoto-style ceiling.
"Lots of people ask for a specific suite — it's been a great success," says Palsson, whose "Around the World in Seven Suites" scheme lets guests stay in a different themed room each night for a week. However, the ever-creative Hotel Rangá's present show-stopper is its "Around the World" dinner, which consists of almost entirely locally sourced food — super-fresh scallops, cod, and salmon, sumptuous lamb fillet and mouth-watering wild mushroom soup — paired with exquisite wines from every continent, bar Antarctica. Who needs travelling during the pandemic?
No luxury trip to Iceland would be complete without a day spent in The Retreat Spa at Blue Lagoon, where visitors can currently have the place almost to themselves. A private changing room leads to a ritual experience involving silica, algae, minerals, and time in a unique geothermal seawater pool cradled within an 800-year-old moss-covered lava flow. Rejuvenation is nevertheless completed with one of the most delicious and good-looking sushi lunches you'll find — yet another exquisite nod to Asia in Iceland. Before I left Iceland, I checked into the art-deco Hotel Borg to spend a day sampling the galleries, coffee shops, and flea markets of Reykjavík. While Iceland's wilderness is what attracted me to visit, even in this cool capital it's almost like coronavirus never happened.
However, the handspritt everywhere is a reminder that Iceland is taking nothing for granted; expect COVID-19 testing at the border to continue because this epic and unique island country has the potential to be free of coronavirus. In the medium-term that's going to be a big drawcard for tourists.
Travelling during the pandemic might be tricky, but Iceland is a remote luxury destination par excellence whose take-no-chances approach to coronavirus will put it on an elite list of super-safe destinations.
Jamie Carter is a UK citizen who travelled to Iceland from Europe with Wix Squared (+442038086383), which offers five nights in Iceland including one night in Reykjavik at Hotel Borg, two nights at Hotel Rangá, and two nights at Torfhús Retreat from USD 2,700 (approximately INR 2,00,870) per person based on two sharing. Price includes accommodation, breakfast, entrance to the Retreat Spa at the Blue Lagoon, and lunch at the Spa restaurant, return ferry tickets to the Vestmannaeyjar islands, and a five-day 4×4 car rental with full insurance, GPS, and Wi-Fi.
Editor's Note: Those who choose to travel are strongly encouraged to check local government restrictions, rules, and safety measures related to COVID-19 and take personal comfort levels and health conditions into consideration before departure.
Related: These Are The Best And Worst Times To Visit Iceland
Written By