The best way to understand life way out in the North Atlantic? By visiting the homes of its islanders. Our contributor samples the joys of heimablídni, in which the Faroese open their homes to share traditional crafts, food, and conversation. Text by Sarah Moss, photographs by Line Klein
Learn about the Faroese culture at the Faroe Islands When I arrived, Súsanna Holm was sitting in the sunshine outside her front door, knitting and taking in the view of sea and sky that has been delighting her since she and her husband built their house nearly 40 years ago. I'd walked through Kvívík, a fishing village on the western edge of Streymoy, the largest of the 18 Faroe Islands, where brightly painted houses cluster around the ruins of a Viking farmstead and a medieval church. A river fell steeply from the mountains to the harbour. Children played where a dam made a swimming spot, while in the meadow above the village, adults harvested hay by hand.
Súsanna showed me upstairs to a warm kitchen-dining-crafting space with the same view the Vikings had a thousand years ago, down the fjord and out to the open sea. She had prepared a brunch of fruit, salad, waffles, and homemade carrot cake, and as we ate, she told me about life in Kvívík, how she'd moved from Tórshavn, the capital, and raised her kids in a place where, if it takes a village, that village was right there.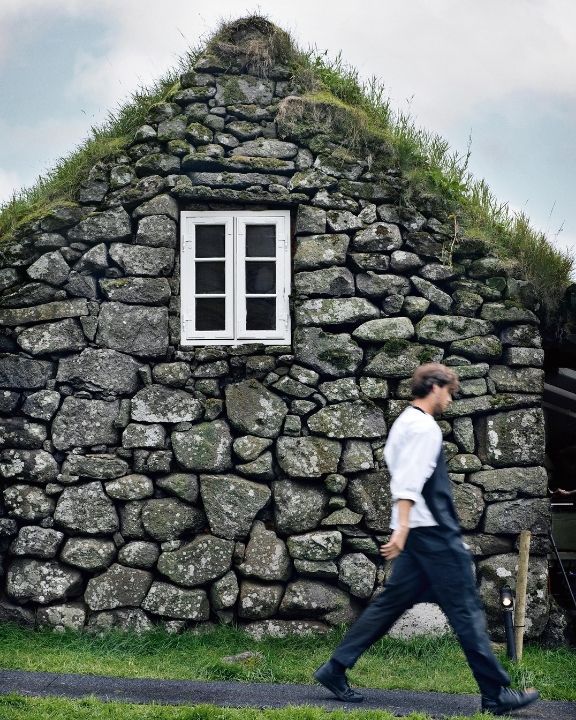 But I had come to learn about Faroese knitting. Almost all Faroese families keep sheep. Even those who live in Tórshavn return to family farms on weekends, and almost all the women learn to knit in childhood. The traditional wool sweaters are practical in the cool, damp climate and are still chosen over modern technical fabrics by farmers in the fields, children playing outside, and people running errands in town. Súsanna has collections of the oldest patterns and uses them in her own designs and to teach students. She showed me the textile signatures of different families, villages, and islands, similar to but distinct from the Scottish patterns I know. Later, I began to play with the Faroese patterns in my own knitting, but I valued the warmth of her welcome and the insight into Faroese life almost as much as the knitting lesson.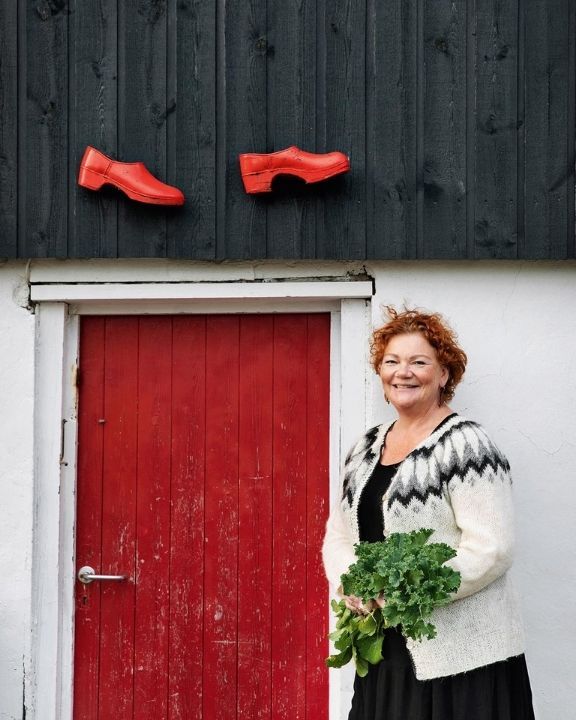 I'd driven from Tórshavn to Kvívík for my first experience of heimablídni, loosely translated as "home hospitality," a formal version of the old custom of welcoming strangers on these islands. Local people invite travellers to their homes to share traditional skills and food in exchange for modest payment. Some families can be contacted directly, while others take bookings through the islands' tourist board. The arrangement intrigued me because it seems an obvious solution to some of the problems of tourism, connecting visitors and local residents, inviting conversations, and making sure that travellers' money goes straight to small businesses. I could feel my worldview shifting a little as I went into homes and learned about ways of life I could otherwise have glimpsed only in passing.
I first visited the Faroe Islands 25 years ago, when a friend and I took a 320-kilometre boat ride there from Scotland on our way to Iceland for a summer of hiking and wild camping. Aged 18, penniless and seasick, we lacked the resources to explore, but the rugged archipelago, rising brilliant green and fog-strewn from the grey North Atlantic, stayed in my dreams. Now I could travel in comfort, sleeping first at Havgrím Seaside Hotel 1948, where from my bed I could see oystercatchers and ducks pottering on the rocky shoreline and, across the strait, the island of Nólsoy, where Lego-coloured houses and a white church clustered around a harbour.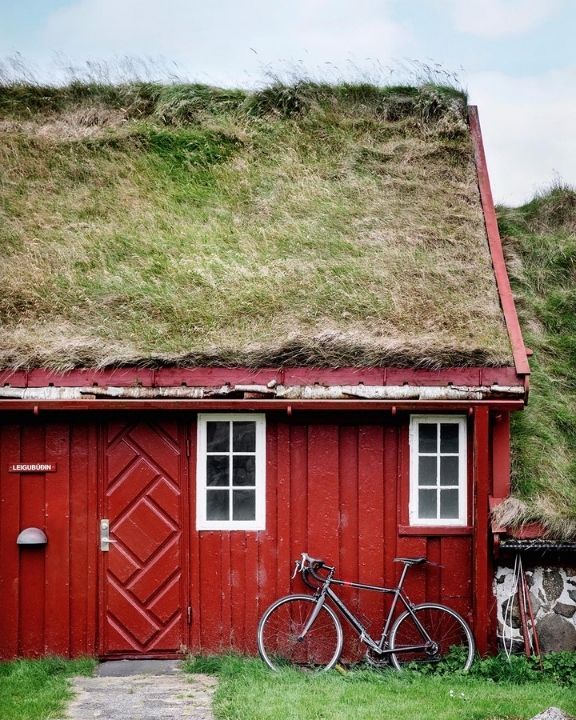 I slept with the windows and curtains open and woke with the subarctic summer sunrise in the early hours. At around 5 am, I set out for a run up the hill above Tórshavn and out along the road above the sea. I passed brightly painted houses, small garden plots where chickens scratched, and, strolling into the road from the hillsides, sheep. After a Faroese breakfast of rye bread, local butter, and rhubarb jam at the hotel, I walked into the city. It was National Day, and the streets were crowded with families in traditional dress, the men wearing breeches, felted jackets, and conical wool hats; the women in long skirts, embroidered vests, and hand-knitted shawls. A choir sang hymns and folk songs in the town square while children played at the edges of the crowd. The politics of nationalism are no simpler on a North Atlantic archipelago than anywhere else, and I had questions for the people I would meet in the coming days. The islands belong to Denmark but have stayed outside the European Union and use their own language: is there an independence movement? There has been immigration to the Faroes in the past few years, albeit on a smaller scale than in other Nordic countries, so what is done to make traditions inclusive? Is anyone talking about race? (Not much but more than before, was the consensus; young people go to university in Copenhagen and come home with new ideas.)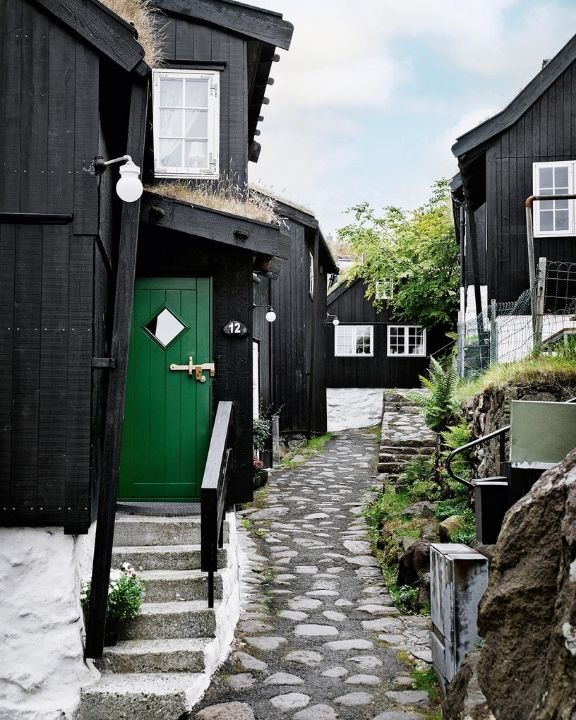 In the afternoon, I drove over well-made mountain roads to Vestmanna, a fishing village, where I joined a boat tour of the cliffs. Seabird populations across the North Atlantic have collapsed, partly because of climate change. The nesting grounds of gulls, gannets, and puffins, which would once have been audible a mile away, were eerily quiet, but the cliffs were spectacular and the captain was able to take us into the narrowest inlets and caves. The rocks rose grey and tapering as Gothic cathedrals. In sunlight, the water was brilliant blue and the hills bright green. A few white birds flashed, not enough.
Everyone I met envied my booking at the Michelin two-starred restaurant Koks. In the taxi from Tórshavn, I watched clouds wander green valleys; looking out of a window in the Faroe Islands takes time because there's always something to watch, the sky meandering across the hills and the water, light and weather at play. The road ended at the edge of Lake Leynar, where the taxi driver gestured towards a wooden hut. Go in there, he said, and someone will come.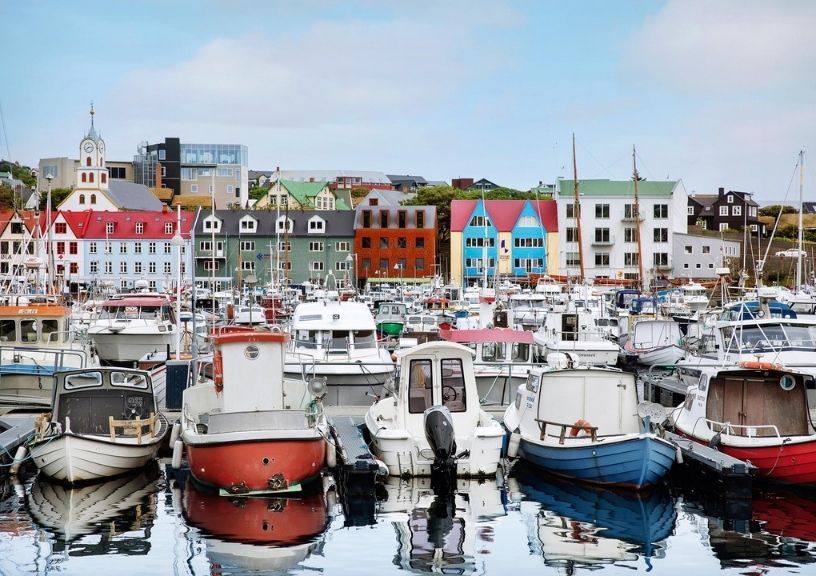 Someone was already there, a young woman welcoming guests in several languages, offering fish crackers and beer or kombucha (though kombucha is new to the Faroe Islands, fermenting is a centuries-old tradition). We sat around a table, introducing ourselves and sharing our anticipation of dinner, until we were invited to climb into a bockety Land Rover that bounced up the track to an old wooden farmhouse with a firepit smoking outside and sheep and hens wandering the yard. It was a scene from long ago, except that by the doorstep a team of white-clad chefs greeted us, and although the food was astonishingly accomplished, the evening was friendly. My table was by the window, looking out over the lake, the valley, the sheep, and the drifting clouds. No roads, no houses.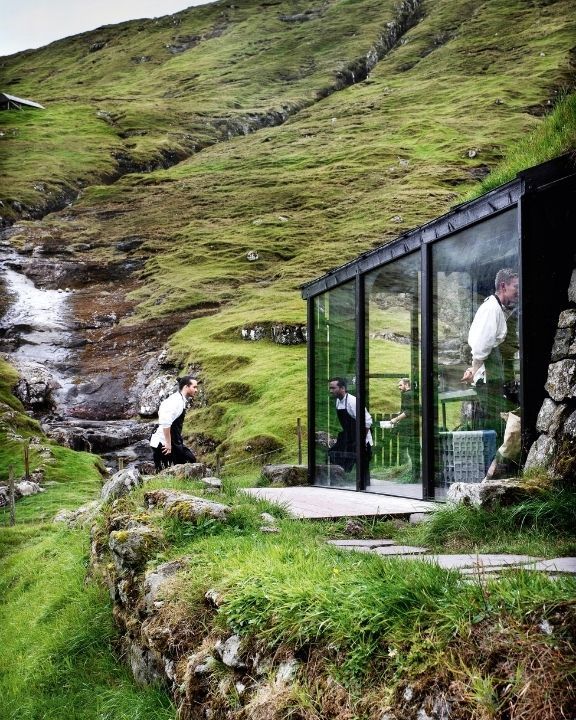 The menu is built around the seafood that sustains these islands: mussels, sea urchins, and cod served with an interest in the textures of skin and organs (I would never have guessed that I would still be thinking about an air-fried swim bladder weeks later). Flowers and native plants brought unexpected flavours: bilberries, reindeer lichen, wild herbs, dulse panna cotta. I'd hesitated to choose what they call a "juice pairing" in lieu of wines, because I thought the drinks would all be too sweet, but, of course, each had been created to complement a dish, and the list included an umami mushroom broth, a chilled hojicha tea with hazelnut oil, and many kombuchas.
The server explained that koks is an old Faroese word for 'flirting', but when she added that it's what a cock does in front of hens, I said, "Strutting." Even as the only solo diner, I felt very well cared for at Koks, certainly more guest than audience, but the team nonetheless struts its stuff, and I will always remember that evening.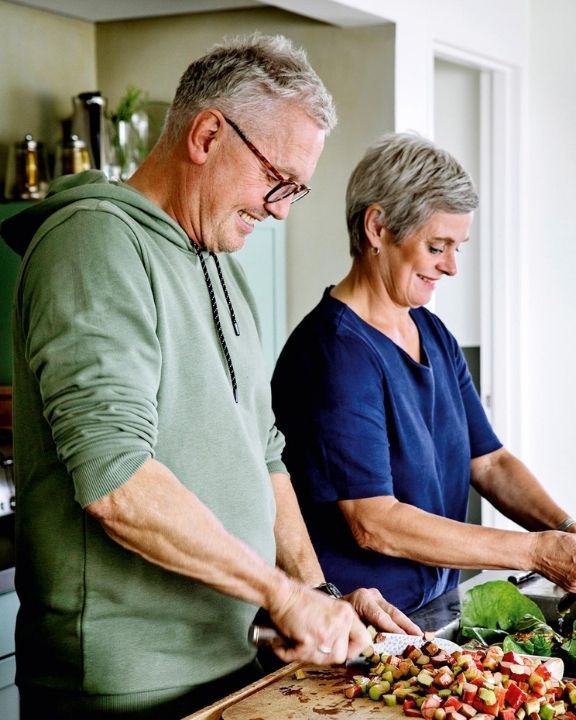 The next day, after my knitting lesson with Súsanna, I checked in to Hotel Føroyar, a 1980s concrete building combining Brutalism with glamour that is set on the hill above Tórshavn, looking down onto fields and houses and across the strait from Stremoy to Nólsoy. I walked through the old town, where wooden houses with turf roofs crowd onto the hill above the ferry terminal, down a narrow lane to Barbara Fish House. The interior was dark and warm, and I sat among wool cushions on a bench running around a room built around an outcrop of rock that the staff had adorned with candles.
The cooking is more quotidian than at Koks but accomplished in the European tradition; by now eager for vegetables, I ate green beans with roasted tomatoes and red onions; eggplant with pesto and a side of sourdough bread I planned only to taste but ended up devouring; salt-cod fritters with untraditional but welcome romesco sauce; and rhubarb ice cream. Happily the next day was going to include the first of my long hikes.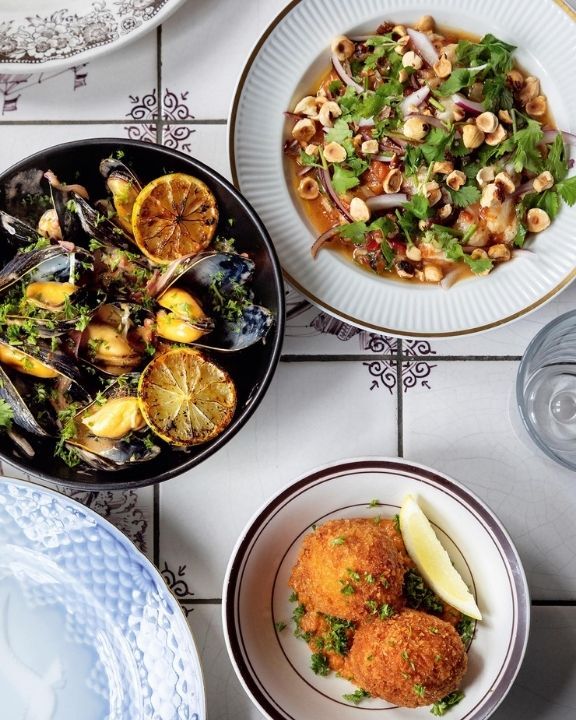 I had been corresponding with Óluva Zachariasen—co-author of the official Faroese hiking handbook, journalist, mountain guide, and a professional mediator, trained to defuse disputes between families, neighbours, and communities—and I was excited to meet her. Take me to your favourite places, I'd said, though I quickly learned that Faroese hiking is only provisionally planned, because the weather can be bright in one valley and rainy in the next. It's a good day to go south, she said when she picked me up; we'll take the boat to the island of Suðuroy and then see what's happening. We chatted on the ferry while the other passengers knitted, worked on their laptops, and caught up with the gossip over surprisingly good coffee.
Óluva told me about Faroese politics, the difficulty of protecting the environment and developing sustainable tourism in a government dominated by landowners, about some of the situations she has mediated, and about her childhood on a farm on one of the smallest inhabited islands. On Suðuroy she eyed the sky, felt the wind, and drove us to Hvalba, a farming village from which an old path leads over the mountains. Before roads were paved, everyone walked over the hills between villages, and though those paths are often invisible now, traces, names, and stories remain.
Passing more hay-gatherers, we scrambled up a stony gorge where, local legend has it, a priest and his horse once fell to their deaths. When Hvalba's church was built, Oluva said, the villagers carried an organ this way; the route was manageable enough for two fit adults on a dry day, but neither of us could imagine how the organ or its bearers survived the trip. On the hilltop we came to a circular cairn, beautifully constructed by a man lost in a snowstorm who needed to keep moving to keep warm. We continued into the next valley, where another group was harvesting hay, and up to the mountains again, walking in the footsteps of centuries of villagers.
That evening, I went to a supper club hosted by a farming family, Anna and Óli Rubeksen, in the village of Velbastaður. Guests from Italy, Germany, Denmark, and Ireland gathered around a table after a year in which most of us had barely seen our own families and friends. The magic of strangers breaking bread together worked again.
We switched languages, called on each other to translate, passed between us stories and ideas and common ground from Berlin to Rome and Aarhus to Dublin. We talked, inevitably, about lockdown— whether it was worse in Ireland or in Italy; about the effect on the children and the elderly; about how the Faroe Islands had avoided most restrictions. We swapped tips about hiking routes, camping places, an elusive micro-bakery. We shook down European politics, cooed at the German baby, tried to persuade the Italian teen to try out her English, compared family lives. Outside, Óli's son harvested hay with a neighbour's tractor, and the sea grew rough in the strait.
Anna cooked produce from the farm, the village, and the islands: fish soup, leeks and carrots, salt cod, one of her own lambs roasted with Faroese potatoes, rhubarb cake and cream. Óli kept our glasses topped up with a range of local beers, explained the provenance of each dish, and made sure conversation flowed.
The next day I took the boat to Nólsoy to meet Maud Wang Hansen. Maud is one of a few people growing a variety of vegetables on the islands, where a meat- and fish-based diet is traditional. She teaches sustainable agriculture and offers lunches from her garden to visitors in the house built by her grandparents. I walked up the path past beds where kale, lettuces, herbs, and onions grew, and around the back of the painted wooden house where Maud, colourfully dressed and with bright red hair, welcomed me into a room full of books, pictures, and a beautifully set table under the window.
We chatted as she brought out a salad so fresh it needed no dressing, lightly pickled carrots and onions, tiny roast potatoes, and fried cod's tongue. Then there was steamed cod with charred cauliflower, cheese, and another rhubarb cake. The vegetables had the sweetness and strong flavour of slow growth and loving care, and the fish was fresh and simple. Maud told me about the traditional Faroese diet, about her growing knowledge of what thrives here (arugula, angelica, even tomatoes) and about her grandmother's love of books.
There was fog when Óluva and I set out early the next day to Tjørnuvík, the northernmost village on Streymoy, where about 50 colourful houses sit in a deep valley. Pale fish hung drying under black eaves, and again villagers were bringing in the hay. We climbed steeply out of the village as the fog shifted, cleared, returned around us. Then we walked over the hill to where, Óluva said, we would see her favourite view, if only—and the clouds parted to reveal a glinting river that wound down a long valley, sheep grazing, rocks rising.
Clouds closed in again, but she knew exactly where we were and believed the weather would turn, and of course she was right. We climbed onwards to eat Hotel Føroyar's lavish picnic sitting above the cliffs, with the peak of Mýlingur behind us and column after column of bird-haunted sea-stacks at our feet. She offered me chocolate and laughed when I pulled an Irish bar from my bag; we'd already established our shared addictions to running and sweets. Mist drifted and sometimes poured up from the sea, wandered down the valley where we followed among sheep and what she called "angry birds"—skuas that would prefer us to get off their lawn.
Late in the afternoon we returned to Tjørnuvík, just in time to order the last waffles from an outdoor cafe set up beside the drying cod. I treasure the memory of that surprising snack—freshly made hot waffles topped with cream and homemade rhubarb jam, and coffee served in a thermal jug—shared with a new Faroese friend in the shadow of steep green mountains under a chilly sky.
Touring the Faroes
Getting There
British Airways flies from Delhi to Edinburgh via London. Flights from Edinburgh to the Faroe Islands with Atlantic Airways are one hour long.
Stay
A beautifully renovated historic property on the Tórshavn coast. Doubles from INR 27,384
The rooms and suites of this Tórshavn hotel are large and light-filled. Doubles from INR 10,250
Eat
This restaurant in one of Tórshavn's oldest buildings showcases traditional Faroese cooking. Entrées INR 1,796–INR 2,020
It books up months in advance—and lives up to its Michelin two-starred fame. Expect fish prepared in unusual ways. Tasting menu INR 21,697
Do
This "home hospitality" programme connects travellers with Faroese householders offering communal meals, farm experiences, and traditional skills. Súsanna Holm, who teaches knitting at her residence in Kvívík, and Óluva Zachariasen, who guides mountain walkers, can be booked through Visit Faroe Islands . A meal at the home of Anna and Óli Rubeksen in Velbastaður can be arranged through their website (INR 11,372). On Nólsoy, Maud Wang Hansen serves dishes using produce from her garden.
Sjóferđir Boat Tours
Cruises along the cliffs leave from the village of V https://www.travelandleisureasia.com/in/places/global/what-a-climb-up-the-frozen-waterfall-in-colorados-ice-park-looks-like/estmanna. puffin.fo
Related: What A Climb Up The Frozen Waterfall In Colorado's Ice Park Looks Like