St. Barts — also known as St-Barth, St. Barths, and Saint Barthélemy — is a French-speaking Caribbean island known for its luxe vibe and flawless beaches. Popular among the jet set, St. Barts is home to many high-end restaurants, designer stores, and yachts, but not a lot of land or people: the population of the 9.26-square-mile island was around 10,000 in the most recent census. By
With no direct flights from the USA, this little piece of paradise in the French West Indies isn't super easy to reach, but that's part of its allure. Many visitors arrive to St. Barts by private plane or yacht, and those who go the commercial route know the treasure awaiting them at the end is worth the multi-step journey.
Arrive to the hilly, red-roofed island — after a thrilling touchdown on a short beachfront airstrip; landing here is one of the most remarkable airport experiences in the world — and you'll instantly see what makes St. Barts such a coveted getaway.
Time Zone
Atlantic Standard Time all year (no clock changes during Daylight Saving Time)
Best Time to Go
The weather is warm year-round, so the weather isn't the main factor to consider for a visit — but there are other types of seasons to contend with in St. Barts.
Late November through early January is peak tourist season. Prices on hotels and flights are much higher than usual, and some properties even require two-week minimum stays around the holidays. The high season lasts through February, but the prices aren't quite as high as they are around the holidays.
March and April continue to see higher rates due to events like Easter, spring break, and various regattas, including the annual St. Barths Bucket Regatta that takes place each March. May and June are great months to visit St. Barts because there are still many visitors, but the crowds are thinner and the rates aren't quite so inflated. It's also outside of hurricane season, which begins in June.
June through November is hurricane season and while the rates are much lower during the summer, there is a risk that your plans will be affected by the development of a storm. If you're not worried about this, it can be a great time to visit and experience a slightly more affordable, less crowded St. Barts.
Note that some properties close for seasonal maintenance during September and October. Late summer also tends to be rainier in St. Barts, while November through April is the island's drier season.
Things to Know
Currency: Euro (Check the current exchange rate)
Official Language: French (but everyone speaks English)
Calling Code: +590
Capital City: Gustavia
Power Outlets: The European-style sockets have two round holes, so bring an adapter plug if needed.
There are no direct flights from the USA to St. Barts (unless you're chartering a private plane). Your options to get to St. Barts include flying into San Juan, Puerto Rico, and taking a one-hour flight aboard Tradewind Aviation, which can be pricey; flying into the island of St. Maarten and taking a 15-minute flight aboard St Barths Commuter or WinAir, which tends to be more affordable but also requires clearing customs in St. Maarten; or flying into the island of St. Maarten and taking a 45-minute ferry to St. Barts.
Renting a car on the island is the way to go — cabs are hard to come by and very expensive. Fortunately, navigating the island by car is a breeze, and it's one of the more budget-friendly activities on the island.
Renting a villa is a popular alternative to staying in a hotel in St. Barts. A villa may be a better option if you're travelling with a group or desire more privacy than a hotel affords. Small cottages and apartment-style condos can also be a more affordable alternative to hotels; you'll also save money on food by cooking some of your own instead of eating out for every meal.
Expect some seasonal closures during the Atlantic hurricane season, which lasts from June to November. (However, this is also a good time to score significantly lower rates, as long as you're aware your plans may be forced to change due to the weather.)
How to Get Around St. Barts
St. Barts has no public transportation or bus system. Instead, most travellers rent a car, motorbike, scooter, or bicycles. Taxis are available on the island, but are very limited in number and extremely pricey. The island is small, and getting around the entire thing takes less than half an hour.
Best Hotels
Le Sereno
Address: Grand Cul de Sac BP 19
Phone: +590 590 29 83 00
Website
Home to one of the most iconic pools on the island, Le Sereno reopens October 2021 following a complete rebuild after Hurricane Irma. The luxury hotel is located on Grand Cul-de-Sac beach, so ocean views abound, and the updates include a re-imagined Restaurant Al Mare with a new beach extension, an expanded spa, and more.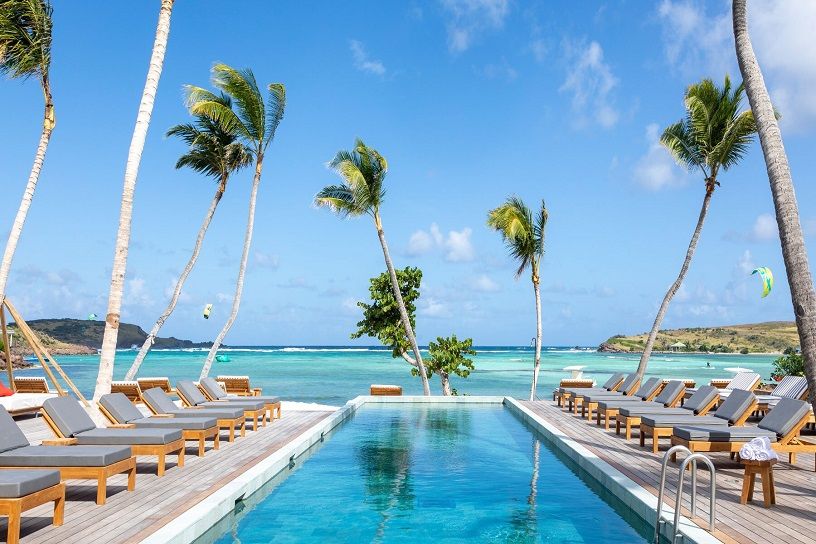 Hôtel Barrière Le Carl Gustaf
Address: Rue des Normands, Gustavia, 97133 Lieu Dit Lurin, St. Barthélemy
Phone: +590 (0) 590 297 900
Website
The recently opened Hôtel Barrière Le Carl Gustaf is a five-star option offering gorgeous views of Gustavia and the marina. Many rooms also have outdoor plunge pools with a front-row seat to one of the most iconic views of the island. Plus, it's a short walk from Shell Beach and Fort Karl.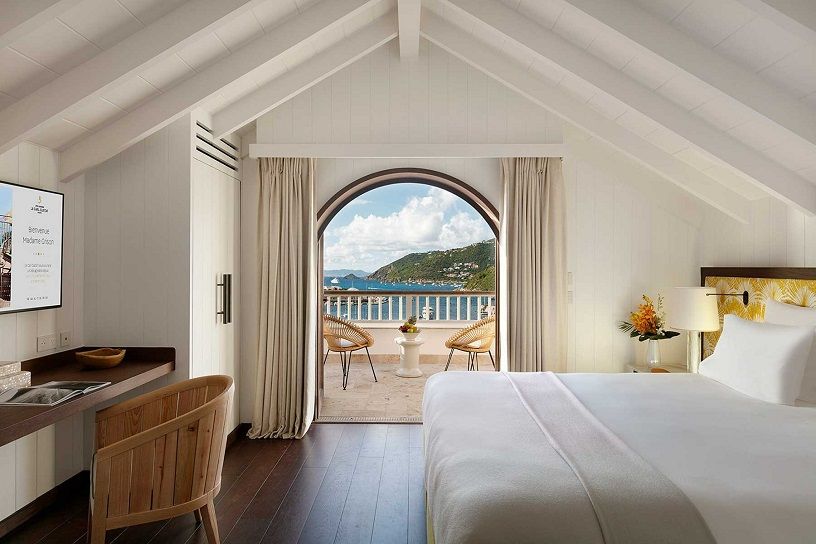 Cheval Blanc
Address: Baie des Flamands, 97133 Saint-Barthélemy
Phone: +590 590 27 61 81
Website
If you fell asleep at home and woke up at Cheval Blanc, it wouldn't take much to convince you that you'd died and gone to heaven. Posh and sophisticated, the hotel is beautiful, but the view of the turquoise Caribbean beyond is hard to pry your eyes from. Eden Rock
Address: Baie de Saint Jean, 97133 St. Barthélemy
Phone: +590 590 29 79 99
Website
Eden Rock is one of the most famous hotels in St. Barts for a reason. The glamorous digs are a magnet for royalty and Hollywood A-listers, and the location in St Jean Bay offers breathtaking views. Each of the rooms, suites, and villas is uniquely decorated, so no two stays are the same.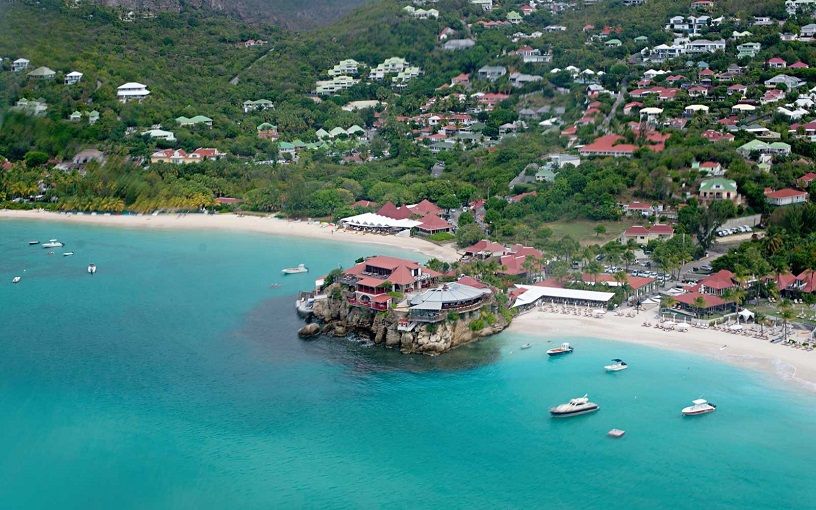 Le Barthélemy Hotel & Spa
Address: Baie de Grand Cul de Sac, Saint-Barthélemy 97133, St. Barthélemy
Phone: +590 590 77 48 48
Website
Le Barthélemy is located on Grand Cul-De-Sac Beach, but the hotel's pool and various other forms of pampering nearly rival the natural wonder. With dining options, a spa, and beautiful rooms and villas, Le Barthélemy offers a full resort experience in one chic package.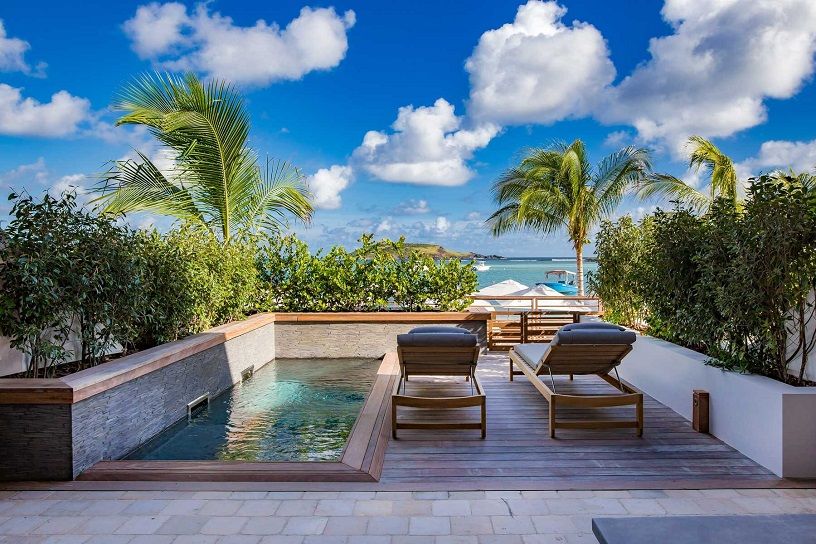 Best Restaurants
Across St. Barts, reservations are highly recommended during high season; during off-peak months, you should be able to get a table at most places without a reservation, but it doesn't hurt to make one anyway.
Nikki Beach
Address: Baie de Saint Jean, 97133 St. Barth, FWI
Phone: +590 590 27 64 64
Website
A party hotspot, Nikki Beach is the place to see and be seen in St. Barts, especially during weekend brunches. Located on Saint-Jean beach, the luxury beach club is a place to party with your toes in the sand. Expect a festive atmosphere and French-Caribbean flavours.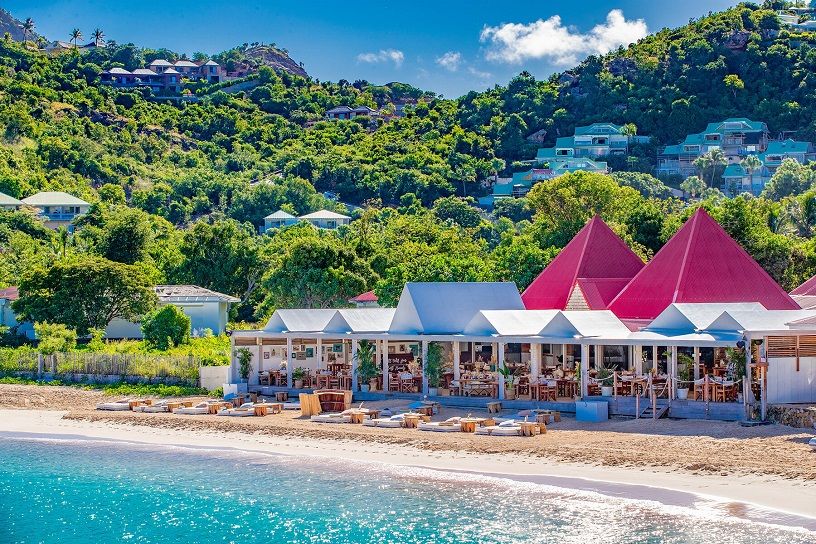 Orega
Address: 13 Rue Samuel Fahlberg, Gustavia 97133, St. Barthélemy
Phone: +590 590 52 45 31
Website
You'll want to make a reservation at Orega, because the intimate atmosphere and mind-blowing flavours found at this French-Japanese fusion restaurant are in high demand. Go for dinner and prepare for the gourmet meal of a lifetime.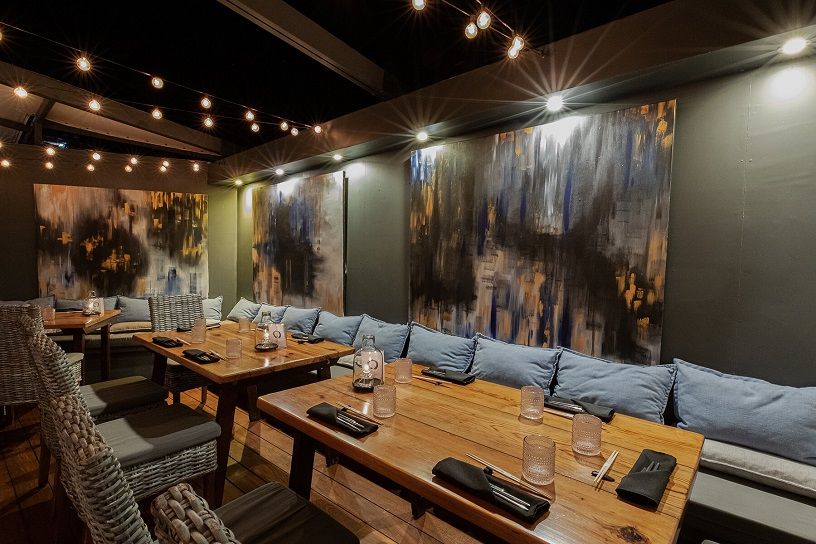 Bonito
Address: Rue Lubin Brin, Gustavia, 97133 St. Barthelémy
Phone: (+590) 05 90 279 696
Website
The food is memorable at Bonito, but the atmosphere is unforgettable. Enjoy a beautiful view of the port as you dine on fresh, chef-created dishes that rival your picture-perfect surroundings.
Le Tamarin
Address: Saline Saint-Barthélemy BL 97133, St. Barthélemy
Phone: +590 590 29 27 74
Website
If you're seeking a more casual-feeling restaurant that still maintains the ultra-chic vibe of St. Barts, opt for something different at Le Tamarin. Instead of a sea of blues, the view from most of the best restaurants in St. Barts, at this French spot you'll treat your eyes to a sea of lush greens. The intimate garden atmosphere is the perfect palate cleanser after indulging in nonstop beaches.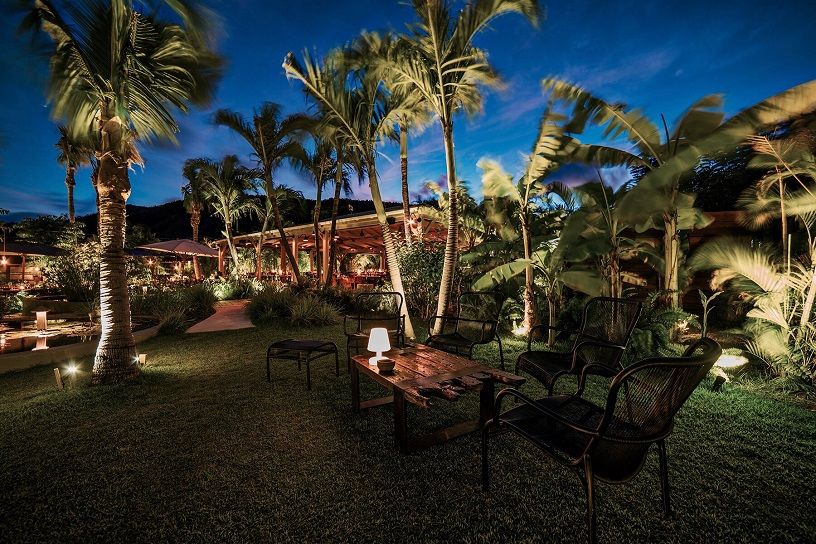 Maya's To Go
Address: Les Galeries du Commerce, St. Jean, Saint Barthelemy
Phone: +590 590 29 83 70
Website
If you're looking for light and healthy, you'll find it at Maya's To Go. The flavourful dishes are created from Caribbean-sourced ingredients, and it's the perfect spot to pick up sandwiches and salads for a beach picnic, or stay and enjoy dining on the open-air patio.
Things to Do
Enjoy the beaches
The island has a lot to love, but the beaches are its main attraction. Pick your poison: Saline is gorgeous, secluded, and simple, with no bars or restaurants to disturb the quiet vibe; St. Jean Beach provides the total opposite experience, as it's home to Eden Rock and Nikki Beach, so there's lots of action and great people-watching; Shell Beach is so named because it's covered in crushed shells (it's also home to the popular beach bar/restaurant Shellona, so no need to pack your own lunch); and Gouverneur is an unspoiled cove that's great for picnics and privacy. Visit one or all of them and you're guaranteed the beach day of your dreams.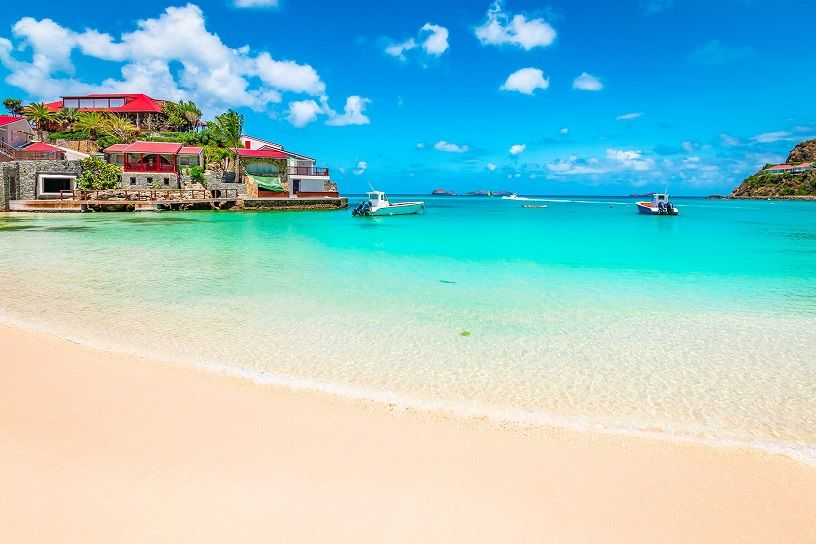 Do the Colombier hike
Though the Colombier hike leads to a private beach only accessible by foot or by yacht, it remains one of the must-do activities in St. Barts. If you don't want to brave the hike, consider chartering a boat that will take you to Colombier to snorkel.
Watch the sunset at Hotel Christopher
Address: Pointe Milou F-97133, St Barthélemy, F.W.I
Phone: +590 590 27 63 63
Website
Perhaps the best place to watch the sunset in St. Barts is from Hotel Christopher's infinity pool overlooking the ocean. Even non-guests are permitted to come for drinks and enjoy the view.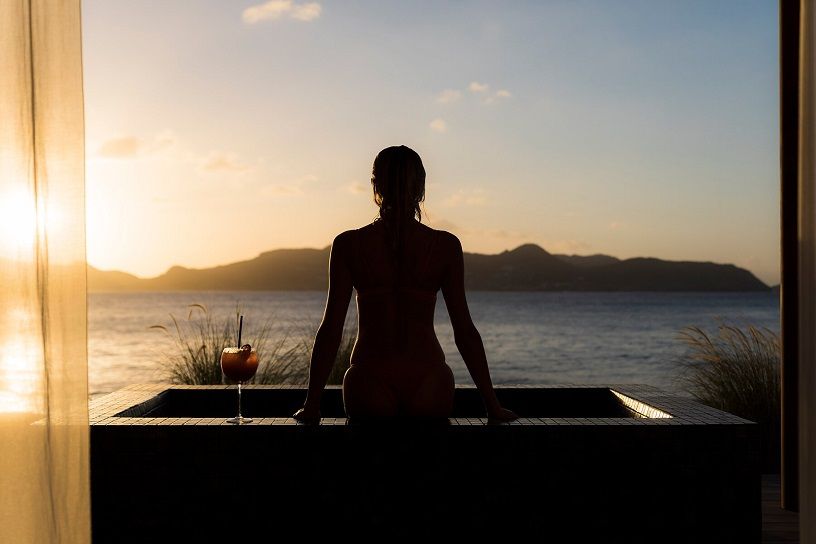 Hike and swim at the Grand Fond natural pool
Take a short hike to the beautiful natural pool of Grand Fond for a classic St. Barts experience. Just make sure to wear water shoes to protect your feet from the rocky terrain and sea urchins.
Petit Cul-de-Sac
Home to another natural pool, Petit Cul-de-Sac is a protected lagoon that's great for snorkelling and enjoying a quiet beach. It's located on the eastern end of the island.
Explore the island's capital, Gustavia
Gustavia is the capital and main town of St. Barts, wrapping a U shape around the harbour. Here, visitors can simply stroll the many upscale boutiques and art galleries, find a place to eat, book water sports with a local outfitter, enjoy the nightlife, or wander to the ruins of Fort Gustave or Fort Karl. Other interesting activities include learning a bit of island history at the Wall House Museum and visiting the Vieux Clocher (the oldest building in Gustavia).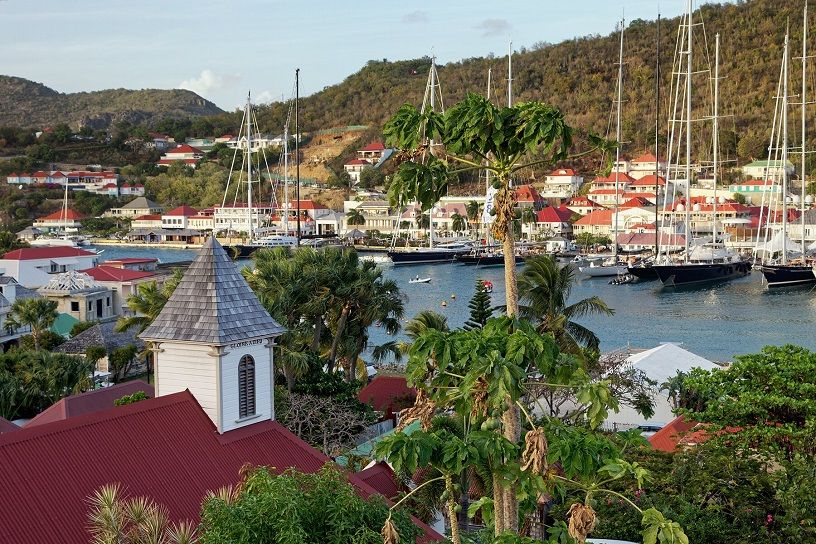 Best Shopping
Lolita Jaca
Address: day shop at Les Hauts du Carré d'Or (above Chopard) and night shop next to Bonito, Gustavia, 97133 Saint-Barthélemy
Phone: +590 590 275 998; +590 590 298 642
Website
Lolita Jaca was born in St. Barts and it's easy to tell. The label blends refined style with the sort of relaxed elegance you could only find in a place like the French-Caribbean. Poupette St Barth
Address: BP 466 Rue de la République, Gustavia, 97133 St Barthelemy
Phone: +590 27 9449
Website
Find the iconic resort wear of St. Barts at Poupette St Barth, a luxury clothing line that has been popular on the island since it was launched in the 1990s by a Frenchwoman who fell in love with St. Barts after discovering the island on a sailing trip.
Clic St Barth (concept store)
Address: Rue de la Republique, Gustavia 97133 St. Barthélemy
Phone: +590 590 29 70 17
Website
Shop a curated collection of contemporary photography and art, books, home goods, and fashion by Calypso founder Christiane Celle.
Banana Moon
Address: Villa Creole Lot 23, 97133 St. Barthélemy
Phone: 0 590 590 51 36 850
Website
This swimwear brand blends European quality with Californian flair. The line now also features beachwear, ready-to-wear fashion, and beach accessories, so it's a great spot to complete your St. Barts beach look.
Neighbourhoods to Know
St. Barts is only 11 miles long and 2.5 miles wide, so it's quite small, and driving around it takes about 30 minutes max. The island's separate neighbourhoods are not divided up as distinctly as on other islands, but there are still two main neighbourhoods you should know about, because most visitors choose to stay in proximity to these two spots.
Gustavia: Gustavia is the capital of St. Barts and the island's main town. This is where you'll find a hub of activity, from shopping to groceries to galleries, businesses, and restaurants. Wander the streets at your leisure or simply enjoy watching the yachts in the harbour that the town encircles.
St. Jean: The tiny village of St. Jean is the most popular place for tourists outside of Gustavia; it also has great restaurants and shopping, and is close to the island's only airport. Here, you'll also find the picture-perfect crescent of sand called St. Jean Beach, where there's a natural coral reef to enjoy if you can manage to pry yourself off the sand. Eden Rock and Nikki Beach are along the same stretch.
Weather
The weather in St. Barts is tropical and relatively warm year-round. There are two "seasons": from December through May, expect milder temperatures; June through November, the weather is warmer.
However, the differences are not extreme: it's about 26 degrees Celsius in winter and can get up to 32 in the summer. The water also stays warm, so it's never a bad season to swim.
Hurricanes are possible between June and November during the Atlantic hurricane season, especially in September and October. St. Barts suffered significant damage from Hurricane Irma in 2017.
The following are average Celsius lows and highs by month. The average precipitation is about 40 inches per year, and August to November tend to be the wettest months. In every month, expect eight to nine hours of sunshine per day.
January 22 – 29
February 22 – 29
March 22 – 29
April 23 – 30
May 25 – 31
June 26 – 32
July 26 – 32
August 26 – 32
September 26 – 32
October 26 – 31
November 25 – 31
December 23 – 30
Apps to Download
Saint Barts Taxi: Find the closest taxi near you in St. Barts
iPhone | Android
Related: Bermuda Travel Guide: Your Ultimate Holiday Planner