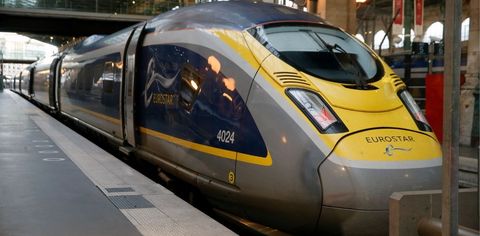 Travelling to some of Europe's coolest destinations could soon get a whole lot easier thanks to a new alliance between Eurostar and Thalys. By Stacey Leasca

On Friday, the two train companies announced the creation of a new holding company, Eurostar Group. Both will remain fully independent railway companies with headquarters in London and Brussels (respectively), however, the new partnership could soon bring more travellers to more places than ever before, and do so in a much more sustainable fashion.
Eurostar expansion in Europe: A more sustainable fashion of transport "Initiated in September 2019, the Green Speed alliance project had been temporarily postponed due to the pandemic. Following a relaunch in autumn 2021, the project received approval from the European Commission at the end of March 2022," the two companies shared in a joint statement. "The shareholders of Eurostar and Thalys are more convinced than ever that the combination of Eurostar and Thalys will help to meet the growing demand for sustainable mobility by promoting the development of rail transport in Europe."
Beyond carrying more passengers, the alliance that led to the Eurostar expansion could also allow more direct routes and better timetables for passengers, as well as the possibility of new customer benefits and loyalty points, ITB Berlin reports. The alliance also opens up the possibility for connections to other Thalys destinations including Düsseldorf, Essen, Aachen, and Dortmund.
According to the two companies, the main goal is to "carry 30 million passengers a year within 10 years (compared to 18 million customers in 2019) under a single brand: Eurostar." Eurostar's expansion also means travellers will have a more sustainable option for travel over flying as well.
"This is an exciting development for our customers as it will enable us to offer you a more extensive network, increased connectivity and frequency of service and a fleet operating on renewable energy," Eurostar CEO Guillaume Pepy noted in a published letter to customers. "By joining forces with Thalys, we will be able to expand our reach and at the same time provide a powerful response to the increasingly serious climate change challenge and the growing demand for sustainable travel."
(This story first appeared on www.travelandleisure.com)
Related: This European Rail Company Is Launching Sleeper Trains That Are Basically Like 'Hotel On Rails'
Written By