Tokyo is a city of surprises—ancient temples are nestled among modern skyscrapers and you're just as likely to see someone wearing a cosplay costume as you are to see someone dressed in a traditional kimono. And even though Tokyo is the most populated city in the world, the streets can be almost eerily silent.
You'll find every modern convenience (and then some), but because Japan was closed off to the rest of the world for many years, tech evolved in a way that reflects the Japanese psyche, English is not widely spoken, and the far-reaching effect of globalisation is still minimal. It is a true breath of fresh air among the myriad destinations that lost themselves in their quest to cater to tourists and meet global ideals.
These contradictions and surprises make Tokyo a city that leaves you curious, fascinated, and wanting more. In a single day, you can visit a 7th-century temple, order ramen from a vending machine, and watch a sumo match. There is no shortage of things to do, see, and eat in Tokyo, and while its citizens tend to be respectful and accommodating, they too, like to keep you on your toes. Swing by a maid cafe or a Babymetal concert and you'll know what I mean.
Time zone
Japan Standard Time (GMT+9)
Best time to go
Book your stay at The Prince Park Tower Tokyo here
The best time to visit Tokyo is in the spring when the cherry blossoms bloom (typically March to April) and in the autumn, when the weather cools and the fall colours pop (between September and November). That being said, the weather in Tokyo is fairly temperate — even in the winter — although it can be hot and humid from late June to the end of August.
Things to Know
Currency: Yen
(Check the current exchange rate)
Language: Japanese
I don't speak Japanese: Watashi wa nihongo o hanasemasen
I'm lost: Michinimayoimashita
I would like…: O onegaishimasu…
Calling Code: +81
Capital City: Tokyo
How to get around
Trains: It's not shocking that trains are the preferred method of transportation around Tokyo. In fact, the city is so big the train system is divided into two companies: the Tokyo Metro and the Toei Subway. Between the two, there's nowhere in Tokyo you can't access. Just keep in mind that because of Tokyo's sheer size (and amazing train coverage) the metro and subway map can be confusing — make sure to download the Tokyo Subway Navigation for Tourists app before you set out.
Buses: Because the train system is so easy and comprehensive, most people skip the bus. But, it does exist. The Toei Bus runs throughout Tokyo and to neighbouring suburbs.
Taxis: There are several taxi companies in Tokyo — all sporting various colours. In addition, you can hop in an Uber.
Car service: There are private car services aplenty in Tokyo — including Tokyo Car Service and Blacklane.
Best Hotels
Hoshino Resorts OMO5 Tokyo Otsuka
2 Chome-26-1 Kitaotsuka, Toshima City, Tokyo 170-0004 Japan
Phone: +81 570-073-022
For an upscale, yet casual hotel with easy access to the metro, it's hard to top OMO5 Tokyo Otsuka under the Hoshino Resorts umbrella. The property has ultra-modern rooms, a welcoming lounge, and a team of OMO Rangers — locals ready to take you on a tour of the neighbourhood. The area, which straddles Ikebukuro and Sugamo, has a retro feel with streetcars and narrow streets lined with bakeries and ramen spots.
Aman Tokyo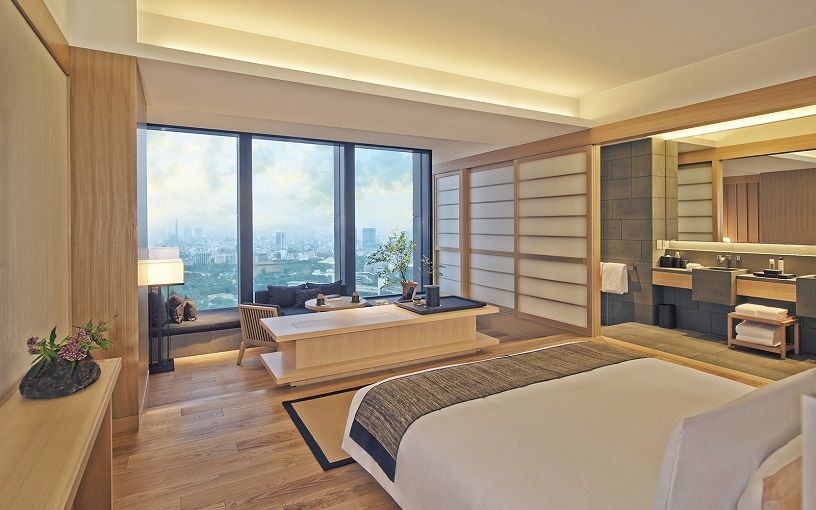 Address: The Otemachi Tower, 1 Chome-5-6 Ōtemachi, Chiyoda City, Tokyo 100-0004 Japan
Phone: +81 3-5224-3333
One of Tokyo's finest five-star hotels, Aman Tokyo, offers a stellar vantage point over the city (and on clear days to Mount Fuji) thanks to its location at the top of the Otemachi Tower. The hotel balances its urban, modern feel with a dose of traditional Japanese design — washi paper doors, ryokan-style rooms, and ikebana displays (Japanese flower displays). The balance between tradition and modern convenience flows into Aman Tokyo's guest rooms and suites and into the expansive Aman Spa.
The Ritz-Carlton, Tokyo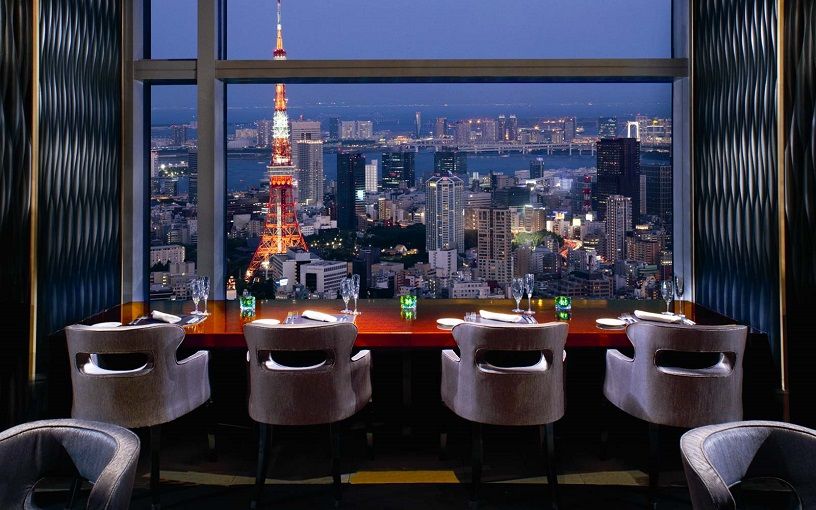 Address: 9 Chome-7-1 Akasaka, Minato City, Tokyo 107-6245, Japan
Phone: +81 3-3423-8000
The Ritz-Carlton brand is associated with excellence, and their luxury hotel in Tokyo is no exception. The downtown hotel is found high in the Midtown Tower, one of the city's tallest buildings. The Ritz-Carlton, Tokyo takes advantage of their city views with floor-to-ceiling windows and seven on-site restaurants. The rooms and suites — which range from 52 to 3,300-square-feet — exude a clean, elevated elegance.
Book your stay here via Booking.com
Onyado Nono Asakusa Natural Hot Spring
Address: 2 Chome-7-20 Asakusa, Taito City, Tokyo 111-0032, Japan
Phone: +81 3-5830-0510
At first glance, Onyado Nono Asakusa Natural Hot Spring is a low-key hotel with clean, straightforward rooms. But look a little deeper, and you'll find a hotel with easy access to the Asakusa Station and the Sensō-ji temple (a top Tokyo attraction) with bathing facilities that will challenge even the most high-end Tokyo hotels. The beautiful traditional Japanese bathing area includes indoor and open-air baths in addition to various saunas.
Book your stay here via Booking.com
Onsen Ryokan Yuen Shinjuku
Address: 5 Chome-3-18 Shinjuku, Shinjuku City, Tokyo 160-0022, Japan
Phone: +81 3-5361-8355
Onsen Ryokan Yuen Shinjuku may be located mere minutes from the bustling downtown neighbourhood of Shinjuku, but somehow the contemporary hotel manages to maintain a sense of calm and tranquillity. Perhaps the hotel's standout feature is its traditional ryokan feel (Japanese inn), bathing facilities, and its open-air bathhouse fed by natural hot spring water. The rooms are modern, yet cosy and the on-site restaurant uses traditional techniques and local, seasonal ingredients to wow guests on the plate.
Book your stay here via Booking.com
Wired Hotel Asakusa
Address: 2 Chome-16-2 Asakusa, Taito City, Tokyo 111-0032, Japan
Phone: +81 3-5830-6533
For a truly trendy Tokyo escape, head to this three-star hotel near Asakusa Station and the Tokyo Skytree. The Wired Hotel has everything from budget rooms to high-end suites with floor-to-ceiling windows and balconies. When it's time to kick back with a drink, you can drop by the on-site restaurant or head to one of the neighbouring restaurants (there are plenty of them).
Best restaurants
Kikanbo
Address: 2 Chome-10-9 Kajicho, Chiyoda City, Tokyo 101-0044, Japan
Phone: +81 3-6206-0239
Chances are you arrived in Tokyo with ramen on the brain. And while there are plenty of amazing ramen spots throughout the city, one of the best is Kikanbo, which serves up giant bowls of goodness made using a rich broth, Shinshu Miso, perfectly chewy noodles, and carefully selected spices (fair warning: If you order this soup spicy, you'll get spicy). Order at the vending machine outside, hand your ticket to the chef and await your steaming hot bowl of goodness. No reservation is needed and seating is indoors.
Udon Shin
Address: 2-20-16 Yoyogi, Shibuya City, Tokyo 151-0053, Japan
Phone: +81 03-6276-7816
You might run into a line at the low-key Udon Shin, but the thick hand-rolled udon noodles are well worth every minute. There are plenty of ways to order your udon — in hot broth, with a dipping broth, or cold — but anyway is sure to leave you full and happy by the time you leave. Dining is indoors and no reservations are needed — just show up early so you don't get too hungry while you wait.
Sushi Kanesaka
Address: 8-10-3 Ginza, Chuo-ku, Tokyo, 104-0061, Japan
Phone: +81 3-5568-4411
For a Michelin-starred sushi experience, head to Sushi Kanesaka in Ginza, a restaurant known for its superior omakase (which translates to "I leave it up to you" — as in, chef's choice). Each sushi roll served meets strict traditional standards and maintains a careful balance between rice, the topping, and the wasabi. Seating is indoors and reservations are recommended.
Tamawarai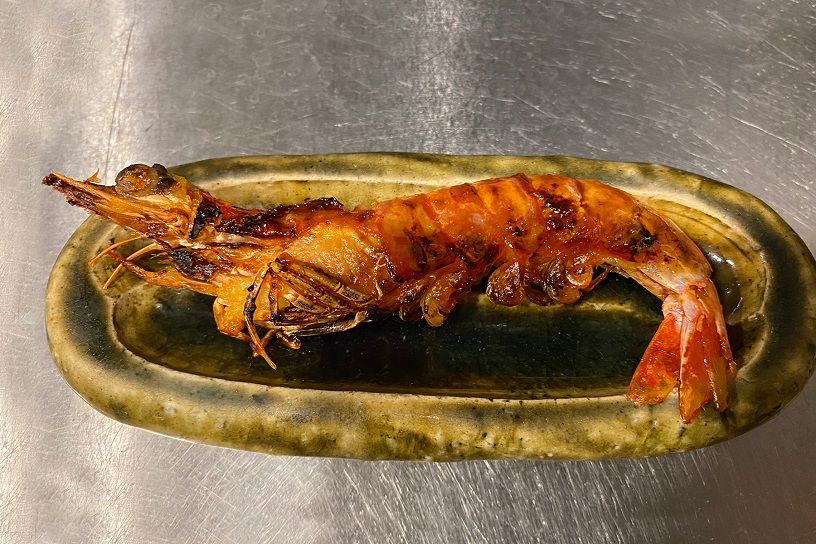 Address: 5 Chome-23-3 Jingumae, Shibuya City, Tokyo 150-0001, Japan
Phone: +81 3-5485-0025
It would be a shame to travel all the way to Tokyo and miss one of the country's most beloved dishes. While one could argue soba noodles are always delicious, those served at Tamawarai are something special — the owner and chef mills the buckwheat himself and it shows. The flavour pops in each soba laden dish. Swing by (no reservation) and enjoy the calming simplicity of the indoor dining room.
Onigiri Bongo
Address: 2 Chome−26−3 Kitaotsuka, Toshima City, Tokyo 170-0004 Japan
Phone: +81 3-3910-5617
Located in the food-laden neighbourhood of Otsuka, this restaurant takes a Japanese staple — onigiri (stuffed rice balls) — and elevates it. You can drop in, sit at the counter (no reservation needed), and order your fillings of choice from the chef while enjoying a warm green tea.
Things to do
Sumo Tournament at Ryōgoku Kokugikan
Address: 1 Chome-3-28 Yokoami, Sumida City, Tokyo 130-0015, Japan
Phone: +81 3-3623-5111
Sumo is as synonymous with Japan as sushi, and if you time it right you can take in one of the annual official sumo tournaments that take place at Ryōgoku Kokugikan, also known as Ryōgoku Sumo Hall. Located in the Yokoami neighbourhood of Sumida, this indoor sports arena can house thousands of fans who come to take in one of the 15-day tournaments.
Sensō-ji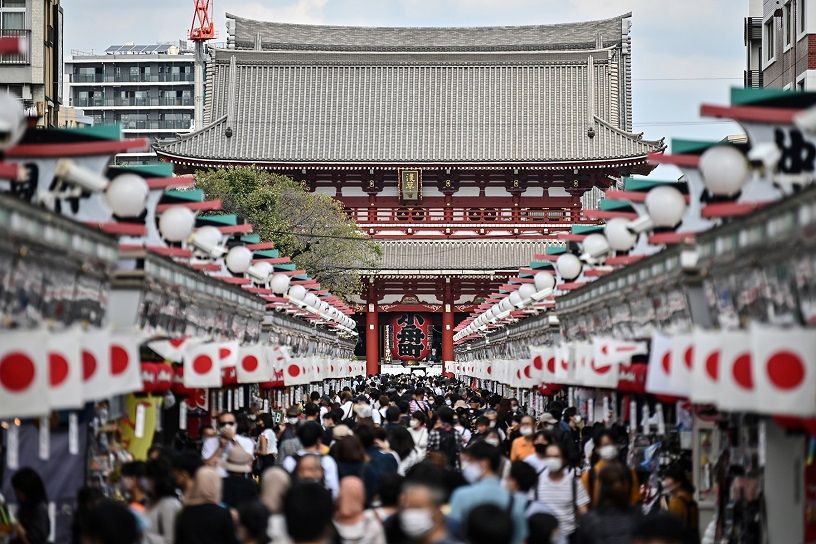 Address: 2 Chome-3-1 Asakusa, Taito City, Tokyo 111-0032, Japan
Phone: +81 3-3842-0181
You don't have to travel far to experience Tokyo's oldest temple. Centrally located in the Asakusa neighbourhood, Sensō-ji is an ancient Buddhist temple that houses a rich and vibrant history. Take your time to enjoy the long walk to the temple, which is lined with food and trinket stands before arriving at the main event. Watch those around you for cues on how to act as you approach and enter the temple.
Tsukiji Market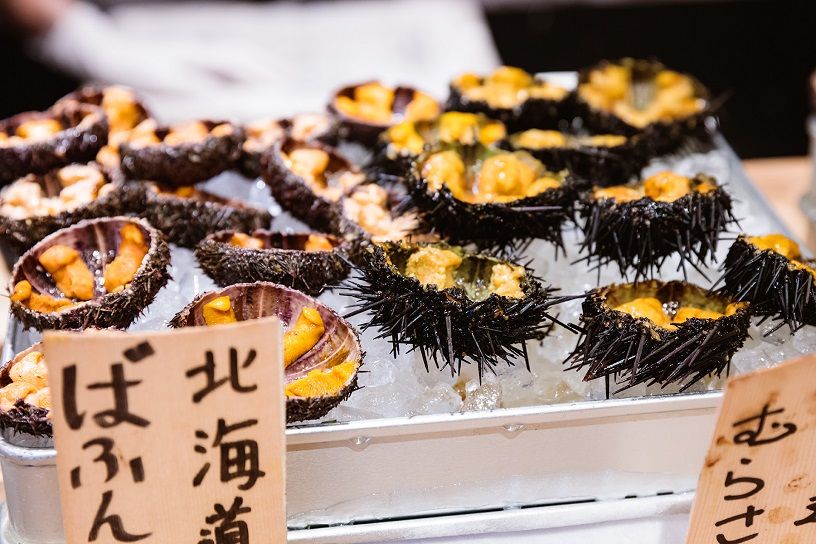 Address: 4 Chome-16-2 Tsukiji, Chuo City, Tokyo 104-0045, Japan
Phone: +81 3-3541-9444
Although the world's largest fish market saw some changes in late 2018, Tsukiji, the original location is still in action. Here, you'll find endless street vendors serving up unbelievably fresh sushi and delicacies like squid-ink sticky buns. If you want to watch an early morning fish auction, you'll have to head to the neighbouring Toyosu Market (which is also worth a visit).
Shibuya Crossing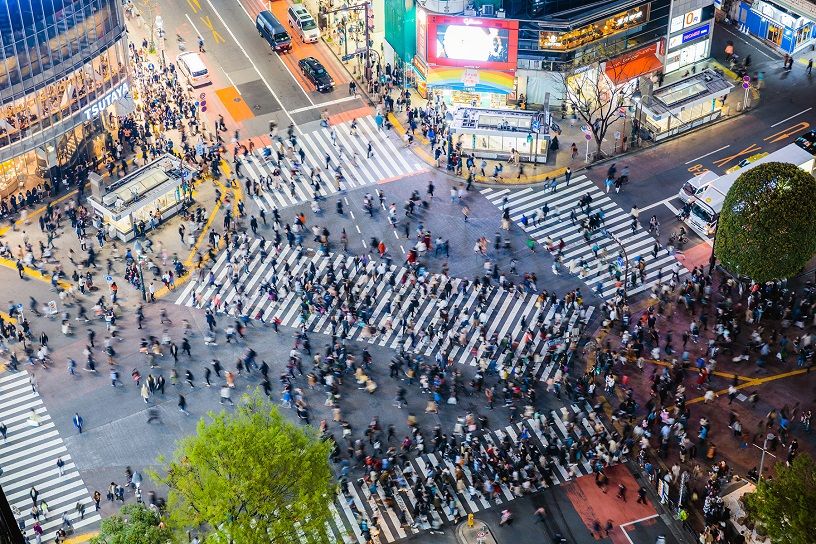 Address: 1 Chome-2-1 Dogenzaka, Shibuya City, Tokyo 150-0043, Japan
Phone: NA
Most cities can't claim a crosswalk as a tourist attraction, but anyone who's experienced the mad scramble at Shibuya Crossing, knows it's easily worth a trip. Enjoy the mix of business-as-usual commuters and selfie-taking tourists in this wild scramble across one of Tokyo's busiest intersections. For another view, head to Shibuya Scramble Square tower to see the mayhem from above.
BathHaus
Address: 1 Chome−50−8 Nishihara, Shibuya City, Tokyo 151-0066 Japan
Phone: +81 80-6694-6529
It wasn't that long ago that communal bathhouses were the norm — even in Tokyo. This sentō (communal bathhouse) is a casual gathering space where locals and tourists can go to bathe and unwind. In addition to a traditional sentō experience, you'll find yoga classes, gourmet coffee, and craft beer at this hidden gem.
Shinjuku Gyoen National Garden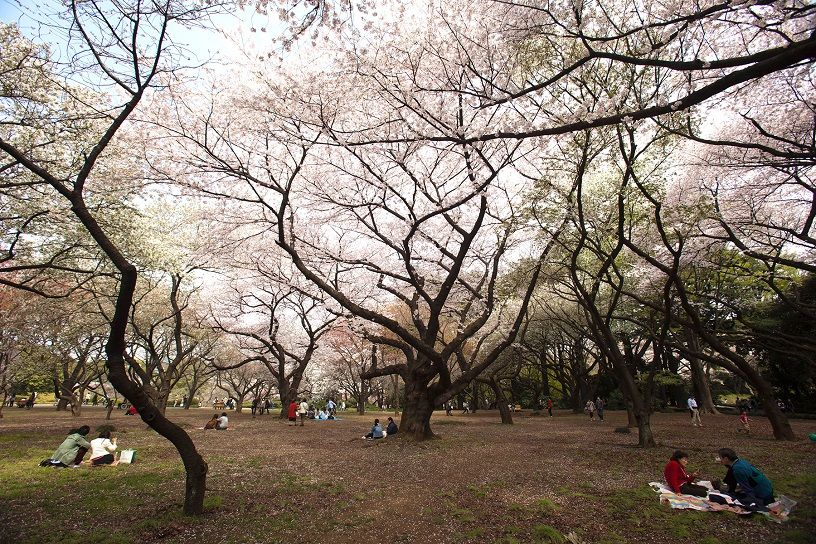 Address: 11 Naitomachi, Shinjuku City, Tokyo 160-0014, Japan
Phone: +81 3-3350-0151
Japan is known for their elegant, yet simple gardens, but none are more stunning than the Shinjuku Gyoen National Garden. In addition to housing native, traditional gardens, you'll find landscapes inspired by French and English gardens and beautiful water features. If you can swing it, make a plan to visit during cherry blossom season when the gardens are particularly breathtaking.
Best shopping
Isetan
Address: 3 Chome-14-1 Shinjuku, Shinjuku City, Tokyo 160-0022, Japan
Phone: +81 3-3352-1111
This high-fashion department store with roots that date back to 1886 is found in the heart of Shinjuku. In addition to finding all the top brands — including both Japanese and international names — there's an expansive homeware selection and a food hall with (almost) too-pretty-to-eat bento boxes.
Haight & Ashbury
Address: 2 Chome−37−2 Kitazawa, Setagaya City, Tokyo 155-0031, Japan
Phone: +81 3-5453-4690
The neighbourhood of Shimokitazawa might technically be within Tokyo city limits, but it feels like another world. Trend setters cruise the streets and young shoppers peruse quaint shops and hip thrift stores. Among those is Haight & Ashbury, a high-end vintage shop packed with unique clothing (both from Japan and abroad) with a quality, chic feel.
Credit: Jeremy Sutton-Hibbert/Getty Images
Tokyo Solamachi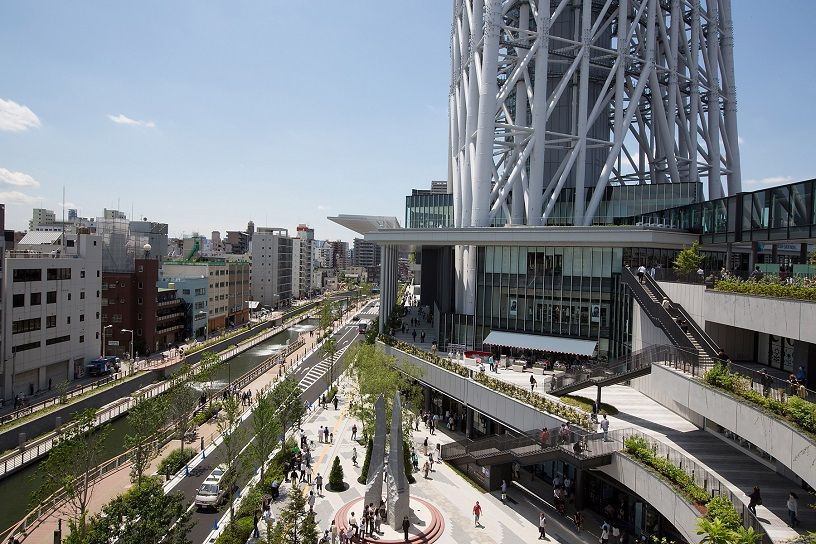 Address: 1 Chome-1-2 Oshiage, Sumida City, Tokyo 131-0045, Japan
Phone: +81 3-5302-3480
Chances are you'll want to visit the Tokyo Skytree on your trip to Tokyo, but if you do, make sure you don't miss Tokyo Solamachi, a huge shopping complex located at the base of the Skytree. Inside are over 300 shops and restaurants ranging from souvenir spots to high-end clothing shops.
R for D
Address: 1-4-5, Komaba, Meguro-ku, Tokyo, 153-0041, Japan
Phone: +81 3-6407-9320
This trendy boutique is the go-to place to find clothing by Japanese designers, and it's hard to leave without picking something up. From graphic tees to silk dresses and boundary-pushing fashion with a distinct Japanese flair.
Ginza 6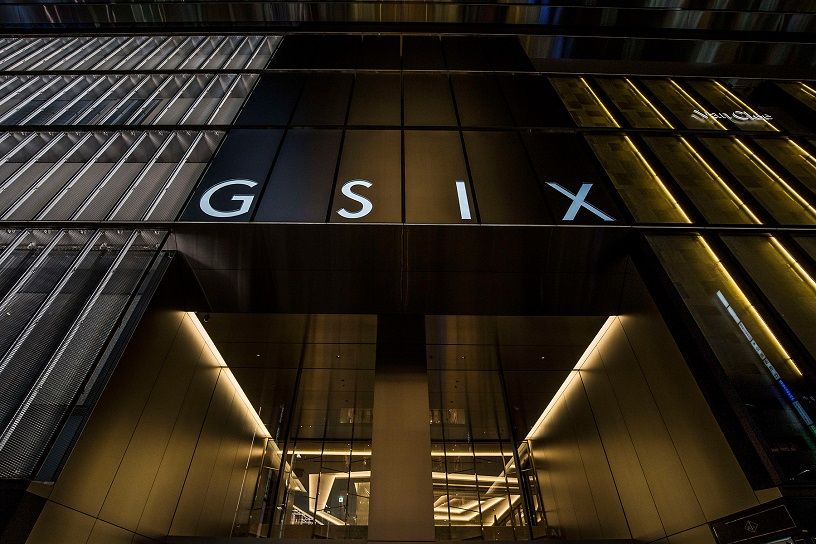 Address: 6 Chome-10-1 Ginza, Chuo City, Tokyo 104-0061, Japan
Phone: +81 3-6891-3390
In the central Ginza district of Tokyo, you'll find this luxury shopping complex. The concept behind the department store is "world-class," so you can expect to find almost everything with an upscale twist — from restaurants to books and art.
Neighbourhoods to know
Harajuku: It doesn't get much more hip than Harajuku, a neighbourhood known for youth fashion, cool vintage and cosplay shops, and colourful street art. When you've had your fill of people watching on Takeshita Street, head to Omotesando Avenue for a dose of more traditional (and high-end) boutiques.
Asakusa: Tokyo may be a bright, modern city, but certain neighbourhoods retain a sense of old-world charm. Asakusa, home to Sensō-ji temple and Nakamise Street, which is lined with traditional street food and craft shops, still gives off the feel of ancient Tokyo. In addition to drawing tourists, the area hosts events and festivals along the river and has a bustling dining scene.
Shimokitazawa: Shimokitazawa may be a bit more of a trip, but it's worth every second. The neighbourhood is packed with stylish stores selling everything from vintage clothing to records. When you've had your fill of shopping (and people watching) you can swing by one of the many cafes and restaurants.
Shinjuku Golden Gai: The neighbourhood of Shinjuku has just about everything you could ever need or want, but one corner of the area is particularly special — the Golden Gai is a network of narrow alleys and passageways filled with uber tiny bars that only seat a few people.
Shibuya City: Chances are you'll make it to Shibuya at some point during your journey, and while the neighbourhood is most known for the Shibuya Crossing, it also houses two of the busiest railway stations in the world and has excellent shopping.
Weather
Spring: It's hard to top spring in Tokyo, especially if you happen to catch the annual cherry blossom bloom. The weather tends to hover between the 5 degrees and 20 degrees (the latter being in May) and averages around 5 inches of rain a month.
Summer: Summer in Tokyo can be warm — with temperatures reaching over 25 degrees — but air conditioning is everywhere and there are plenty of tree-laden parks for escaping the heat.
Fall: After the spring cherry blossom season, fall is easily the best time to visit Tokyo. The temperature is comfortable and the autumn foliage can be vibrant against the modern cityscape.
Winter: It doesn't get frigid in Tokyo temperature-wise (it usually floats between 1 and 12-degrees), but because the city is on the water, it can feel colder than it is. If you go during the winter months bundle up and plan out plenty of indoor activities.
Apps to download
Uber: Ride-hailing, electric bikes and motorized scooters, food delivery
Google Translate: word translation with offline capabilities
Tokyo Subway Navigation: Tokyo metro map, route planning, route updates
The Infatuation: Guide to restaurants near you with in-app reviews
iOs | Android
Related: Locals In Japan Capture The Country's Most Beautiful Attractions Without The Crowds