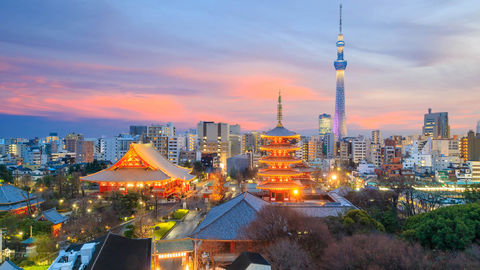 It's been four years since the last summer Olympic games was held in Rio De Janrio, Brazil. This year, it's time for Tokyo Summer Olympics 2020. While Tokyo will have the world looking at it, we are here to tell you everything about the games. By Kumar Shree
1. When
The Tokyo summer Olympics 2020 is scheduled from Friday, July 24 to Sunday, August 9.
2. Where
Forty venues for the games are in and around Tokyo. While a few events like soccer, baseball, and softball can go a bit afar, most of the action will happen in the Heritage Zone, and the Tokyo Bay Zone.
3. The Stadium
The new stadium in Tokyo's Shinjuku district stands on the same spot as the old stadium from 1964 games. Japanese architect Kengo Kuma has supervised the design, which seeks inspiration from Edo-period temples.
4. Ticket Prices
Talking about just the sporting events, the ticket prices ranges from INR 2,851 for beach volleyball preliminaries to INR 78,416 for track and field medal competition. Packages including accommodations, tickets, and transportation range from INR 3,42,182 to INR 13,54,472. The same for a single event range from INR 85,545 to INR 1,21,189. All prices are for one person.
5. How To Get The Tickets?
Those living outside of Japan are advised to buy tickets only from authorised ticket seller in the country they are currently residing in. You can also buy tickets directly from the official website.
6. Trip Cost
Given that the city is running short of hotel rooms for 10 million visitors, the prices are already shooting up. Be ready to shell out a huge sum ranging anywhere between INR 18,000 to INR 30,000 for a night.
7. Any New Sport
Sports like karate, skateboarding, sport climbing, and surfing are making their Olympic debut at the Tokyo summer Olympics 2020. Baseball and softball are also coming back after Beijing Olympics in 2008.
8. Sports To Look Out For
A total of 33 sports are there on the list, which includes badminton, basketball, canoeing, gymnastics, ping-pong, soccer, swimming, tennis, track events, and volleyball.
9. Number Of Competing Countries
The International Olympic Committee (IOC) recognises 206 countries, where Russia is facing a World Anti-Doping Agency (WADA) ban. This brings down the number of countries participating in Tokyo Olympics to 205.
10. Mascot
Miraitowa, whose name is a combination of Japanese words for 'future' and 'eternity', is the mascot for Tokyo summer Olympics 2020.
11. Watching Without Ticket
The city is setting up 11 spots for live community viewing of the games so that even those without a ticket can witness the action.
12. How To Volunteer?
Those wishing to volunteer at the Games are in for a sad news as the application portal closed way back in December 2018. However, you can still apply for volunteering at the next Beijing winter Games in 2022.
Related: Street Food Of Tokyo: A Bite Of Culinary Brilliance
Written By