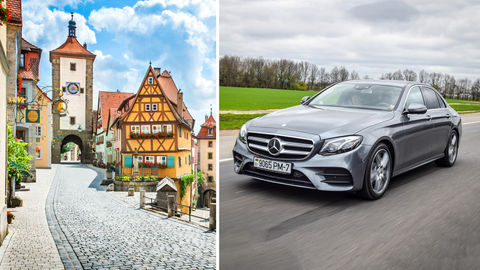 Editor's note: The global COVID-19 crisis has left each one of us deeply affected and we want to help. Burda Media India has organised a fundraising campaign to #FightBackWithTesting and donating RT-PCR test kits to the worst-affected areas in India, which will be secured from our testing partner Mylab Discovery Solutions. You can help these kits reach many more by donating for the cause or by adopting a kit. Click here to join the fight.
Social distancing and practising self-quarantine at this moment, when the world is enveloped by the Coronavirus pandemic, is of utmost importance. But if you are a wanderer like us, we understand how you must be feeling right now being confined at your home. Not being able to travel is a mood killer! And, we feel you. Having said that, we've created this short virtual road trip of Germany with Mercedes-Benz for all you travellers out there to explore this magnificent destination and create your own travel vision board! Here's a 'window to the world' from the comforts of your home. By Team T+L
Home to many bewitching sceneries, vast vineyards, and a plethora of landscapes spread across the lands, Germany has every characteristic in its bag to double as an ideal road trip. One of Europe's largest countries, this beer-loving country has mountains in the south, plains in the norths, and hundreds of medieval castles and market towns sprawling in the centre. With its many picturesque spots to stop by at, this historic country is best explored by road. And what better way to trod along German countrysides than in Germany's automobile brainchild – Mercedes Benz. Known for its luxury cars, exuding glamour and chic in every inch, this powerhouse of energy is guaranteed to fight against German roads with ease. All you need to do is sit back and soak in the Deutsch air.
Related: #TnlVirtualRoadTrip: Driving Through Australia's Margaret River With Lexus
Written By