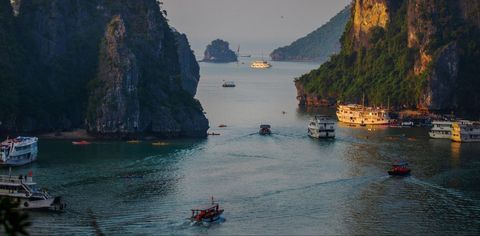 Blessed with an abundance of natural and cultural beauty, and populated by incorrigibly kind people, Vietnam is a destination you can't resist returning to. Text and photographs by Lopamudra Talukdar How is Vietnam? I'm often asked this question by people who have never visited the country. I answer by simply telling them the timeline of my trips: I was so hooked to the mystical beauty of the once battle-torn country that it took me just four months to return for a second visit. One look at the map and it's evident that Vietnam is blessed with a bounty of natural beauty: the sea on one side, karst limestone mountains jutting out of the water, meandering rivers, and jungles and caves waiting to be explored in remote regions. But more than anything else, it's the warmth, sincerity, and friendliness of its people that set the country apart. Like most first-time tourists, my journey began with the capital city of Hanoi. Once the bastion of the French in Southeast Asia, Hanoi is a melting pot of cultures today. Its monuments explore the palimpsest of stories that have defined the country over time. The city is always buzzing with activity, from the French Quarter with its numerous hotels, restaurants, and shopping outlets, to the night hustle at the Quang Ba Flower Market, to the tourist crowds at the Tran Quoc Pagoda and the Ho Chi Minh Mausoleum. After spending a couple of days in Hanoi, you can head to any one of the many popular destinations in North Vietnam. Perhaps the most popular among them is Halong Bay, an area dotted with over 1,600 islands and islets, most of them limestone karst formations covered by lush forests. The best way to experience Halong Bay is to take a private boat on its waters, with an overnight anchored stop. If you're into kayaking, the grottoes and lagoons of this UNESCO World Heritage Site offer an adventure unlike any other. Another must-visit site is Sapa. An overnight train journey from Hanoi followed by a short road trip takes you to this hill station. The mountains here are home to many ethnic hill tribes, who have preserved their diverse and intriguing cultures and customs. A drive of about 100 kilometres towards the southeast of Hanoi took me to the Ninh Binh province, home to Tam Coc (literally, three caves). The limestone karsts here were similar to the ones I saw in Halong Bay, except these were landlocked—with a serene, narrow river snaking through paddy fields. The best way to navigate this landscape is to hop on a sampan (flat-bottomed wooden boat). At the end of the journey lie the three caves, which are part of the Trang An Landscape Complex—another UNESCO World Heritage Site that reveals secrets of human civilisations going back 30,000 years. Related: Here's Why Vietnam Is A Story Weaved In Pleasant Surprises & Quintessential War Lessons
Written By