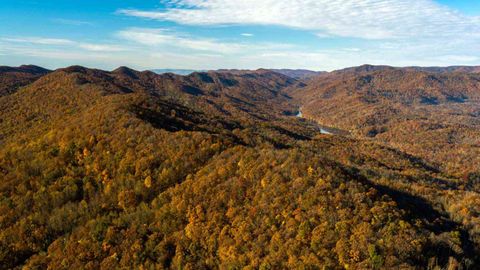 Cumberland Gap National Historical Park, located where Kentucky, Tennessee, and Virginia meet, is a 14,000-acre destination that forges a passageway through the Appalachian Mountains. Forming a natural corridor between the mountains, it was used first by migrating animals, then by Native Americans, who used the path for centuries for trade. It was then used by settlers — most famously by Daniel Boone — who used the gap on their journey to settle the West. By Evie Carrick
The gap was formed by several geological forces, including a raging river, plate tectonics, and a giant meteorite that struck the Earth less than 300 million years ago.
These days, people come to enjoy the park's 85 miles (137 km) of trails, to stand in three states at once, to walk in subterranean passages and caves, and to enjoy the stargazing afforded by the park's wilderness.
Here's what you need to know to plan a visit to the Appalachian Mountains
What to do Start your trip with some context; learn about the history of the park by joining a guided tour of the Hensley Settlement, established in 1903. The four-and-a-half- to five-hour tour is USD 10 (INR 796).
Those looking for adventure can join a Gap Cave tour through the park's underground passages. The journey passes through rooms filled with stalagmites, bats, and flowstone cascades, a deposit formed from water flowing along cave walls. The Gap Cave tour is USD 8 (INR 637), and reservations can be made up to one month in advance by calling (606) 248-2817.
If you're not up for a tour, the park has 85 miles of trails (137 km) that cross into all three states and lead to spectacular waterfalls and vistas (note: Pinnacle Overlook has the best views over Cumberland Gap). Along the 85 miles (137 km) of trails, you'll find everything from easy, guided strolls to multi-day backcountry trails. One standout trail is the 21-mile (33.7 km) Ridge Trail, which runs the park's entire length.
Wildlife sightings in Cumberland Gap National Historical Park include foxes, bears, deer, bobcats, and more than 150 species of birds. Dogs are allowed in the park but must be leashed.
Where to stay
It's all about sleeping under the stars at Cumberland Gap National Historical Park. The park's Wilderness Road Campground in Virginia has 160 sites set in a lush wooded area. Of the 160 sites, 41 have electrical hookups, and most are large enough to accommodate an RV or trailer of up to 50 feet. Each site has access to hot showers and potable water and can accommodate up to eight people, four tents, and two cars.
Camping is USD 18 (INR 1,433) per night for a tent site with no electricity and USD 24 (INR 1,911) per night for a site with an electrical hookup. Sites can be reserved on Recreation.gov or by calling (877) 444-6777.
Those interested in backcountry camping — where the stars are unaffected by light pollution — can obtain a free permit from the park's visitors centre. Keep in mind that bears are active in the backcountry, and bear-proof food containers should be used at all times. Backcountry camping reservations can be made up to three months in advance by calling (606) 248-2817.
If camping isn't your cup of tea, head to one of the park's surrounding towns — Middlesboro, Kentucky; Cumberland Gap, Tennessee; and Tazewell, Tennessee — for more traditional lodging. To fully immerse yourself in your surroundings, look into the log cabins sprinkled around the region on Airbnb, too.
When to go
Cumberland Gap National Historical Park is open year-round and offers a little something different each season. The caves provide respite from the summer heat, the park's fall foliage is a photographer's dream, and the arrival of snow makes the park look like a winter wonderland. That said, it's hard to top spring in the Appalachian mountains, when the weather is mild, and the wildflowers are beginning to bloom.
This story first appeared on www.travelandleisure.com
Main and Feature Image Credit: Joshua Moore/Getty Images
Related: 14 Best International Destinations To Travel In September
Written By