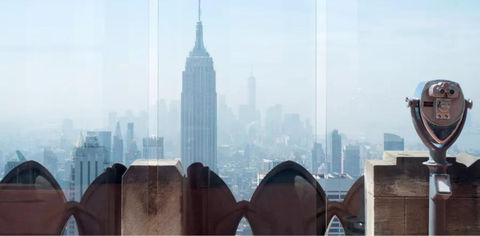 The New York City skyline will take your breath away, so it's no surprise that the view from the Top of the Rock was named the best in the world. By Alison Fox
The observation deck on top of Rockefeller Center in Midtown garnered 42,555 mentions for the word "view" on Tripadvisor, cementing its status as a leading lookout point, according to data compiled by digital financial services provider Remitly. And with the chance to look out over some of the Big Apple's most iconic landmarks — from the Empire State Building to Central Park — it's not hard to see why.
Here's why the view from the top of The Rockefeller Center is the best in the world
"Whether you've moved somewhere new or are visiting for the first time, a good view can be a great way to get a feel for the location, and give that satisfying feeling that you've truly 'arrived,'" Jago McKenzie, the principal business manager at Remitly, said in a statement provided to Travel + Leisure. "The diversity of the findings, from dense cityscapes to natural wonders, just goes to show the beauty the world has to offer, and why we should continue to celebrate moving around it and experiencing new sights and sounds." The list was put together by analysing more than 1.4 million Tripadvisor reviews and seeing which destinations mentioned the view most often.
While no other destination in the USA came close to matching the Top of the Rock's view credentials, Las Vegas' High Roller observation wheel at The Linq Hotel took the No. 2 spot with 15,535 mentions. San Francisco's Golden Gate Bridge came in at No. 3 with 14,462 mentions of the view, while the Seattle Center and Observation Deck and the Griffith Observatory in Los Angeles rounded out the top five.
Internationally, the Top of the Rock still took the top spot, followed by some of the world's most legendary landmarks: the London Eye had 34,975 mentions of its view, Paris' Eiffel Tower had 32,875 mentions, Dubai's Burj Khalifa had 28,518 mentions, and Hong Kong's Victoria Peak had 21,524 mentions.
This story first appeared on travelandleisure.com
Main and Feature Image credit: Mariah Tyler ©
Related: This Is The Most Popular Building In The World, According To Google Searches
Written By